What is going on with Non-Fungible Token development, Interchain Operability, and more?
Hey Readers,
It's time for our eleventh bi-weekly newsletter giving you an oversight of everything that went down in the Proof-of-Stake market:
Persistence received an ICF grant for Interchain NFT standards
Stakin now operative on Microtick
ICON Revision 11 Proposal
Stakin is now active on Stafi!
Tether launches on Solana blockchain
Ledger Nano's new supported assets
IRISnet launched DeFi and Interchain Testnet Bifrost
Tezos Harbinger
Tezos Delphi Injection
🕵️‍♂️ Persistence ICF Grant for Interchain NFT Standards
On August 31st, the Persistence One announced that they had received a grant from the Interchain Foundation (ICF), a forerunner on decentralized technologies. This grant awards Persistence with developing Interchain Standards (ICS) and Non-Fungible Tokens (NFTs) and Metadata. Ixo is working together with the protocol to design and implement new Cosmos SDK modules that support the NFTs, and flexible Metadata that will utilize DID and CID standards to support object capabilities with a schema for different NFT use cases.
If you're interested in knowing more about NFTs, check out this article.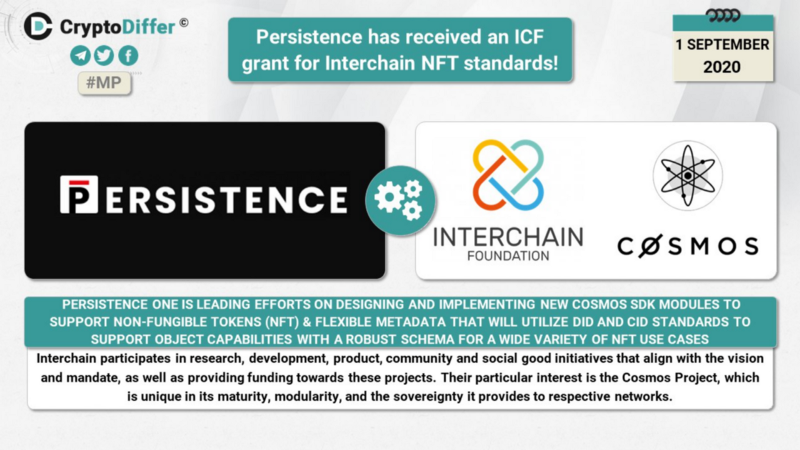 🚀 Stakin is now operative on Microtick
As of September 1st, 2020, Stakin is up and running on the Microtick network. The Microtick project aims to provide a globally agreed upon, real-time consensus price without requiring a direct financial coupling to any underlying assets. The project is created on decentralized blockchain technology and the game-theoretical foundation of Schelling points. Furthermore, Microtick is a short-term options marketplace that allows for price discovery on all manner of assets. The price can be sent to Cosmos Zones and multiple DeFi Apps.
🧑‍🚀 ICON Revision 11 Proposal
A couple of weeks ago, we reported about the Revision 10 proposal of ICON. However, blockchain wouldn't be blockchain if it didn't move fast, and that's why this week, we're talking about Revision 11.
In a nutshell, the ICON Foundation has released news that they will submit a Network Proposal, also known as Revision Proposal, to activate the Revision 11 feature. The revision has already been included in LoopChain 2.6.0, the Reward calculator 1.2.2, and more. So, what will change? Firstly, the modification will add an ability to fix the Invalid Unstaking Request issues caused by Multiple Unstaking Vulnerability. Furthermore, it will fix some logic issues and for the technical enthusiast amongst us, add a new JSON-RPC API: 'debug_getAccount'. The submission has been made on September 10th, and we're curious to see what the outcome will be.
🎉 Stakin is now active on Stafi!
In more exciting news, Stakin is now active on the Stafi network. Stafi's incentive Testnet initiative Sitara was successfully closed on August 26th. Some highlights: in 2 months of testing, Stafi completed an essential Testnet plan with 600 participants, 400 validators, and three rounds of tests of stepwise difficulties. On September 7th, the Mainnet launched. For more information, check here.
If you're interested in sending us your delegations, here is the address:
331Pge38bWTnCtKxD32G6j6keekLxLs3E8aAScGvftLXxaRs
🏎 Tether launches on Solana blockchain
Tether (USDt) has launched as the first-ever stablecoin on Solana, the ultra-high-speed Layer 1 blockchain. Tether is a blockchain-enabled platform that powers the largest stablecoin by market capitalization. According to Solana, you will exchange USDt at speeds faster than 50,000 transactions per second at a low cost of less than $0.00001 per transaction. The collaboration and launch mark a new area of advancement in the quest for high-speed decentralization finance (DeFi) applications.
In Anatoly Yakovenko of the Solana Foundation: "Solana was originally designed to support thousands of transactions at Nasdaq speed. Today, with Tether's support, Solana is finally capable of realizing that dream". Learn more about Solana in our introduction article that you can find here.
🤩 Ledger Nano's new supported assets
More good blockchain news, Ledger Nano X and S announced their newly supported assets. You can now secure Polkadot (DOT), Kusama (KSM), Solana (SOL), and Elastos (ELA) as well as use the IOV naming service. With this addition, there are now 1500 crypto assets supported on the hardware wallet. The acquisition of these assets results from Ledger's coin integration program, where communities and developers outside of the Ledger community can create and submit their applications.
For more information about staking Solana (SOL) with your hardware wallet, click here.
⛓ IRISNet launched DeFi and Interchain Testnet BiFrost
Bifrost is the DeFi and Interchain Testnet of IRISNet and has launched its initial Testnet Phase-0 on September 2nd, 2020. The Bifrost Testnet will test unique and innovative DeFi functions, including NFT, Record, Oracle, etc. Based on the latest version of Cosmos SDK. Additionally, Bifrost will also test the integration of the new version of Cosmos SDK and test the multi-Hub collaborations and existing IRIS Hub functions, such as Coinswap through the Inter-Blockchain Communication protocol.
Learn everything about joining the Testnet here.
💰 Tezos Harbinger
On September 1st, Luke Youngblood and Keefer Taylor released Harbinger, a new self-sustaining price oracle for Tezos. In the Tezos network, delegators receive a share of the block rewards they earn by securing the protocol. In Harbinger, an account that pays fees to update the price oracle can be delegated and pre-funded with $XTZ.
Price feeds are a critical component for DeFi since they allow protocols to create collateralized loans and provide accurate token swap prices. Furthermore, it also adds a layer of trust to the entire process. Harbinger works differently to other oracle providers such as Chainlink as the fees required to post price data on-chain can be paid by the staking rewards earned by Tezos holders.
💫 Tezos Delphi Injection
In other exciting Tezos news, Nomadic Labs, Metastate, and Gabriel Alfour have announced that the Tezos protocol proposal named "Delphi" has been compiled. Delphi consists of several small bug fixes and makes substantial improvements to the Michelson interpreter's performance and the gas model (improving the gas costs). Additionally, it reduces storage costs by a factor of 4 to reflect improvements in the underlying storage layer.
This proposal's motivation comes from the size and complexity of current smart contracts that are limited by gas constraints. Therefore, the team finds that these improvements are crucial to enable novel applications on Tezos that target areas like Decentralized Finance (DeFi), gaming, and collectibles.
---
DISCLAIMER: This is not financial advice. Staking and cryptocurrencies investment involves a high degree of risk, and there is always the possibility of loss, including the loss of all staked digital assets. Additionally, delegators are at risk of slashing in case of security or liveness faults on some PoS protocols. We advise you to DYOR before choosing a validator.