A List of Eight ATOM Wallets And Their Features
Hey Readers👩‍💻,
Today, we're diving into the different ATOM Wallets out there, to give you a good overview of your options. For those of you interested in an article on "how to stake ATOM", click here.
Quick Recap, the ATOM Token
Let's get into a quick recap for those of you who are less familiar with ATOM or the Cosmos Network. The native token of the Cosmos ecosystem is called ATOM. The total supply is 256,561,939 ATOM. On the day of writing this article, a total of 70.79% is staked.
You can earn ATOMs through a hybrid Proof-of-Stake algorithm. It is possible to either stake your ATOMs yourself directly as a validator node or delegating your tokens to a validator. The inflation of ATOM varies depending on the staking ratio and is currently around 8% annually. It is possible to buy ATOMs on various exchanges such as Binance or Kraken as per Coinmarketcap or to acquire some directly through wallets.
If you'd like to delegate your ATOMs to Stakin, you can use the address below:
cosmosvaloper1fhr7e04ct0zslmkzqt9smakg3sxrdve6ulclj2
👉 For the full article on Cosmos Network, click here.
ATOM Wallets Review
There are many different wallets out there, so today we're taking a look at their user interface, user experience, and if the wallets are multi-asset or ATOM only, etc.
Keplr Wallet
The Keplr Wallet is one of the most recent Cosmos wallet additions. The Keplr wallet functions as an extension to your web browser and is an open-sourced wallet that supports the CosmosJS signing library. With the creation of the Keplr wallet comes the ultimate goal to recreate the simplicity of using MetaMask for Ethereum on Cosmos. Furthermore, the creators aim to make it possible to access all Cosmos DApps using just one wallet on Cosmos.
The wallet has an amazingly simple, and elegant design allowing you to easily access the dashboard and send/stake your digital assets. As the use is very straightforward, it is an easy wallet for beginners and experienced crypto enthusiasts alike.
Atomic Wallet
Atomic Wallet is one of the most well-known, all-round wallets for ATOM and other digital assets. The multicurrency wallet is the first non-custodial wallet with a cross-chain Atomic Swap technology and supports over 300 different digital currencies and all major blockchain networks. Equipped with Atomic Cross-Chain Trading, this wallet allows the exchange of cryptocurrencies between each other without the need for a centralized third party. Furthermore, the Atomic Wallet uses a lot of open-source components, which makes it possible to examine the code yourself to scan for vulnerabilities. If you're not that experienced with coding, you can take a look at the community discussion topic related to security.
The wallet is available as a desktop and mobile app for Apple and Android devices. Next, setting up an account is very straightforward and doesn't leave you with any questions. The interface of the Atomic Wallet is modern and straight to the point. Of course, because of the many different currencies available, you have to use the "search option" to find the ATOM. Last but not least, the Atomic Wallet team has created a lot of explanation videos on most high-profile digital assets and how-to videos for general use. They also respond very quickly to Twitter messages and on their official Telegram if you have any questions.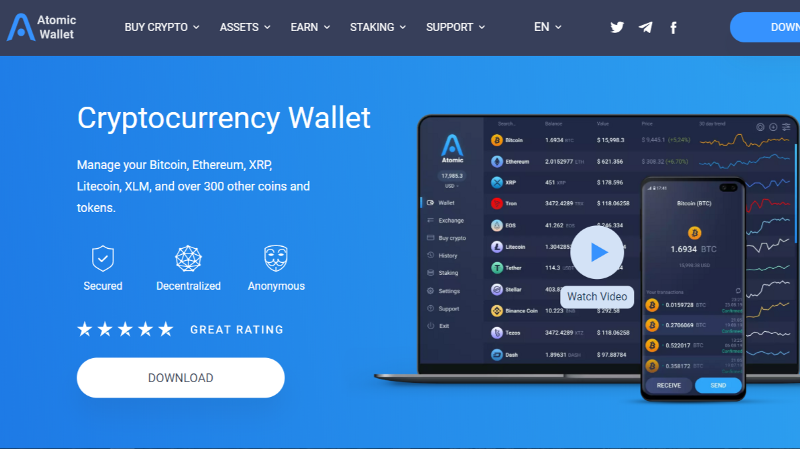 Trust Wallet
The Trust Wallet is a multi-asset wallet that supports all of the leading blockchains connected to the Ethereum ecosystem and works with any ERC20, BEP2, or ERC721 digital assets. Moreover, this wallet also provides coverage as a Bitcoin Wallet. Trust Wallet allows you to buy any digital asset within its system.

Trust Wallet is only available as an app for Android or Apple, and there is no desktop version. The interface of this wallet is designed with simplicity in mind, making it a very easy-to-use, light, and convenient app. The wallet aims to provide a platform that is straightforward in each step of use, from setting up your account to trading and buying digital currencies. A significant asset of the Trust Wallet is that it features a decentralized exchange and the ability to interact with DApps. Overall, this wallet is an excellent choice for those looking for a simple, all-in-one option.
Ledger Nano X
If you're looking for an exceptionally secure wallet, a hardware wallet that allows storing over 1000+ digital currencies might be the way to go for you. The Ledger Nano X supports ATOM and claims to be 100% secure, even on a malware-contaminated device. Private keys stored on Ledger Nano X never leave the system, and security features such as PIN code, passphrase, and seed backup for wallet recovery are all included. Unlike its predecessor, Ledger Nano S, Nano X is considered a mobile gadget as it uses Bluetooth to connect to your device.
There are two downsides to this hardware wallet. First, Ledger Nano X is a bit of an investment, going for $USD 119 on Amazon. Especially if you're starting in the blockchain world, this might be a bit excessive with all the free options out there. Furthermore, the hardware wallet isn't the most user-friendly option. It will take you some time and research to set it up and configure all your digital assets. On the plus side, the manufacturer does provide extensive material and guides to help you set everything up. So if you're in for an afternoon of trial and error, you'll be set with a highly secure, good looking new wallet gadget.
👉 For more information on configuring your Ledger, click here.
Guarda Wallet
The Guarda Wallet comes in four different forms: a web wallet, an application wallet (for Android and iOS), a desktop wallet, and a shielded wallet. Each wallet is created to be a lightweight non-custodial digital asset storage. The shielded wallet is built in collaboration with the Zcash Foundation and brings the benefits of privacy and transactional security to the platform. It also allows you to store, send private transactions, and exchange directly on your Android device.
The wallet is multi-asset and supports the most popular and well-known currencies, Ethereum-based, ETC, BTC, and many others. Like previously mentioned non-hardware wallets, with Guarda, you can purchase different digital currencies within their platform. Furthermore, the builders of the platform put a lot of emphasis on security. They state that the user's data or private key are not stored. However, this is a common aspect of modern blockchain wallets. An interesting feature is that Guarda lets you import existing wallets, using your backup phrase and private key.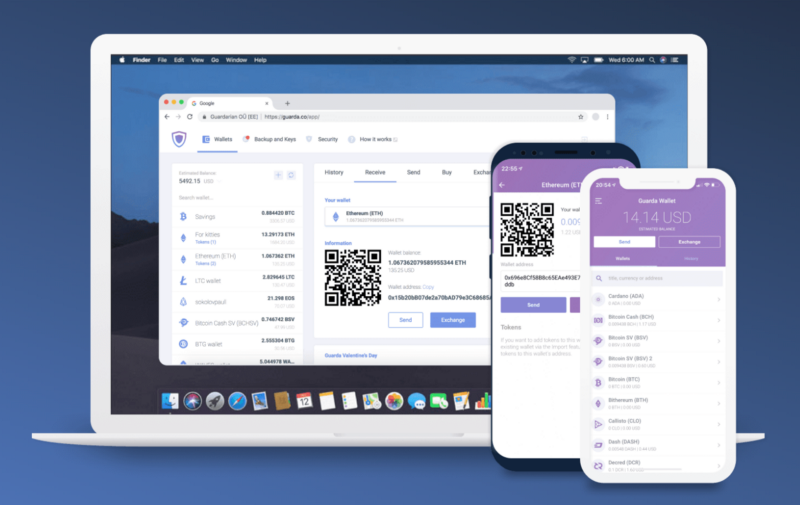 So, what about the interface and user experience? The interface of this wallet is clean, bright, elegant, and at first glance, somewhat similar to the Trust Wallet's interface. Guarda, however, doesn't have a DApp integration. What it does have is the possibility to integrate your Ledger hardware wallet. By syncing the device with your desktop Guarda Wallet, you can optimize security for your assets and keep the benefits of easy online use. Additionally, the team behind Guarda offers in-depth articles about newly added digital assets and their network.
Cosmostation Wallet
The Cosmostation wallet is not as elaborate as previously named wallets, as it only focuses on Cosmos SDK Based Networks. What's interesting is that the wallet is also a verified validator on the Cosmos Hub. The wallet works as a universal staking wallet supporting ATOM, IRISnet, Terra, and other Tendermint-based blockchains. Staking, through delegation with the Cosmostation wallet, is known to be extremely secure, as it provides a solid structure to prevent various attacks on validating nodes and around the clock monitoring for malicious traffic.
Cosmostation is available for iOS and Android and as a web wallet. Furthermore, the interface and overall look of the Cosmostation Wallet is very inline with the Cosmos Network design, which is a nice extra. A simple web wallet guide pdf is available to explain how the wallet works. The wallet also connects to Ledger devices. Meaning you can keep your private keys on the Ledger while delegating to earn staking returns. It also supports interactions with Kava blockchain CDPs. Lastly, it is worth noting that the Cosmostation team is open about new infrastructure implementations, ideas, etc. on their public blog.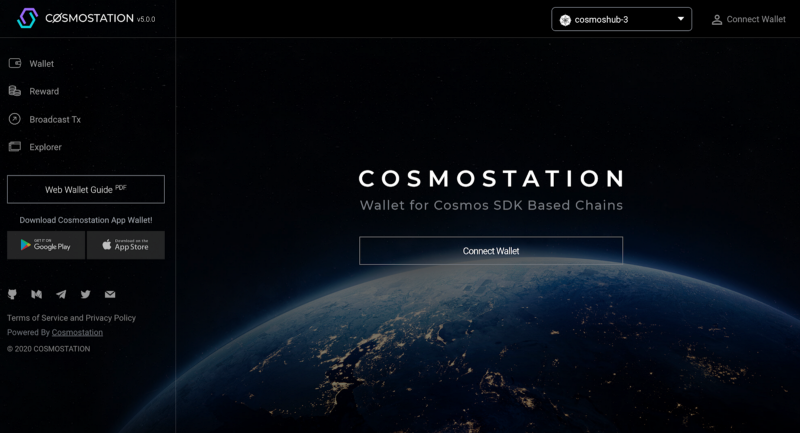 Wetez Wallet
Wetez Wallet started as a Tezos (XTZ) mobile staking wallet but has since made the switch to support multiple assets, among which ATOM. There are currently 20 different digital assets that are supported by the wallet, and more are in development. What's exciting about this wallet is that it allows other authorized validators to be listed as an option for delegation, and allows for participation in the governance of Cosmos Network. Wetez also provides an interface to show reward details to its users. The app is available for iOS and Android devices.
To assure improvement of its security, Wetez Wallet has double sign protection through key management. The user experience of the app is excellent. At the initial download, the dual key and security phrases might be a bit confusing. However, as you follow the steps, it all becomes very natural and easy to understand. The wallet also has 24/7 uptime commitment from their staking nodes and low latency with their high-performance servers. Now, a significant downside of this wallet is that it is not open-source. So for those interested in checking the code, this is not possible.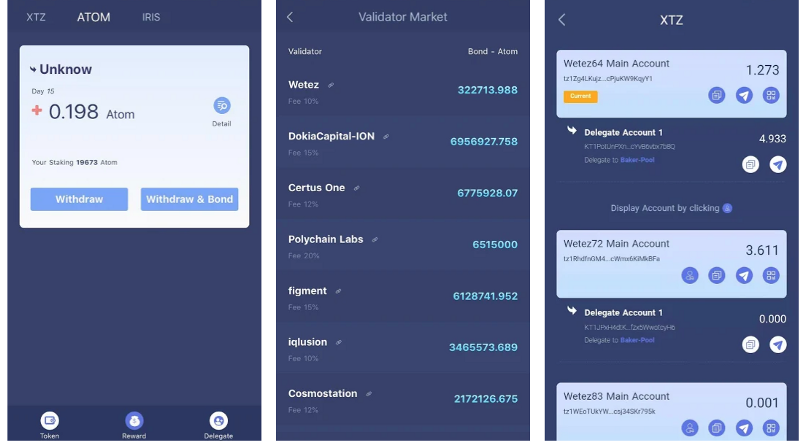 Lunagram
Lunamint created the Lunagram wallet, and it is the first-ever Telegram integrated wallet. The platform is easy to use and packed with all the features of previously named wallets, such as an exchange and storage, and you can stake and claim rewards. The reason for the integration with Telegram is that Lunamint aims to take crypto finance adoption to a whole new, mainstream level.
Another exciting feature of this wallet is the use of Supercharged Bots. Meaning, The combination of 'Cosmos + Telegram' provides an open bot platform for developers to create mini blockchain applications with minimal effort. The app is currently only available as an application for both Android and Apple and only supports Cosmos Ecosystem assets.
The interface of Lunagram is straightforward, easy to understand, loads fast, and doesn't require a lot of previous knowledge or research on digital assets. The video below illustrates how the integration with Telegram works. However, apart from its functionality and the assets it supports, what you think about this wallet depends primarily on how you feel about centralized integrations, such as Telegram, being a part of blockchain trading.
imToken Wallet
The imToken wallet is a multi-chain wallet, meaning you can store and exchange both BTC as Ethereum-based digital currencies. The wallet is only available as an app and has a built-in exchange. This exchange works with fast biometric payments, which ensures a safer and more convenient trading experience. It supports hardware wallets and also offers its hardware wallet called imKey; the cost is 99 USD. Like Trust Wallet, imToken offers an in-app DApp explorer, and its design is based on simplicity. However, when it comes to the simple design, the developers might have overdone it a bit. When trying out this app, it sometimes felt that the design was a bit too simple. The rest of the user experience is excellent; it is easy to understand and use. Another downside is that it only supports staking for imToken validators, and doesn't offer the opportunity to choose your own provider.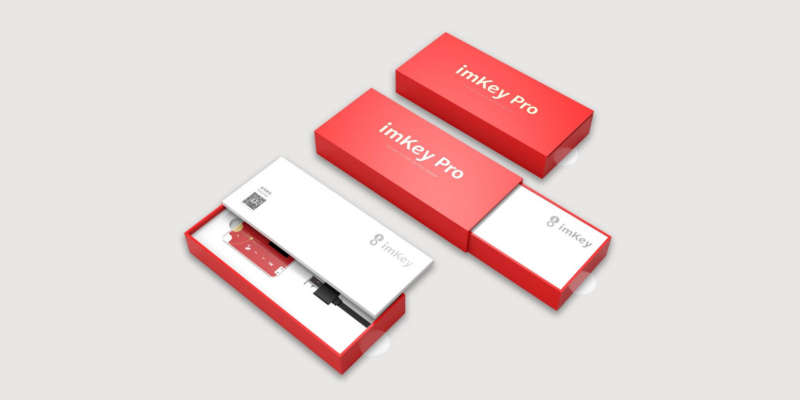 Conclusion
So, there you have it. These eight wallets offer excellence when it comes to storing, trading, and keeping track of your ATOM assets. All of these wallets have different substantial aspects, so you'll have to check with yourself to see what is essential to you. If you're looking for that extra bit of security, we suggest implementing a hardware wallet. And if you're looking for wallets to interact with protocol governance and specific features of the Cosmos ecosystem? We recommend selecting a Cosmos only wallet. If you want a multi-asset, all-in-one wallet, we suggest selecting Atomic Wallet, Trust Wallet, or Guarda.
---
DISCLAIMER: This is not financial advice. Staking, delegation, and cryptocurrencies involve a high degree of risk, and there is always the possibility of loss, including the loss of all staked digital assets. Additionally, delegators are at risk of slashing in case of security or liveness faults on some protocols. We advise you to do your due diligence before choosing a validator.