In this week tutorial, we decided to explain how and where you can buy Tezzies (XTZ, ꜩ), the cryptocurrency running on the Tezos…
In this week's tutorial, we decided to explain how and where you can buy Tezzies (XTZ, ꜩ), the cryptocurrency running on the Tezos blockchain.
For those who don't know yet, Tezos is a smart contract platform kind of similar to Ethereum. Few notable improvements over its well-established competitors are that Tezos is the world's first self-evolving blockchain focusing on self-amendment and on-chain governance.
Like many other digital assets, there are several places where you can buy Tezos. In this tutorial, we will compare each solution and give you more information.
CHANGELLY
The first website we decided to talk about is Changelly. It is one of the most straightforward solutions out there to buy Tezos.
You need to previously create a wallet on websites such as Galleon, for example.
We connected their widget payment to our website to allow you to buy some directly on Stakin. So, if you want to support us, you can purchase some Tezzies using our web interface.
The main advantages of using this solution are to avoid exchange fees, be allowed to pay using a credit card, and be able to delegate them immediately.
Make sure to verify your Tezos address before doing the transaction, and that's it; you will now be able to use and delegate them from your Tezbox or Galleon wallet.
KRAKEN
Another place where you can buy Tezos is the famous exchange Kraken.com. It is not the easiest solution to use for a novice, but it is very competitive concerning fees, and once again, you can send them out the exchange immediately or keep them in your Kraken account.
Five pairs are available :
XTZ / EUR ; XTZ / USD ; XTZ / BTC ; XTZ / ETH ; XTZ / CAD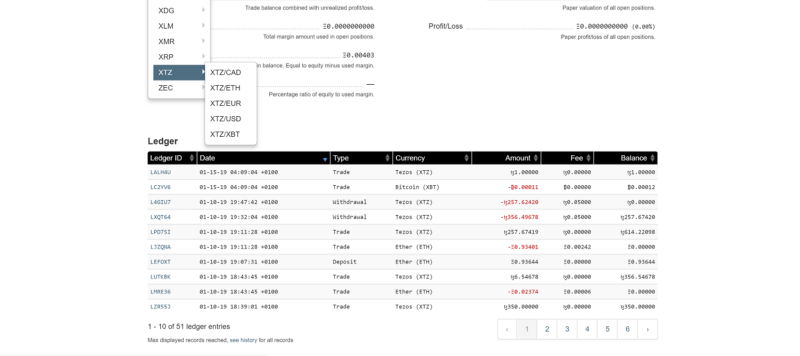 To open a trade, you need first to deposit in your account using cryptocurrencies or wire transfer to fund your account. Once the money is on your account, you need to go to Trade / New Order and then choose the option you want.
The two disadvantages of Kraken are the fact that you can't deposit with a credit card and their user interface, which can be hard to understand quickly.
BITPANDA
The third solution we decided to talk about is Bitpanda. It is a straightforward app that allows you to buy Tezos and many more cryptocurrencies.
One of the main advantages of their solution is the atomic swap between each currency directly in-app at almost no-fee so you can swap your Tezos against Euro, Dollar, Bitcoin, Ethereum, or 20 other cryptos (XRP, LTC, ADA, EOS, IOTA, NEO, DASH, 0x…).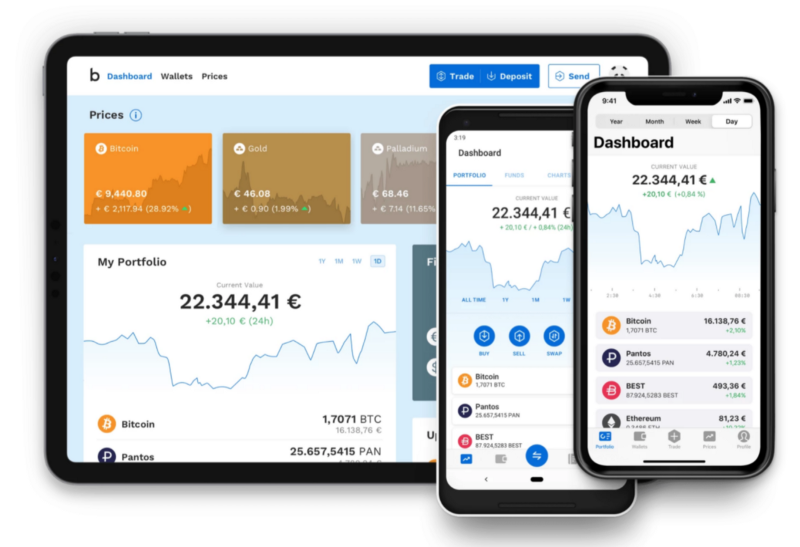 One of the other advantages of using Bitpanda is the fact that they accept many payment methods.
The main disadvantage is the fact that for now, you cannot transfer XTZ outside the platform, so you cannot send them to another address and delegate them.
The fees can also be significant because there is a deposit fee and then a spread when you buy Tezos.
BITFINEX

Bitfinex is a well-known crypto-exchange and one of the leading ones in terms of volumes. They are also the ones behind the Tether (USDT) stable coin.
They allow XTZ/USD and XTZ/BTC trading. However, if you do not yet have an account on Bitfinex, it can take more than two months to go through their KYC process, not unique in case FOMO happens.
HITBTC
One of the first exchanges out there that allow Tezos trading was Hitbtc even before Tezos Mainnet was launch.
You can trade XTZ against ETH, USDt, or BTC and store it into the exchange as you can now withdraw your XTZ directly for a flat fee of 3,5XTZ.
The exchange is also one with an immense volume for Tezos (representing 1/3 of the volume*).
*data as of 15/01/2019
If you are interested in investing in Tezos using Hitbtc, here is how you can place an order.
After depositing on Hitbtc, go to the Exchange page. You will be able to find a list of instruments.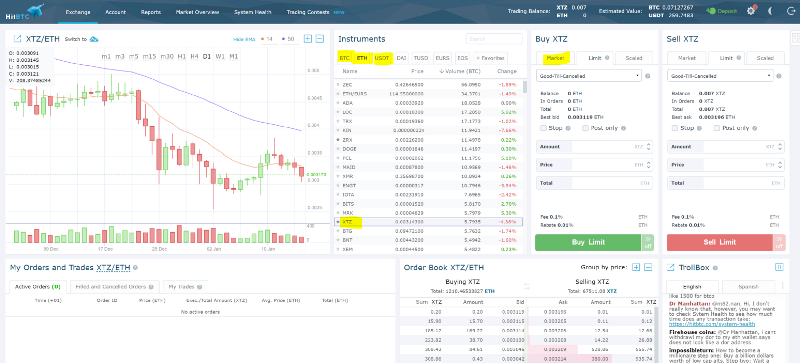 If you use the search functionality on the instruments list, type XTZ on ETH, BTC, or USDT pairs. You will then be able to see the instruments and to place an order.
If you want to buy some immediately, click on Market in the Buy XTZ column, and you will be able to open a position with the amount you wish to.
Fees are also deficient because it's only 0.1% when you open your order.
GATE.IO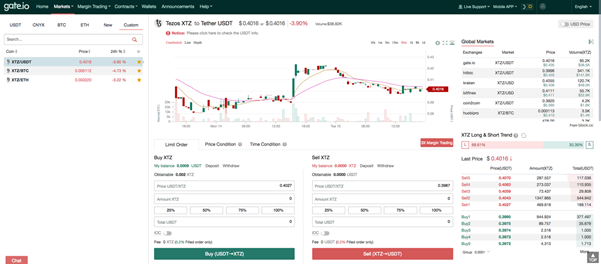 The other exchange we will take a look at is Gate.io.
Gate.io was the second exchange to list Tezos after HitBTC. It allows the withdrawal of purchased XTZ, but you will first need to have some BTC, USDT, or ETH on your wallet before being able to buy some.
Indeed, one of the disadvantages of Gate.io is that it does not have fiat currency pairs. Nonetheless, it has remained of the critical exchanges to buy XTZ, and their first listing of Tezos has been beneficial to traders.
There is also a tool on the website, allowing you to lend some XTZ and earn interest.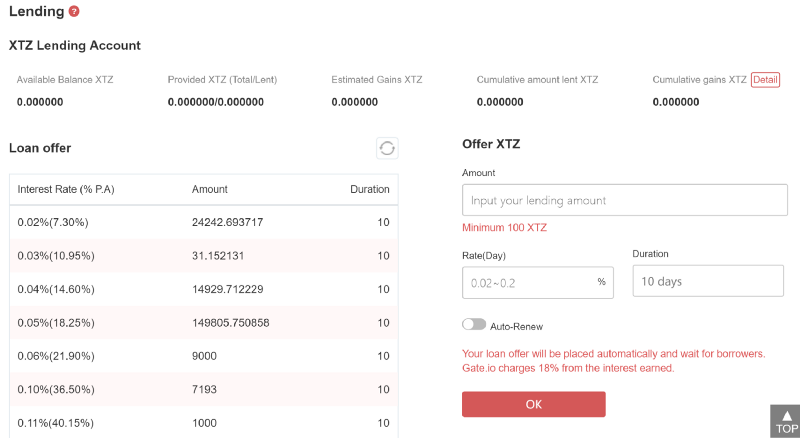 OTC TRADING
If you are more old school, there are also websites where you can buy Tezos over the counter, but none of our team members have ever tried their solution.
You can check out these both websites if you prefer to buy it OTC.
This is it. We tried to do our best to cover every place where you can buy Tezos on this tutorial. There are still some exchanges that we did not mention, such as UEX, Huobi, or Gatecoin; feel free to try them out.
Looking for a trusted operator to stake your Tezos or other PoS tokens?
Stakin Tezos baking address:
tz1Vyuu4EJ5Nym4JcrfRLnp3hpaq1DSEp1Ke
---
DISCLAIMER: This is not investment advice. This article is for information purposes only. We suggest that you conduct your research before deciding to purchase cryptocurrencies, and we will not be responsible for any loss of capital related to the reading of this article.