Guide on how to delegate your ADA on Shelley-Testnet using Yoroi Wallet
Hi everyone,
On today's guide, we will explain to you how you can simply delegate your ADA tokens by using Yoroi Wallet.
What is Yoroi Wallet?
Yoroi is a simple, fast and secure light wallet for Cardano. Yoroi is an Emurgo product, engineered by IOHK. It follows best practices for software in the industry including a comprehensive security audit.
While Daedalus is a full-node wallet, it is complementary to Yoroi in what they try to achieve. Yoroi looks to be a day to day wallet for a Cardano user.
How to Install Yoroi Wallet?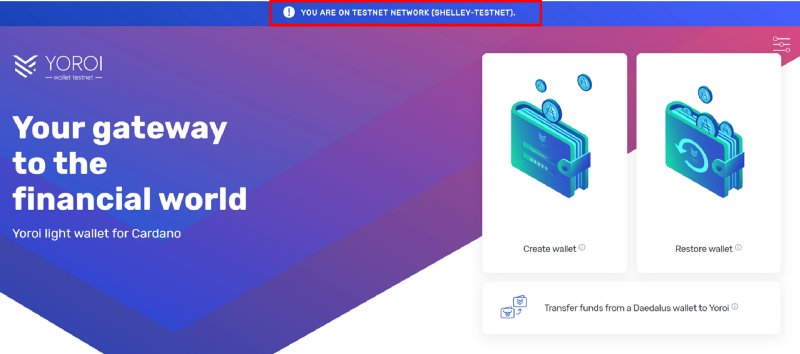 The first thing you will need to do is to install the Chrome extension. To do this, you can also go to their website.
By downloading the app, make sure you're on the Testnet and not the Mainnet.
On this tutorial, we will create a New Wallet from scratch but you can also recover a previous wallet. By creating a Wallet, you will need to choose a Wallet Name and a password.
Once this is done, you will need to write down your recovery phrase, in case you would like to recover your Cardano Shelley Testnet wallet.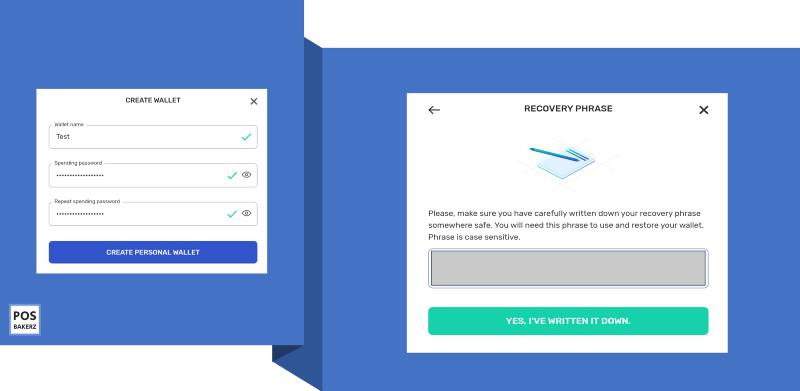 ADA Shelley Testnet Faucet
[If you participated in the Shelley Testnet Snapshot you can jump this part]
But, if you didn't participate in the Cardano Testnet snapshot that happened on November 29, 2019, you can still claim some ADA Testnet by using a faucet.
We recommend you to use the official faucet from IOHK that you can find here. The faucet will provide you with a sufficient amount of test ADA, and the associated stake, to get started.
Please note that when you have finished using your test tokens, you should return them to the faucet so that other members of the community can use them. Here is the address where you'll need to send back your test ADA tokens:
ca1s44h5hytev8d9wty220ckglvj7ewm3yetyug8a29pu2lj5dff28sy2yf8yj
How to elect a stake pool?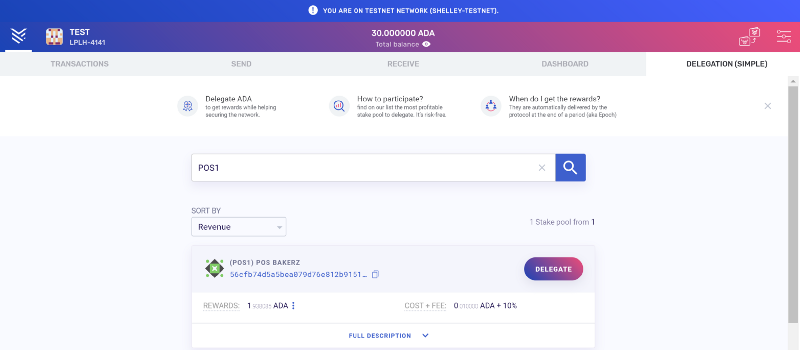 To elect a stake pool, you need to go on the "Delegation (Simple)" page.
Once you have received funds from the Faucet (it should take between 5 to 10 minutes before you receive them), you are now able to delegate your ADA and enjoy additional rewards by helping to secure the network. Rewards will be delivered automatically by the protocol directly at the end of an Epoch.
You will be able to find a list of famous stake pool to delegate. If you would like to delegate to us, our Cardano staking pool ticker is POS1 or you can also type POS Bakerz on the research bar.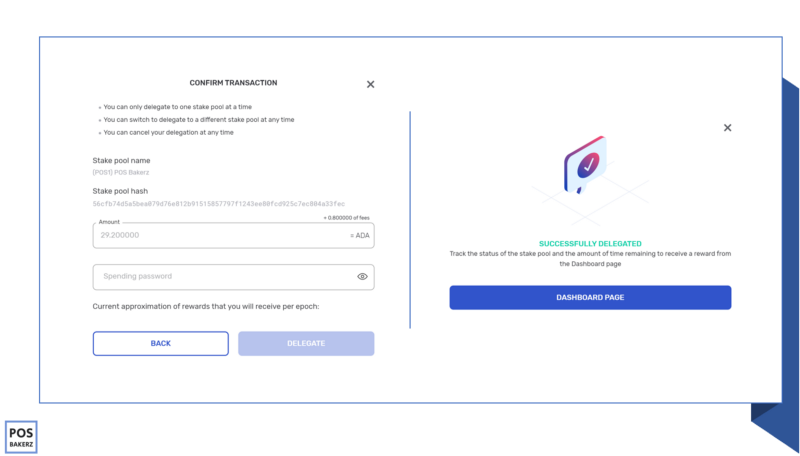 Once you have selected the Staking pool you want, you will need to re-enter the password you've previously chosen and clicked "Delegate".
This is it!
Dashboard
You're now able to track your delegation through the Dashboard page.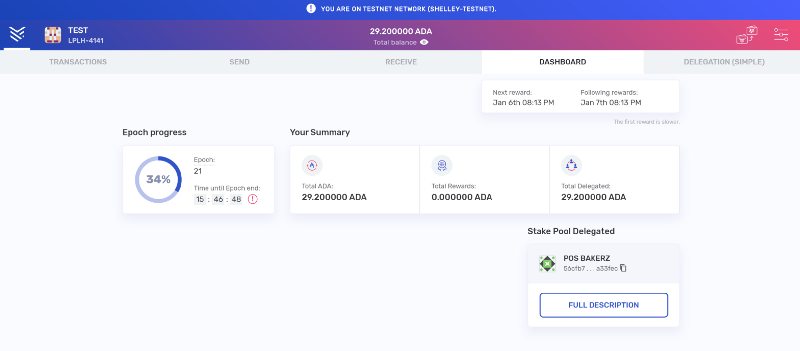 Please note, that you may need to do the transactions several times as some errors are happening.
If the transactions failed that's mean you need to try the process again. Once it has worked, POS Bakerz or the staking pool you've chosen will appear on your Dashboard under "Stake Pool Delegated".
From the Yoroi Dashboard, you will be also able to check the progress of each epoch and the rewards you're earning on the Cardano Shelley Testnet Network.
Want to discover more about Cardano Network?
DISCLAIMER: Cardano Shelley Testnet is a highly experimental network. This is for information purposes and can not be considered as financial advice. Staking and cryptocurrencies investment involves a high degree of risk and there is always the possibility of loss, including the loss of all staked digital assets. Additionally, delegators are at risk of slashing in case of security or liveness faults on some PoS protocols. We advise you to DYOR before choosing a validator.