A detailed guide explaining how to delegate Kava using Trust Wallet
Hi everyone,
On today's guide, we are going to explain to you what Kava Labs is and how you can delegate by using the Trust Wallet.
What is Kava Lab?
Kava Labs Inc is the company building the Kava DeFi Platform, a blockchain solution providing DeFi services such as stable coins, bonds, and lending to crypto users across many blockchain networks.
Powered by Tendermint consensus, the Kava platform has the ambition to become a reliable, interoperable & fast cross-chain DeFi service.
You can already acquire Kava tokens directly significant exchanges such as Binance. Check here for an in-depth article about Kava.
How to stake Kava tokens?
Kava is a Proof of Stake token based on the Tendermint BFT algorithm. Therefore, it allows every Kava token holder to enjoy staking rewards by delegating their token to a Kava Validator.
You can simply stake your token by using Trust Wallet or even Cosmostation.
On this guide, we are going to use Trust Wallet as an example. First, you will need to download the app available on the Appstore or Playstore.
Once you have downloaded the App, don't forget to backup your wallet.
Then, you will need to click the + button to add a Kava address allowing you to send, receive, or stake your Kava tokens.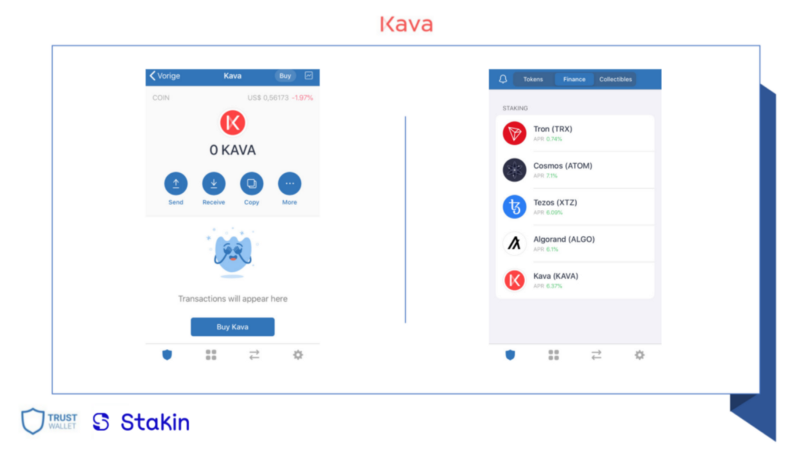 Once you have added your Kava wallet and sent some token to it, you will now be able to stake your tokens and earn additional rewards (currently ~13,5%)*.
*As stipulate on Staking Rewards. The yield appearing on Trust Wallet it's different because they take the Adjusted Reward (currently 7,5%) and then deduct the validator fees.
To stake, you need to click on "More," and you will then be able to stake and choose a Validator operating on this protocol.
At Stakin, we operate a Validator since Testnet and are only charging 8% fees.
Choose your validator wisely as there is a risk of slashing in case of security or liveness faults(double signing, lousy behavior) from the validator you have chosen.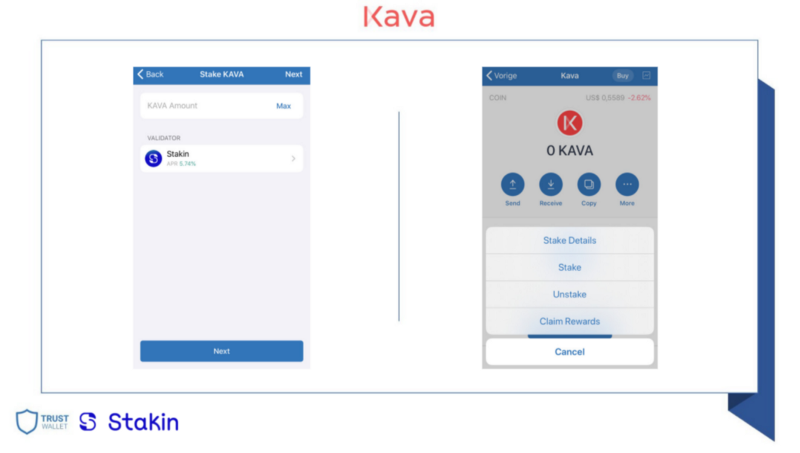 We would love to have you as a delegator! We currently are ranked 36 with around 96,479 Kava under delegation. After approving the stake transaction, you will start to receive additional rewards immediately.
If you have any questions about staking or Kava, feel free to ask us directly in our Telegram.
Other resources
Official Website
Kava Telegram / Riot
Kava explorer
Kava blog
Github
DISCLAIMER: This is not financial advice. Staking and cryptocurrencies investment involves a high degree of risk, and there is always the possibility of loss, including the loss of all staked digital assets. Additionally, delegators are at risk of slashing in case of security or liveness faults on some PoS protocols. We advise you to DYOR before choosing a validator.