We're delighted to announce to you that you can now stake your Tezos with us directly on Atomic Wallet and earn up to 6.35% yearly!
Please note: Stakin has discontinued its Tezos public infrastructure as of 1st of January 2022, as such the baker is no longer generating rewards and this guide is no longer maintained. For more information, read our official announcement (link to it) or visit https://stakin.com.
---
We're delighted to announce to you that you can now stake your Tezos with us directly on Atomic Wallet and earn up to 6.35% yearly!
If you're an Atomic Wallet user or Tezos holder looking for a simple tool to bake your Tezos, this guide will be helpful!
What is Tezos & staking?
Before starting, let's remind everyone what Tezos & staking is.
Tezos is a smart contract platform & the world's first self-evolving blockchain focusing on self-amendment and on-chain governance.
Thanks to his Liquid Proof of Stake consensus model, Tezos token holders can stake their tokens and enjoy additional rewards.
Binance Academy
If holders don't want to operate their infrastructure or if they don't own at least 1 Tezos roll (=8K Tezos), they can now delegate their token to a 3rd party. 3rd parties are called staking providers or bakers. Users can stake using their favorite wallets such as Atomic Wallet, for example.
Looking for more info about Tezos? Check this out
What is an Atomic wallet?
Atomic Wallet is a secured, decentralized, and anonymous cryptocurrency wallet allowing users to store and buy hundreds of cryptocurrencies and tokens in a single and simple interface.
Available on all major operating systems such as Windows, Androïd, iOS, and macOS. The Atomic wallet is one of the best solutions out there to keep custody of your fund and enjoy additional features such as Atomic swaps or staking!
How to delegate your Tezos on Atomic?
By staking your Tezos, you can now earn passive income thanks to this process. Delegating your token to Stakin will make you able to earn up to 6.35% yearly. Here is how it's working :
Download Atomic Wallet if you haven't yet and make sure to register your Private Key safely
Open your Tezos Wallet and send some XTZ. Note that you can also swap other tokens for Tezos within their wallet (in the Exchange page)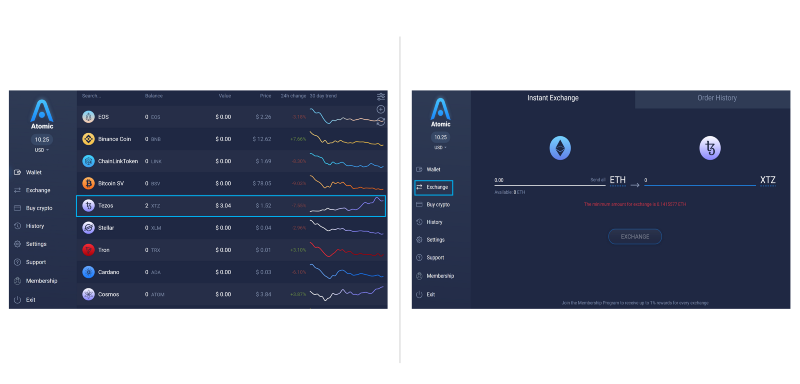 Once you received the funds, open your Tezos wallet and click on the stake button.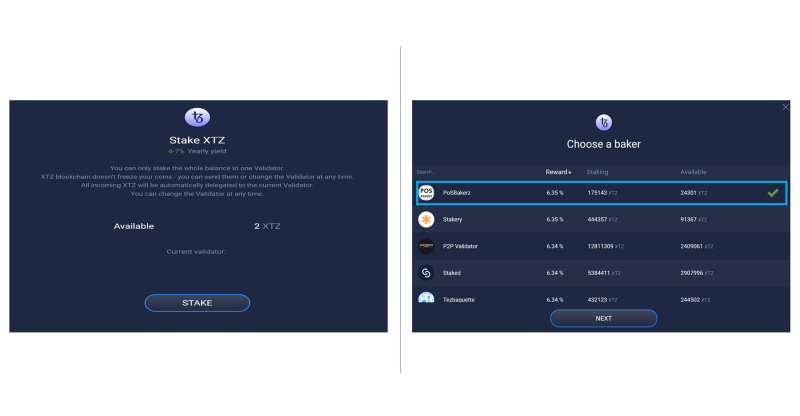 Click next and enter your password.
Tada! You're now delegating to the delegator you've chosen.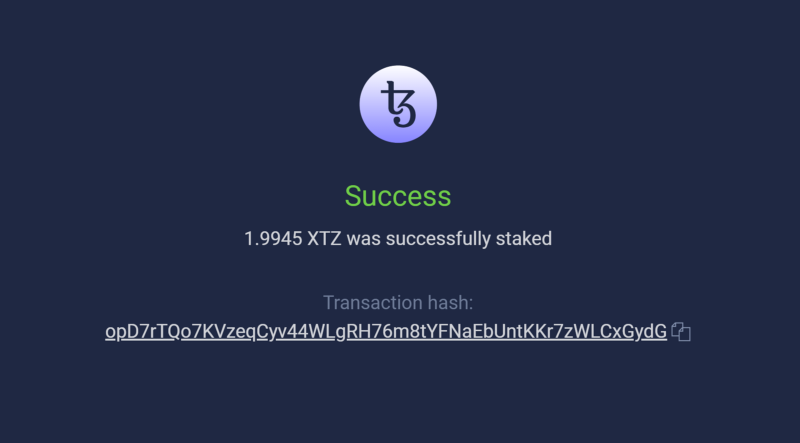 Please make sure you understand these few tips before you delegate.
Delegating XTZ is not the same as sending some. You own the custody of your funds so you can spend, transfer, and withdraw them whenever you want
Of course, the delegate does not have access to your Tezos, and the delegate you set cannot spend those tokens.
It takes seven cycles (~20 days) before you can receive rewards from a delegator, or more, depending on the bakers — Check this article to understand this deeply.
Stakin fee is at 8%
To check if your earnings are coming on your account, you can use our Tezos dashboard or a third party, such as Baking bad.
If you have any questions about staking or Tezos, feel free to ask us directly in our Telegram.
DISCLAIMER: This is not financial advice. Staking and cryptocurrencies investment involves a high degree of risk, and there is always the possibility of loss, including the loss of all staked digital assets. Additionally, delegators are at risk of slashing in case of security or liveness faults on some PoS protocols. We advise you to DYOR before choosing a validator.