Join our first ever DApp on the ICON Network!
Hi ICONists👩‍💻,
We're very excited to be able to now also share with you this step-by-step guide to using our first ever DApp, the Stakin Lossless Lottery, with MyIconWallet. If you don't own any $ICX, we'd recommend getting some since you will need them to buy lottery tickets.
If you're interested in knowing more about Lossless Lotteries, click here. Or if you'd like to join the Lossless Lottery with ICONex, click here.
If you don't have a MyIconWallet account yet, or you'd like to know how to stake, vote, and transact, have a look at our previous guide here.
Let's Get Started! 🚀
So, let's start by opening your wallet; make sure you have some $ICX available. Then, click on "DApps". In the DApp section of the app, select "ICX Lossless Lottery". You can do so by scrolling down and searching for it manually or typing the name in the search balk.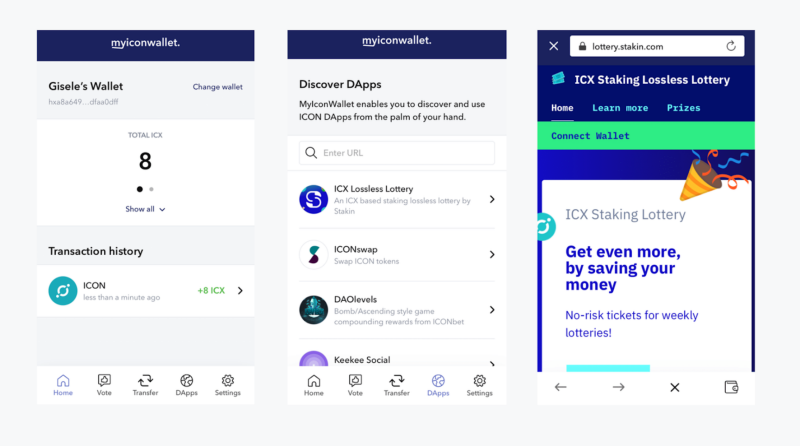 You'll be taken to the lottery homepage. On the Stakin Lottery Dashboard, navigate to "Profile", which will guide you to the profile page. On the page, you will be able to see your total balance of tickets, your winnings, total $ICX balance, and the ongoing lottery. You'll need to select "home" and scroll down, then select "buy tickets" to get your lottery tickets.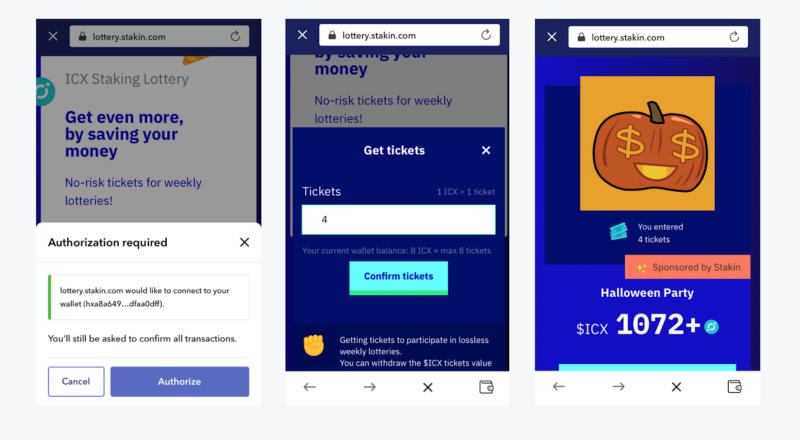 You will be asked to authorize the DApp to make changes to your wallet. Select "Authorize" to continue. Then, select the number of tickets that you'd like to buy. Remember, 1 ICX equals one ticket. When ready, select "Confirm Tickets". You will automatically be enrolled in the next lottery (see image on the right). So, all you'll have to do is wait and check-in once the lottery ends to see what you've won! 🤑 🤑
Please keep in mind that Smart Contracts are designed to run independently on a decentralized blockchain. Both the technology for Smart Contracts and the Protocol technologies are highly risky and experimental. Users should not transact without proper knowledge and extensive due diligence on their end.
---
DISCLAIMER: This is not financial advice. Staking and cryptocurrencies investment involves a high degree of risk, and there is always the possibility of loss, including the loss of all staked digital assets. Additionally, delegators are at risk of slashing in security or liveness faults on some PoS protocols. We advise you to DYOR before choosing a validator.