Staking $AKT to Power the World's First Decentralized Cloud for DeFi and High-Growth Organizations
In today's article, we have a look at quickly and easily staking your Akash $AKT. But before we do that, let's have a brief look at the Akash Network and what it's all about.
Akash is the world's first decentralized open-source cloud, and DeCloud for DeFi (Decentralized Finance) and other applications. So, what does that mean? Akash is a fast, efficient, and low-cost cloud built for DeFi, decentralized projects, and high-growth companies through advanced containerization technology and a unique staking model to accelerate adoption. The network provides scale, flexibility, and price-performance up to 10x lower than the market costs. Additionally, the serverless computing cloud platform is compatible with all cloud providers and all applications that run on the cloud, easily integrating with a company's existing technology stack.
As the world's first decentralized cloud computing marketplace, Akash can be used to distribute 85% of underutilized cloud capacity in 8.4 million data centers globally. Akash enables anyone to buy and sell cloud computing.
For more information about DeCloud, have a look at the article below.
How To Obtain $AKT
Akash Network is a Tendermint based Proof-of-Stake blockchain that is part of the Cosmos ecosystem, the network's native asset is the Akash Token ($AKT). $AKT is used as the primary means to govern, secure the blockchain and provide a default mechanism to store and exchange value. Additionally, $AKT acts as a reserve currency in the multi-currency and multichain Akash ecosystem, all the while ensuring economic security of the platform's public blockchain through staking.
$AKT is available to buy on Osmosis (DEX) among other platforms. For more information, you can refer to the list of markets available on Coingecko. $AKT can be staked using wallets such as Keplr Wallet and Cosmostation.
Holders of $AKT are contributing to the security of the Proof-of-Stake network by staking their assets. In exchange, rewards are earned. Rewards comprise inflationary rewards and include a share of the total network spend (Take Income) that users pay. For further details about the token economics of $AKT, have a look at the Akash Token website.
Let's Stake!
Step 1 – Install Wallet Extension
If you haven't downloaded the wallet yet, go to https://wallet.keplr.app/; a pop-up will appear as soon as you enter the website. Click on the pop-up; it will lead you to the Chrome extension store. Select: "add to Chrome".
Once you've added the extension, click on it on your screen's top-right menu to open the Keplr web page.
Step 2 – Create Your Wallet
On the Keplr web page, select "Create New Account" to start setting up your account. There is also an option to Sign in with Google, powered by Torus. In case you already have a Keplr wallet, select "Import Existing Account".


If you've selected "Create New Account", Keplr will ask if you'd like to have a Mnemonic Seed of 12 or 24 words. Remember to store your seed phrase securely offline and never share it with anyone. If you lose your seed phrase, you will lose the assets within the wallet.
Once you've copied your seed phrase, fill out your account name, desired password and confirm by selecting "Next".



You will then be asked to fill out your seed phrase in the proper order to register. Click on the words to create the sentence, then select "Register". That's it! You've now created your Keplr wallet. Select "Done" to close the registration webpage, and your wallet should now be opened in the extension. Go to: https://wallet.keplr.app/#/dashboard to continue.


Step 3 – Start Staking
After you've opened the Keplr dashboard, copy your account address to send Akash $AKT from the previously mentioned exchanges to your wallet. Now it's time to get started with staking!
On the left dropdown menu, select 'Akash' and then 'Stake' (see image below).


After selecting 'Stake', the validator overview is shown. In the overview, scroll down to look for the validator of your choice. Then, select 'Manage' on the right side of their name.

A popup will appear asking you to fill out the amount of $AKT that you'd like to delegate. Fill out the amount you'd like to delegate and then select 'Delegate' to continue.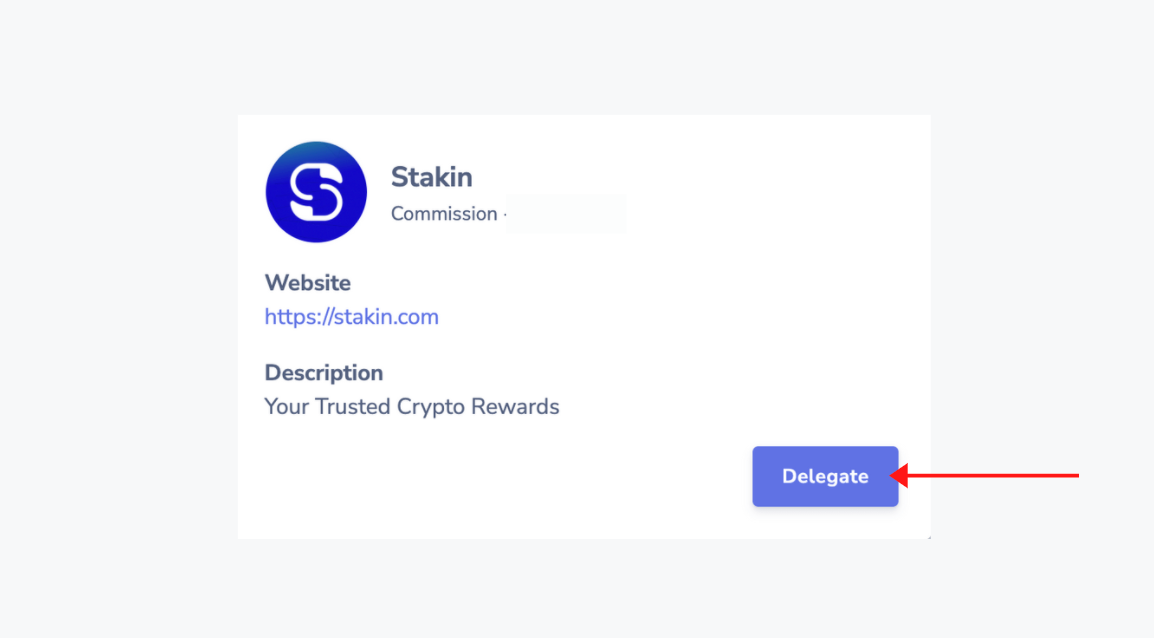 You will be asked to confirm the transaction and the gas prices, then select 'Approve'.
Congratulations! You've now completed the staking process for your $AKT and can start earning rewards.
Staking rewards on Akash do not compound automatically, which means you'd need to claim them yourself and restake them if desired.
Step 4 – Claiming Rewards
If you'd like to claim your rewards, open the Keplr Wallet extension once again, and select "Akash". In the asset dashboard, you'll see a direct overview of the number of assets that you're able to claim. Select "Claim" to obtain your rewards. A pop-up will appear requesting you to set a fee. If done so, select "Approve" to continue.

Step 5 – Re-staking Earned Rewards
The re-staking process works similar to the original staking process explained in step 3. First, in the Akash dashboard, select "Stake". Scroll through the available validators to find one of your choice. Select "Manage".

It's important to read through all the given information before selecting "Delegate" to continue. Now, in the pop-up, fill in the number of $AKT that you'd like to delegate and select "Delegate" to confirm.
Confirm the transaction, and that's it!
The Unbonding Period
When staking $AKT, you're able to initiate the unbonding process at anytime. The process takes 21-days, after which your assets are unlocked and available in your wallet.
For more information about Stakin and our services, please have a look at the website, social media or send us a message on Telegram, and Discord.
---
DISCLAIMER: This is not financial advice. Staking, delegation, and cryptocurrencies involve a high degree of risk, and there is always the possibility of loss, including the failure of all staked digital assets. Additionally, delegators are at risk of slashing in case of security or liveness faults on some protocols. We advise you to do your due diligence before choosing a validator.