A detailed guide to staking ATOM with Atomic Wallet
Hi Readers👩‍💻,
Today we'd like to explain to you how you can stake your ATOMs using Atomic Wallet. In case you weren't aware yet, Stakin is directly available on Atomic Wallet.
💼 Part 1 — Atomic Wallet
So, let's take a quick look at Atomic Wallet. This multicurrency wallet is the first non-custodial wallet with a cross-chain Atomic Swap technology. The wallet supports over 300 different digital currencies and all major blockchain networks.
Atomic Swap Technology also called Atomic Cross-Chain Trading allows an exchange of coins without the need for a centralized third party.
The Atomic Wallet is created to be 100% secure when taking the security guidelines for using the wallet into account of course. Because Atomic is an open-source wallet, it is possible for you to examine to code yourself to see if it's free from vulnerabilities. If you're not that experienced with code, you can look into the community discussion about the security.
📈 Part 2 — Let's Get To Staking
First things first, in order to get started with Atomic Wallet, go to the website. From there, you can simply click the download button. The Atomic Wallet is also available as a mobile app, which you can download directly in your app store (available for Android and Apple devices).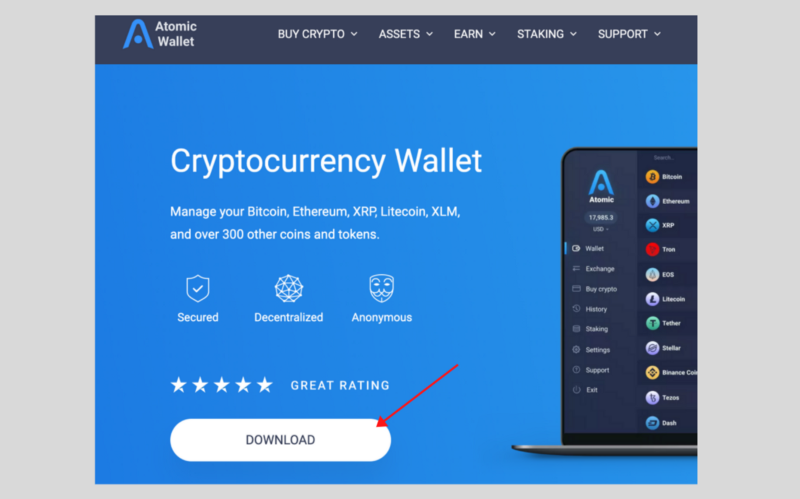 After the download is completed, select "new wallet" or "restore from backup", depending on if you've had an Atomic Wallet before. Atomic Wallet will ask you for a password, type in whatever password you like. For a strong password, don't use birthdates or names of family members or close friends. Store your password in a safe place (preferably offline), it is not possible to obtain a new password if you lose it. After you've set the password, a screen with a safety sentence will appear. Safe the sentence in a secure spot as well.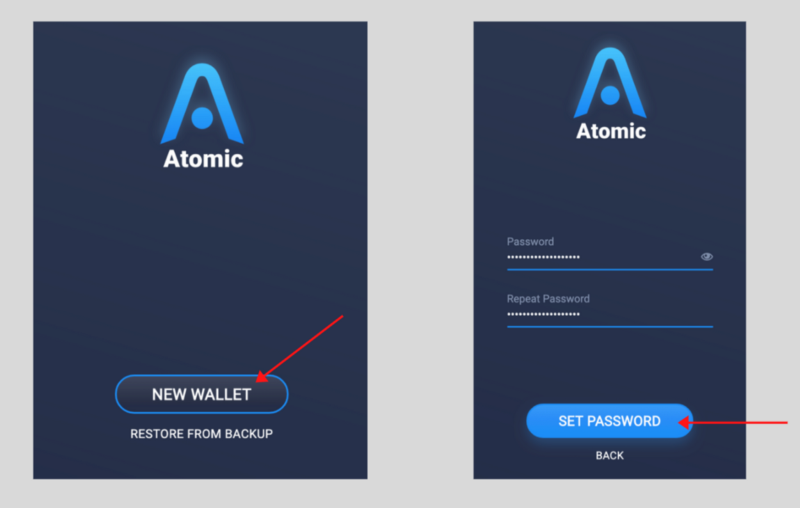 If you already have ATOMs in another wallet, it is possible to send them to yourself by simply using the QR-code generated. If you're not in possession of any ATOMs, you can obtain them in two ways. The first is you can exchange them for other coins, such as Tezos. The second option is to buy them with your credit card.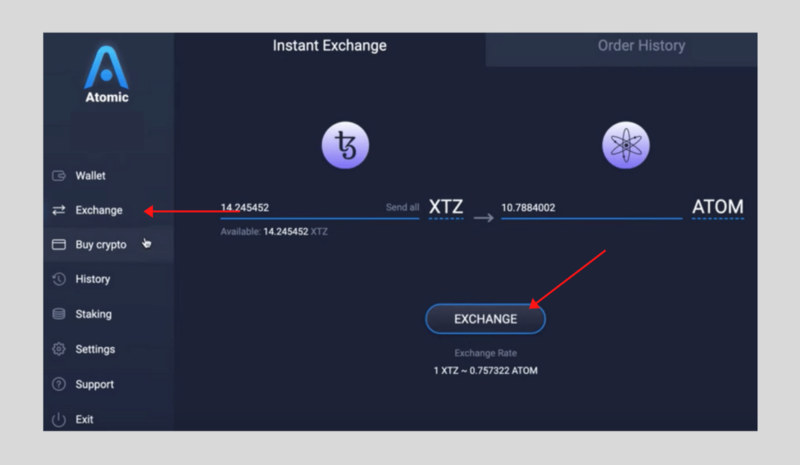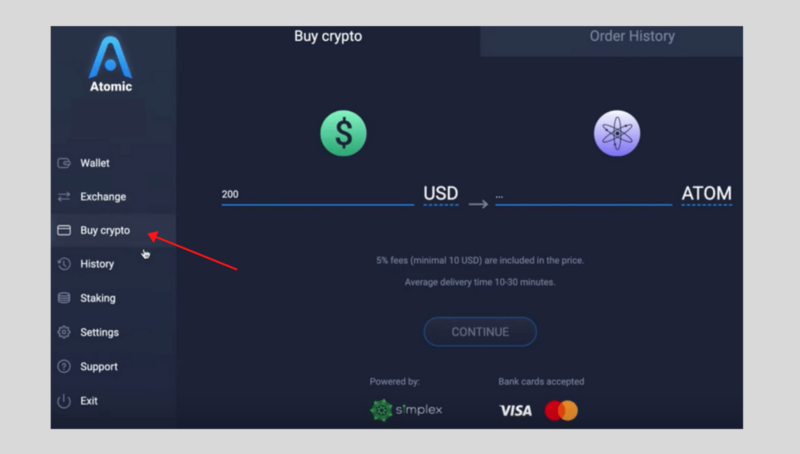 Now that you have your ATOMs, open the staking tab in the left menu. You will be shown a list of all the different currencies that are available for staking. Select ATOM by using the search feature or simply scroll down.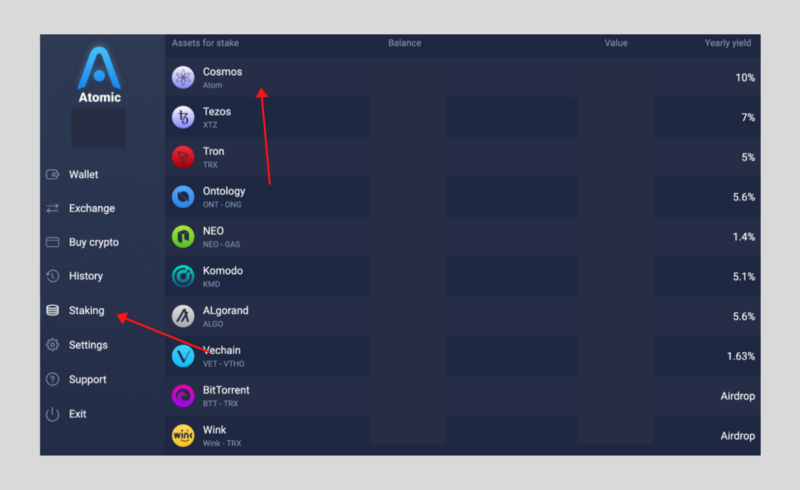 Once you've selected Cosmos, the staking screen opens. This will show you the annual yield, available ATOMs, staked ATOMs, the unbonding amount, and rewards. Do keep in mind that the unbonding and bonding time for staking ATOMs is 21 days. Now, select "stake".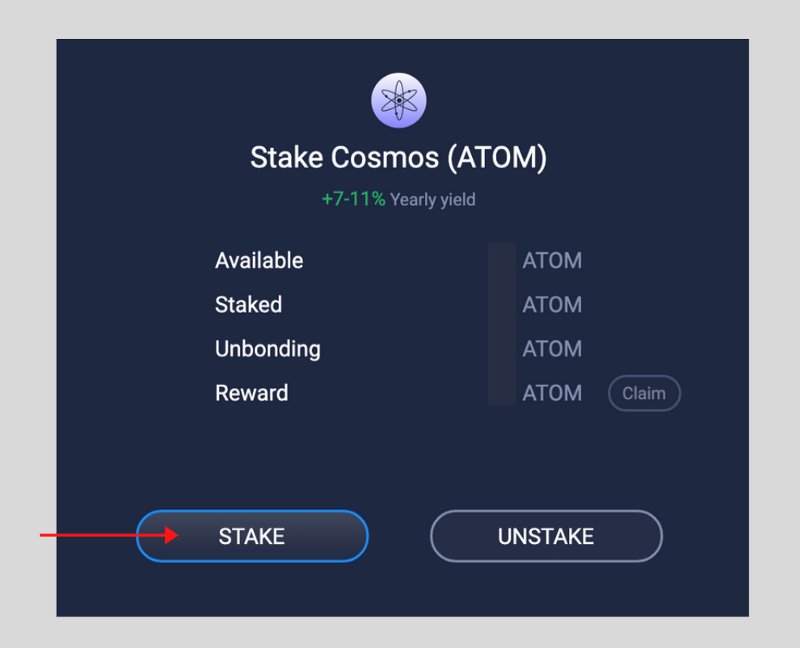 Once you've pressed "stake", you can select the number of ATOMs you'd like to stake. Their current USD value is also shown. You can select "stake all" if you want to stake all your ATOMs or select the amount. Then, by clicking on "validator" you can see the yearly yield of each and select the one you'd like to use.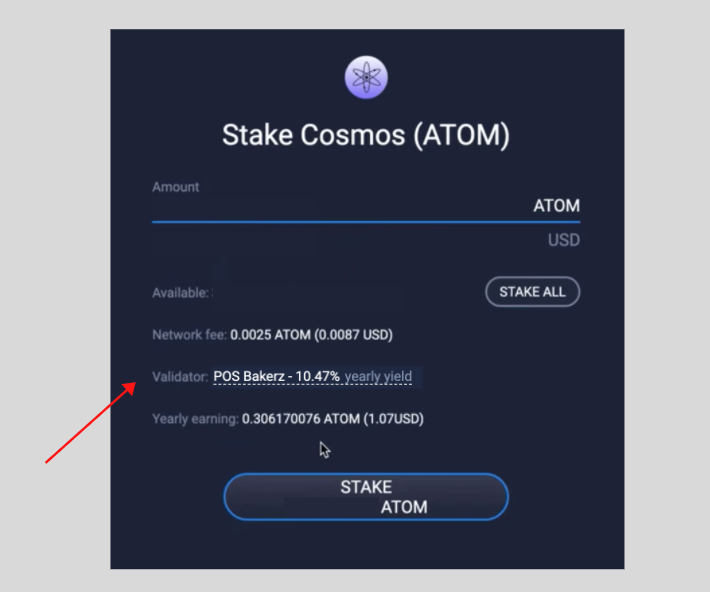 Once you're ready, click "stake". You'll have to enter your password, and that's it. You've now successfully staked your tokens. You can click on the hash to track your transaction.
👉 In order to claim your rewards, all you have to do is go back to the staking menu. Then, click "Claim" on the staking interface. If you want to unstake your ATOMs, simply press unstake. But be aware that you will have a 21-day unlocking period.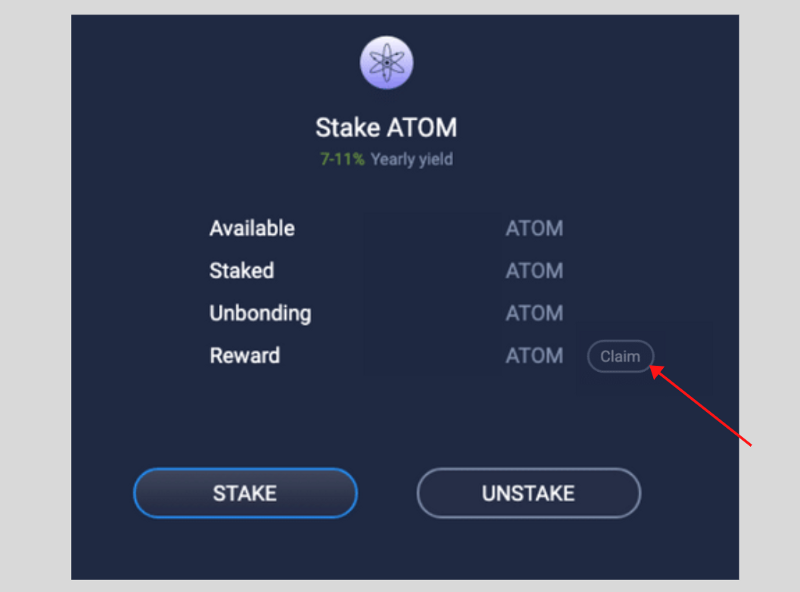 More Information & Sources
DISCLAIMER: This is not financial advice. Staking and cryptocurrencies investment involves a high degree of risk and there is always the possibility of loss, including the loss of all staked digital assets. Additionally, delegators are at risk of slashing in case of security or liveness faults on some PoS protocols. We advise you to DYOR before choosing a validator.