Staking Axelar $AXL with Keplr Wallet
Before we dive into staking, let's quickly refresh our memories about Axelar. Instead of building exclusive bridges between individual networks, Axelar is a bridging network that aims to connect multiple blockchains through wrapped assets. Axelar's long-term goal is to build the infrastructure required to onboard the next billion people to web 3.
The network consists of a decentralized network of validators, secure gateway contracts, and developer tools such as SDKs and APIs. It seeks to make it simple for developers to plug in and communicate with other blockchains, provide DApp (decentralized application) developers with easy access to cross-chain compossibility, and allow users to fluidly interact with applications across various blockchain ecosystems.
Before staking, here are some things you need to know. On Axelar, rewards are distributed per block, which is about every 6 seconds. Keep in mind that new delegation is required for compounding, and the unbonding time for $AXL is 21 days. In addition, kindly note that you'll need to keep some $AXL in your wallet for transaction purposes when staking.
Ready?! Let's get started!
Creating A Wallet
Install the wallet extension
If you haven't downloaded the wallet yet, go to https://wallet.keplr.app/; a pop-up will appear as soon as you enter the website. Click on the pop-up; it will lead you to the Chrome extension store. Select: "add to Chrome".
Once you've added the extension, click on it on your screen's top-right menu to open the Keplr web page.
Create Your Wallet
On the Keplr web page, select "Create New Account" to start setting up your account. There is also an option to Sign in with Google, powered by Torus. In case you already have a Keplr wallet, select "Import Existing Account".

If you've selected "Create New Account", Keplr will ask if you'd like to have a Mnemonic Seed of 12 or 24 words. Remember to store your seed phrase securely offline and never share it with anyone. If you lose your seed phrase, you will lose the assets within the wallet.

Once you've copied your seed phrase, fill out your account name, desired password and confirm by selecting "Next".


You will then be asked to fill out your seed phrase in the right order to register. Click on the words to create the sentence, then select "Register". That's it! You've now created your Keplr wallet. Select "Done" to close the registration webpage, and your wallet should now be opened in the extension. Go to: https://wallet.keplr.app/  to continue. Select "Chains" and in the search bar select "Axelar".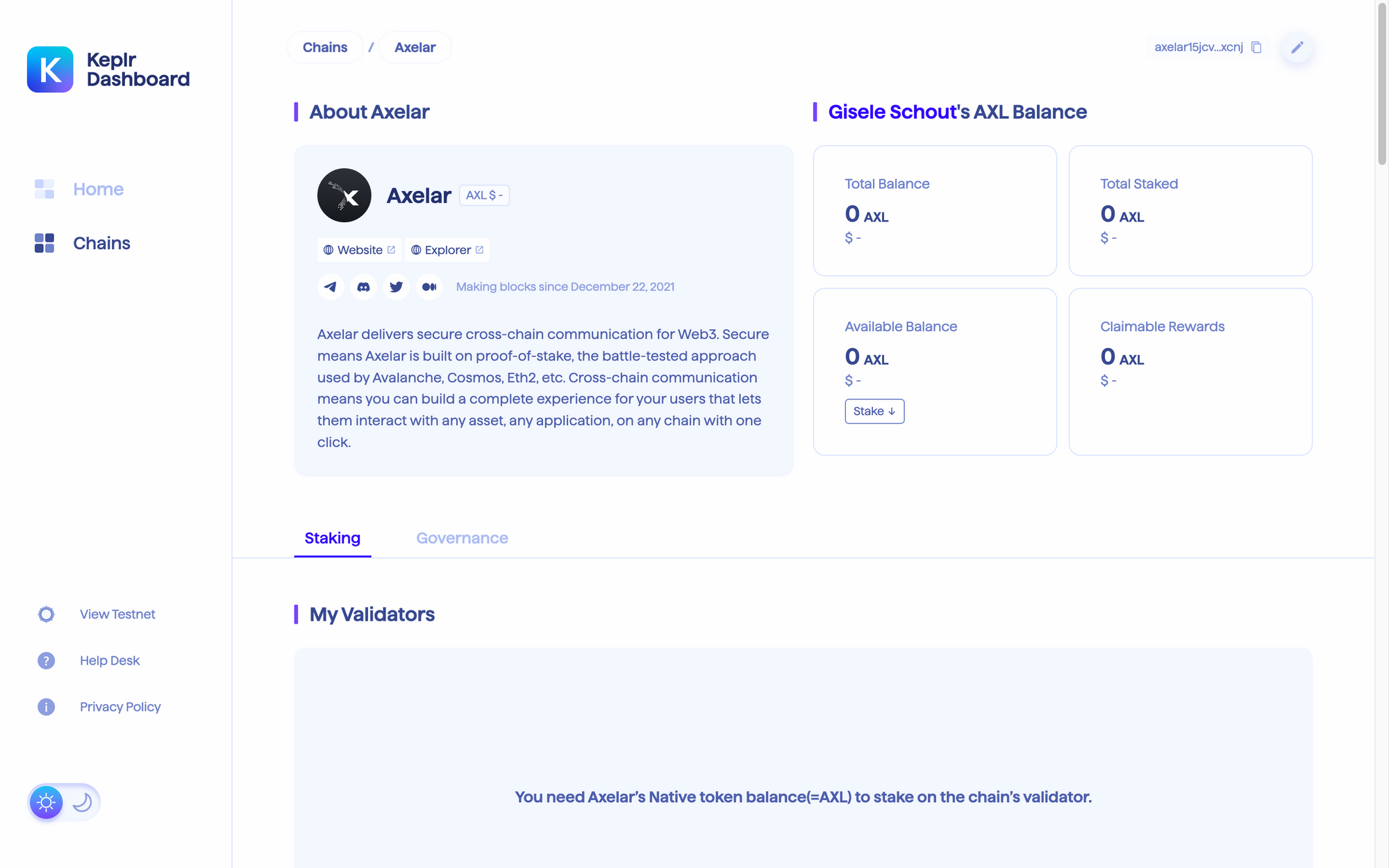 Staking $AXL
To stake, you'll need to make sure that you have $AXL available in the wallet that you'd like to stake with. Once ready, in the Keplr app extension under Axelar Network, scroll down to the list of validators. Thereafter, find the validator of your choice by scrolling down the list. In this case, we're using ourselves, Stakin, as an example. On the right side of the validator's name, select "Manage".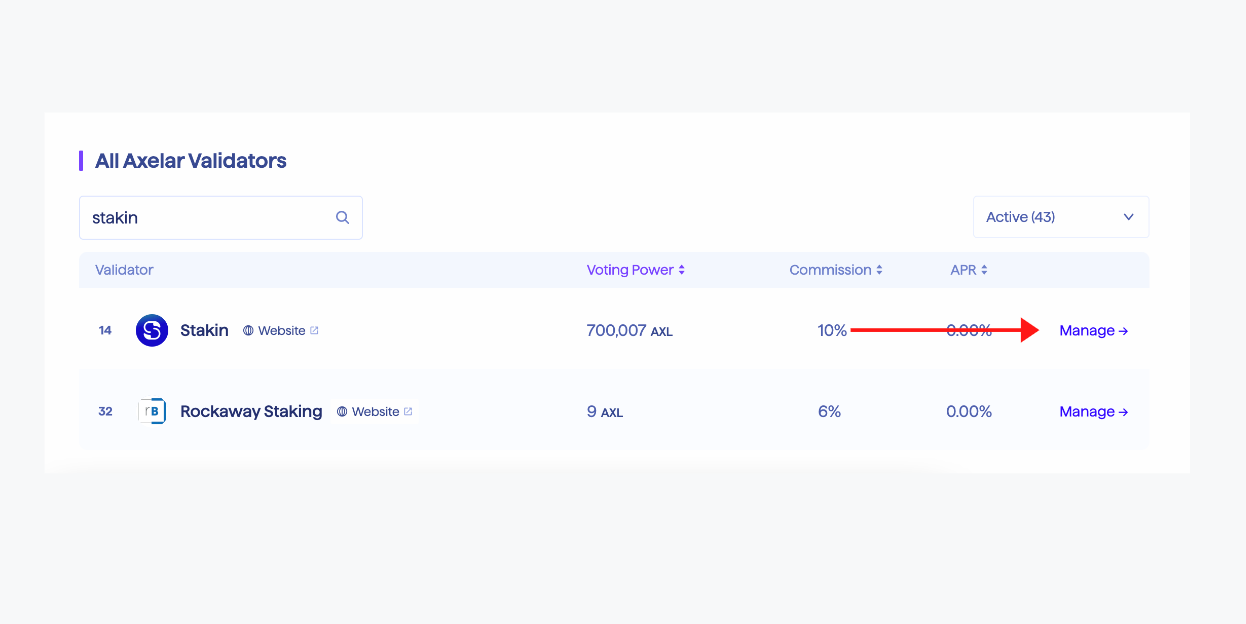 A pop-up will appear with the information of the validator and the commission rate. Select "Delegate" to continue.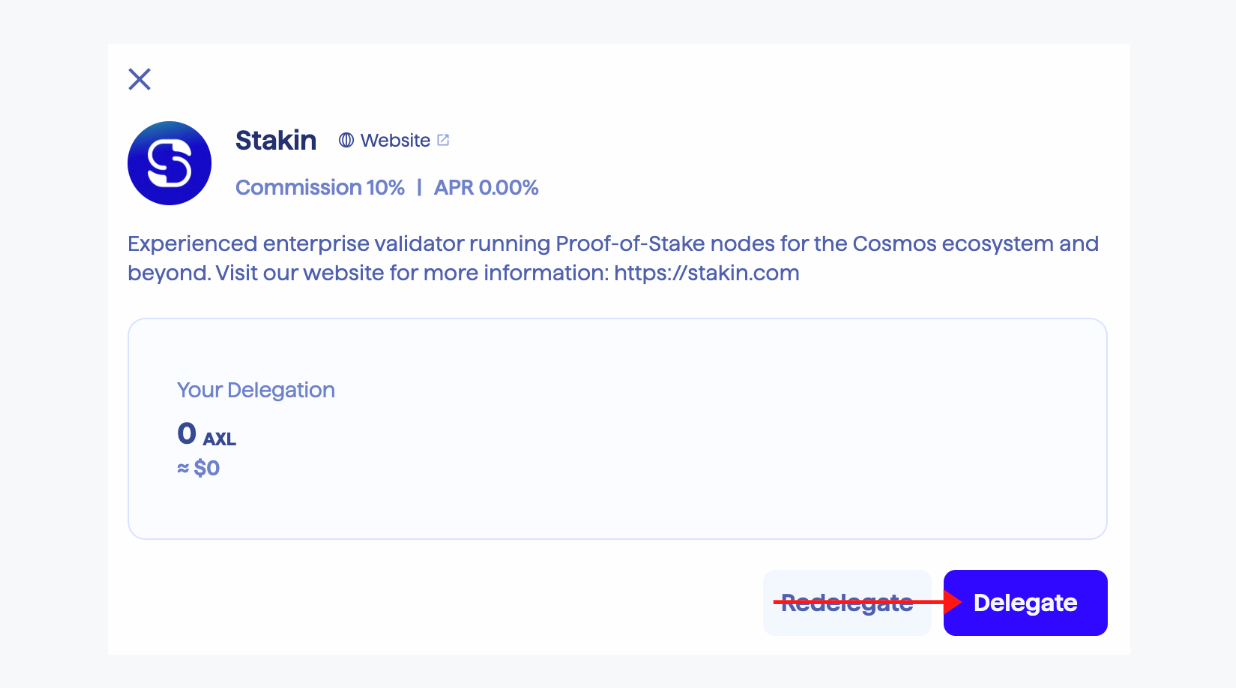 Next, fill in the amount of $AXL that you'd like to delegate and select "Delegate" once again. Please keep in mind that you'll need to keep a small amount of $AXL in your wallet for transaction fees. Select the fee that you'd like to pay, double-check the details and when ready, press "Approve" to delegate. After a few seconds, a pop-up will appear confirming your delegation.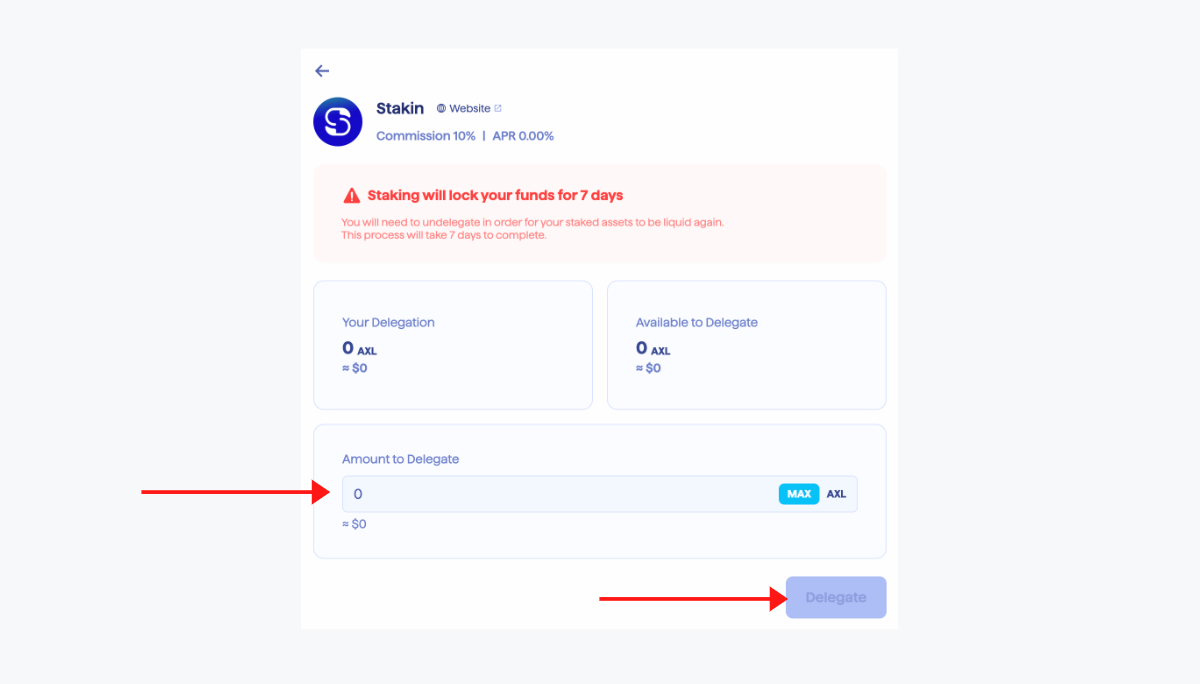 Congratulations! You've now successfully staked your $AXL and can start earning rewards.
---
DISCLAIMER: This is not financial advice. Staking, delegation, and cryptocurrencies involve a high degree of risk, and there is always the possibility of loss, including the failure of all staked digital assets. Additionally, delegators are at risk of slashing in case of security or liveness faults on some protocols. We advise you to do your due diligence before choosing a validator.