A Step-by-Step Guide on Staking Certik Chain
Hi Readers👩‍💻,
On the 24th of October 2020, CertiK Chain launched its Mainnet, a highly secure, decentralized, interoperable blockchain part of the Cosmos ecosystem. And so, CertiK and its surrounding protocols are paving the way for next-level blockchain security.
For those unfamiliar with the blockchain, CertiK Foundation (the founders of CertiK Chain) was built with the vision of provable trust for all — every blockchain, every smart contract, and every user. This vision reflects throughout the blockchain's fundamentals as provable trust will usher the path towards greater decentralization, transparency, and security. In addition to the chain, there is:
DeepSEA: a new and secure programming language in which smart contracts can be written and formally proven.
Security Oracle: a cross-chain relayer of real-time security analysis that enables users to access streamlined on-chain security information.
CertiK Shield: a flexible, decentralized pool of funds for members to obtain reimbursements for any lost or stolen crypto assets.
We're excited to see how CertiK Chain will improve the security standards with their blockchain and how they will accelerate secure adoption, development, and innovation.
For more information about CertiK Chain, please click here.
This tutorial will be using the CertiK Deepwallet, a deeply connected web application that interacts with the CertiK Chain. It lets you store, send, receive, and stake CTK and deploy and call smart contracts. The platform contains validator badges, the transaction tracker, cryptographic certifications, and much more. Additionally, DeepWallet highlights cross-chain compatibility, allowing users to store different assets and stake with validators they trust securely. So, let's get to staking.
Let's Get To Staking
Step 1 — Open Your DeepWallet
Before you can stake, you'll need to create a DeepWallet. Navigate to https://wallet.certik.foundation/ and select "Create Wallet".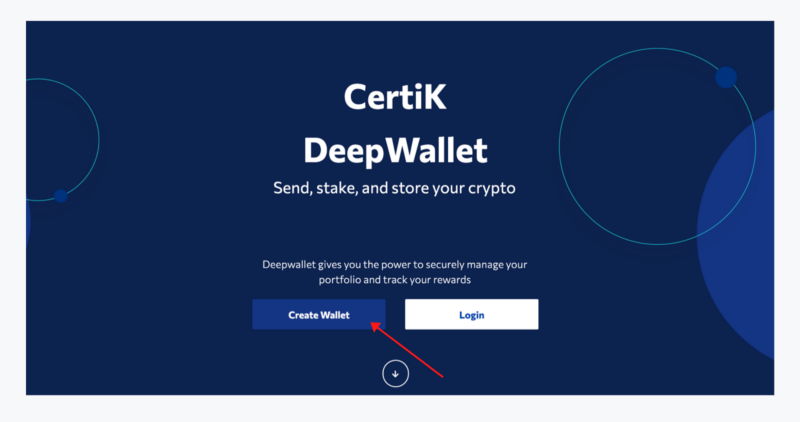 Next, the sign-up process will open; it consists of six steps. First, you fill in your email and desired password. Then select "confirm". The next step gives you a "passphrase", it is your back-up phrase which you should write down somewhere securely in case you ever need to restore your account. Once you've written it down, select "I wrote it down".
The third slide will ask you to input specific words from the passphrase to confirm you've written it down correctly. Select "confirm". Now the next step is a two-step verification process for which you will need a 2FA Authenticator App, such as Google Authenticator, 2FAS or Authy.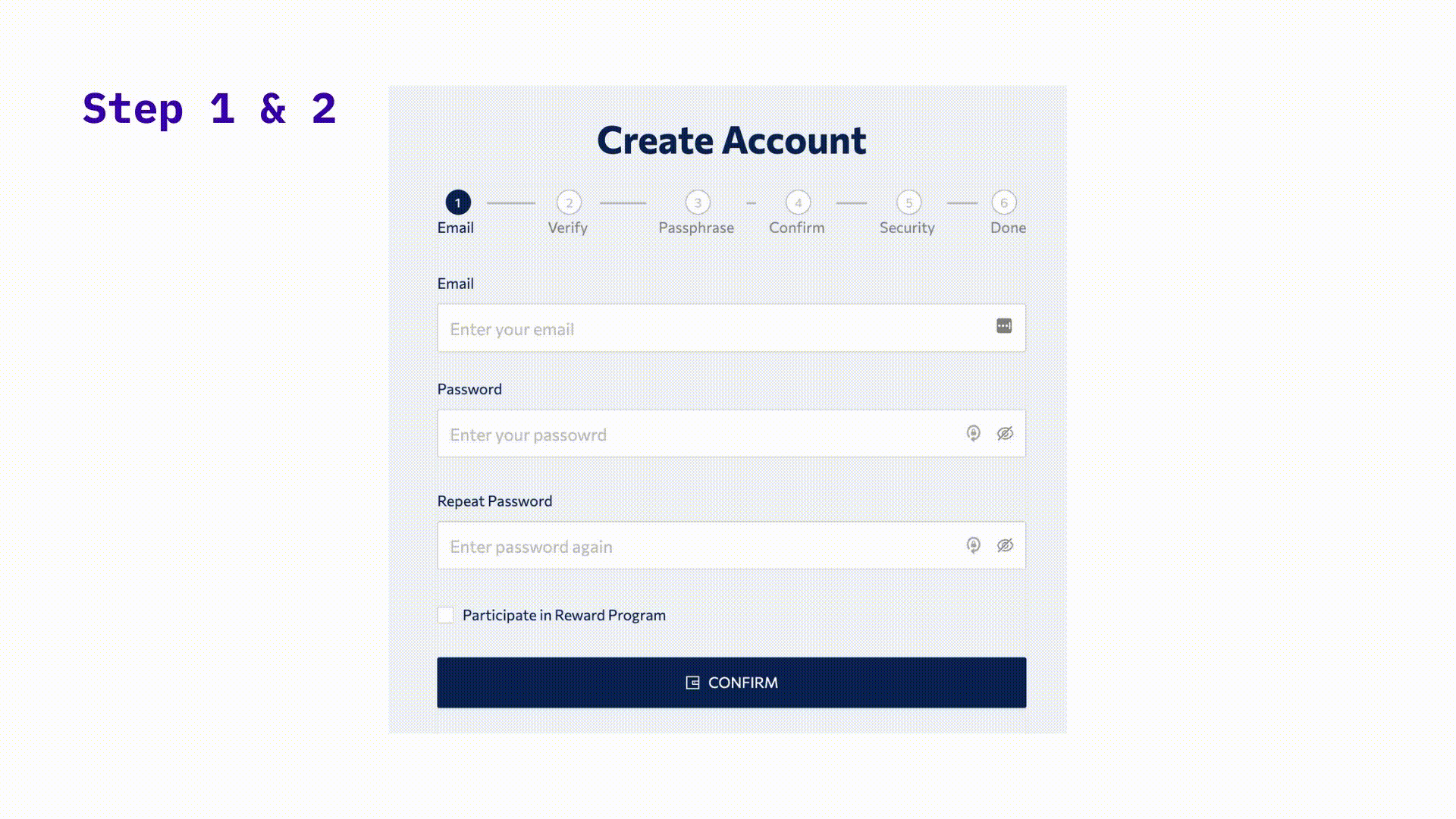 Open the 2FA app on your phone, select the "+" in the top right corner and scan the given QR-code on the screen with your phone's camera. Next, fill out the code that you see on your phone's screen in your desktop process and select "confirm". Finally, select "go to wallet" and you're taken to the desktop.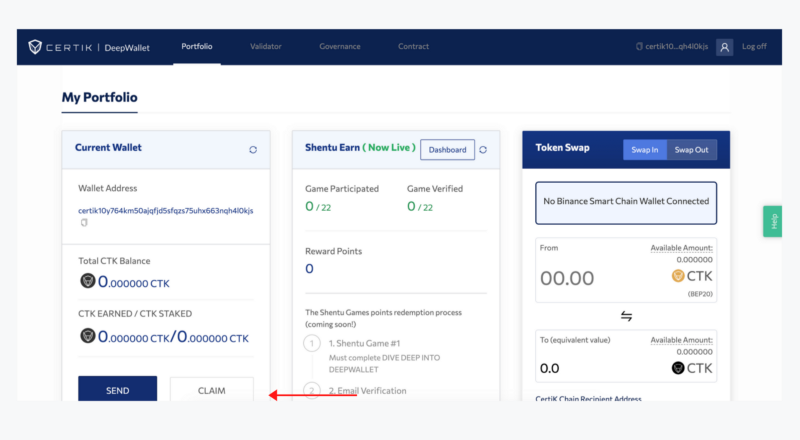 You've now created your wallet. Select "send" or "claim" in the left column on the dashboard to get your $CTK.
Step 2 — Let's Get To Staking
Once you have your $CTK, go to the validator tab on the top menu in the dashboard or https://wallet.certik.foundation/validators. On the right side of the screen, you can see how much $CTK you have available for delegation, how much is staked, and how much you've earned.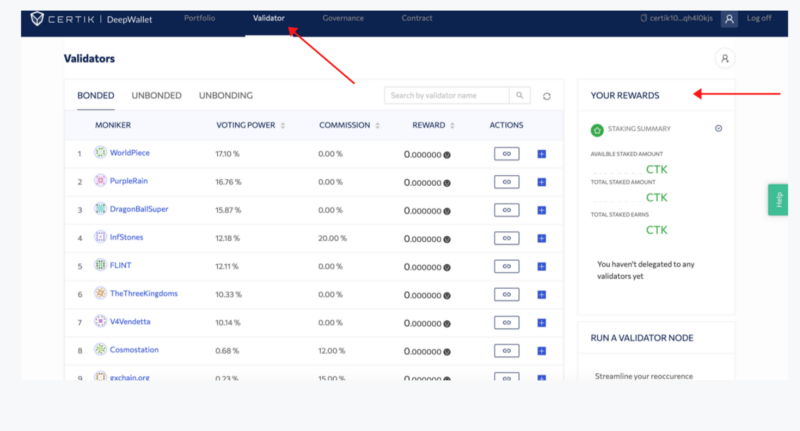 The left will show you a list of all available validators. Scroll down to find the one you'd like to stake your assets with or type the name directly in the search balk on the top right of the column.
Once you've found the validator of your choice, press on their name to open-up the staking screen. To stake, press the little blue button (as seen on the image below) and a pop-up will open.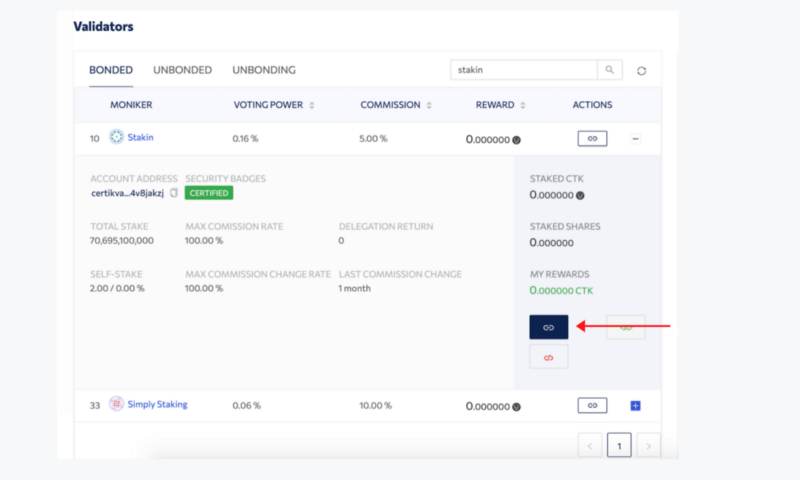 Side note: if you click on the name of the validator it will also take you automatically to the CertiK explorer, where you can see all the performance details of the validator (see image below).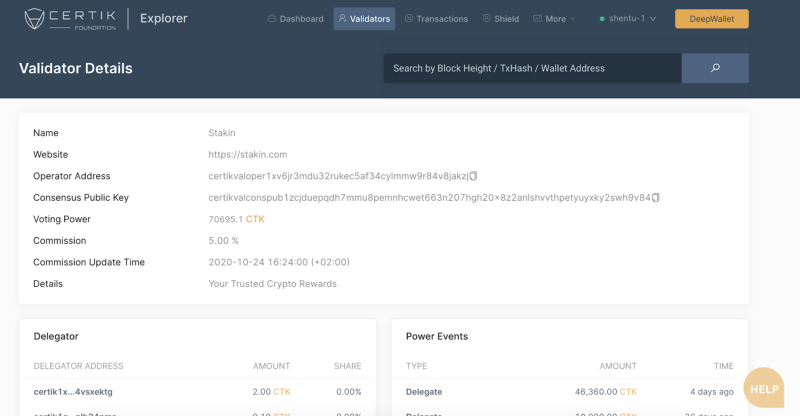 The new transaction pop-up will ask you to add the amount of $CTK that you'd like to stake. Please do so, and select "continue". A summary will appear, confirm all details are correct and select "continue" once again. Finally, select "confirm".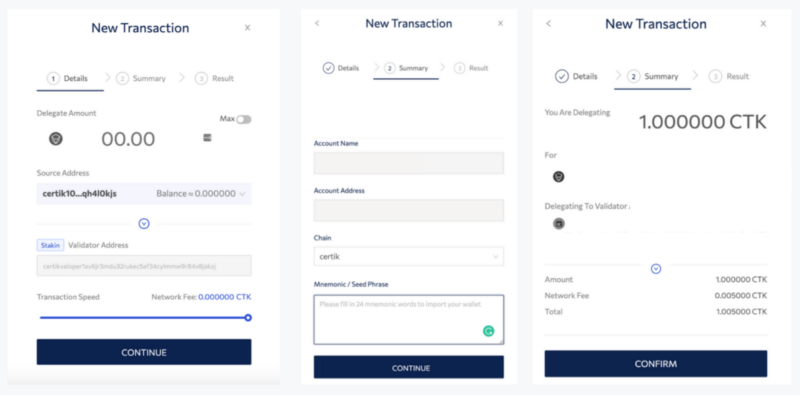 Congratulations, you have now delegated your $CTK to your validator!!
---
DISCLAIMER: This is not financial advice. Staking and cryptocurrencies investment involves a high degree of risk, and there is always the possibility of loss, including the loss of all staked digital assets. Additionally, delegators are at risk of slashing in security or liveness faults on some PoS protocols. We advise you to DYOR before choosing a validator.