A detailed guide on staking your Crescent Network $CRE with Keplr Wallet or the Disperze dashboard.

Today, we show you how to stake $CRE, the native asset of the Crescent Network. 🌙
Crescent Network is a DeFi Hub in the Cosmos Ecosystem and aims to provide a connected system of DeFi functionalities to enhance capital efficiency and manage risks. It focuses on three main solutions: the Crescent DEX, boost and derivatives.
Crescent Network is committed toward embodiment of the following objectives:
Providing a marketplace for multichain assets with capital-efficient liquidity incentivization
Securing a cross-chain collateralization protocol for users to effectively manage risks of their portfolio
An array of utilities will be built by the team and perfected by the community through governance, each embracing the core fundamentals of the network.
That said, let's dive in to staking!
Let's Get To Staking!
Install the wallet extension
If you haven't downloaded the wallet yet, go to https://wallet.keplr.app/; click on "Connect Wallet" and it will lead you to the Chrome extension store. Select: "add to Chrome".
Once you've added the extension, click on it on your screen's top-right menu to open the Keplr web page.
Create Your Wallet
On the Keplr web page, select "Create New Account" to start setting up your account. If you already have a Keplr wallet, select "Import Existing Account".
If you've selected "Create New Account", Keplr will ask if you'd like to have a Mnemonic Seed of 12 or 24 words. Remember to store your seed phrase securely offline and never share it with anyone. If you lose your seed phrase, you will lose the assets within the wallet.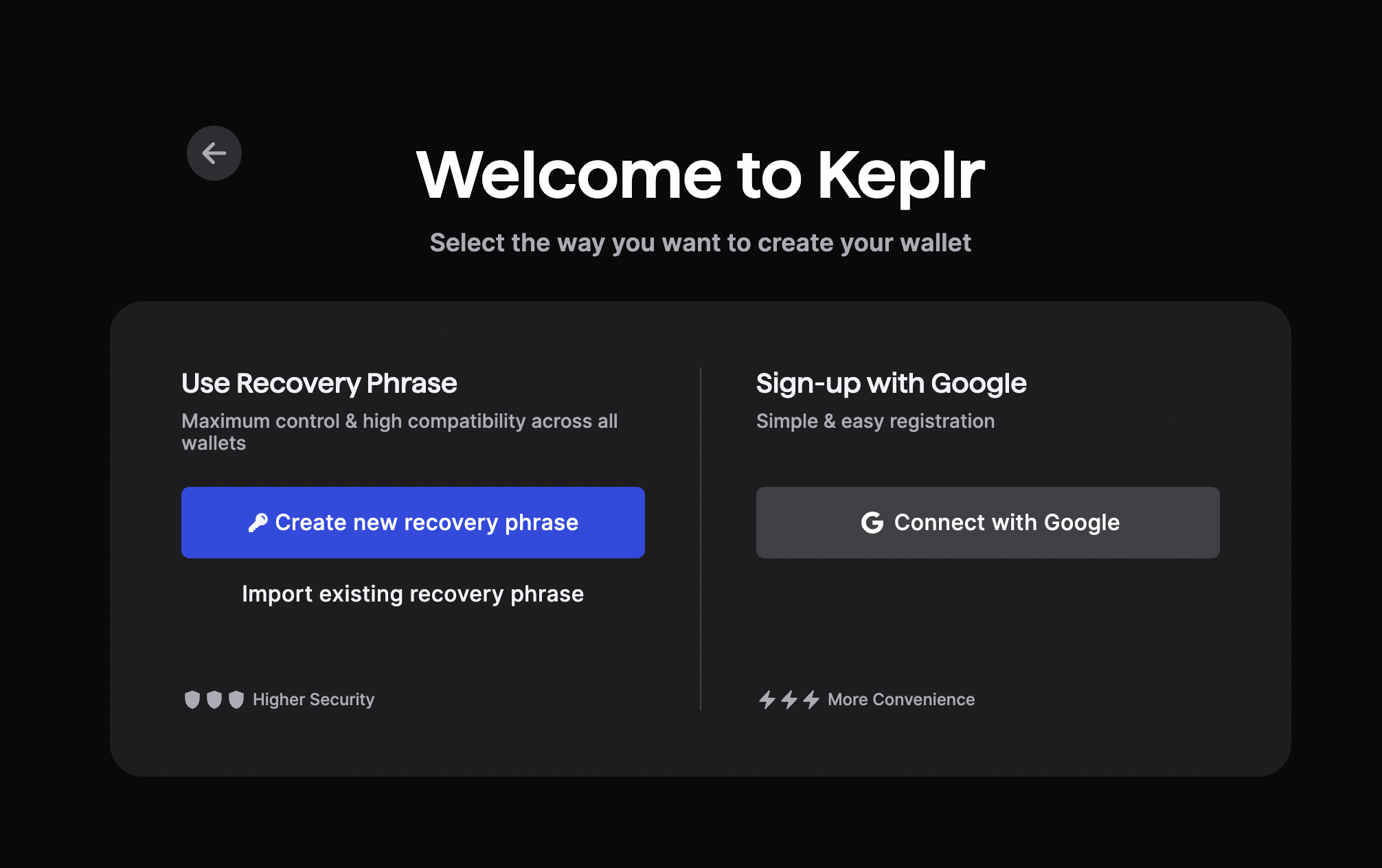 Once you've copied your seed phrase, fill out your account name and desired password and confirm by selecting "Next".
You will then be asked to fill out some of your seed words correctly, then select "Register". That's it! You've now created your Keplr wallet. Select "Done" to close the registration webpage, and your wallet should now be opened in the extension.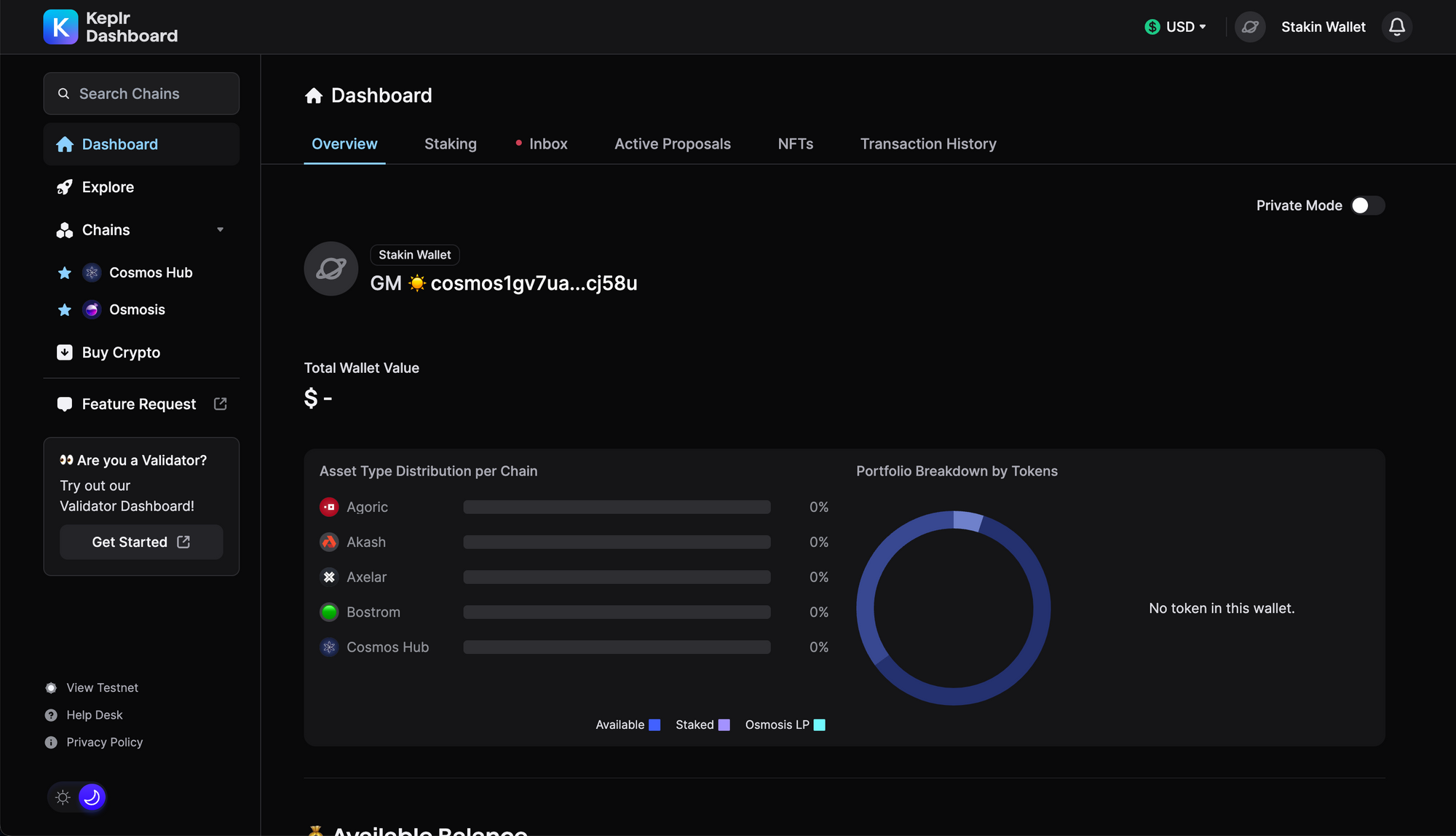 Start Staking

It is not possible to use the Keplr dashboard to stake or vote on Crescent Network; you need to use the specially created Crescent dashboard, which you can find via https://app.crescent.network/.
Please note: always keep a bit of $CRE in your wallet for transaction fees. You can request a bit of $CRE (once per address) using Crescent's official faucet here: https://faucet.crescent.network/
After connecting your wallet to the website, you can Swap CRE, bCRE, and ATOM. Moreover, you can provide liquidity to the protocol, participate in governance and see all your balances in one place.
Go to the "Staking" tab on the top menu. Your interface should look similar to the one in the image below.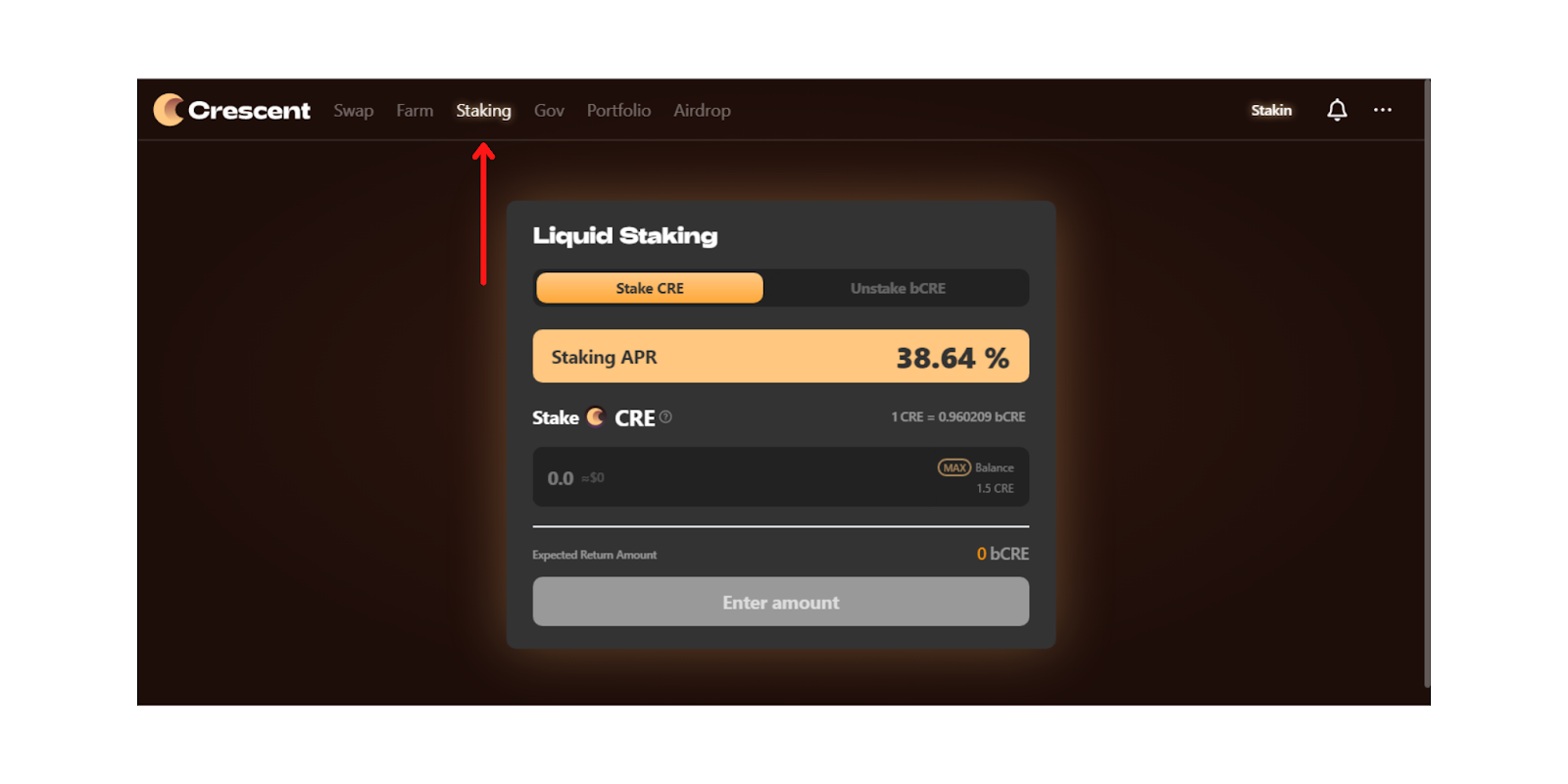 Enter the number of tokens you want to stake and click "Stake" and a Keplr pop-up will appear for you to review details and select the transaction fee; when ready, click "Approve".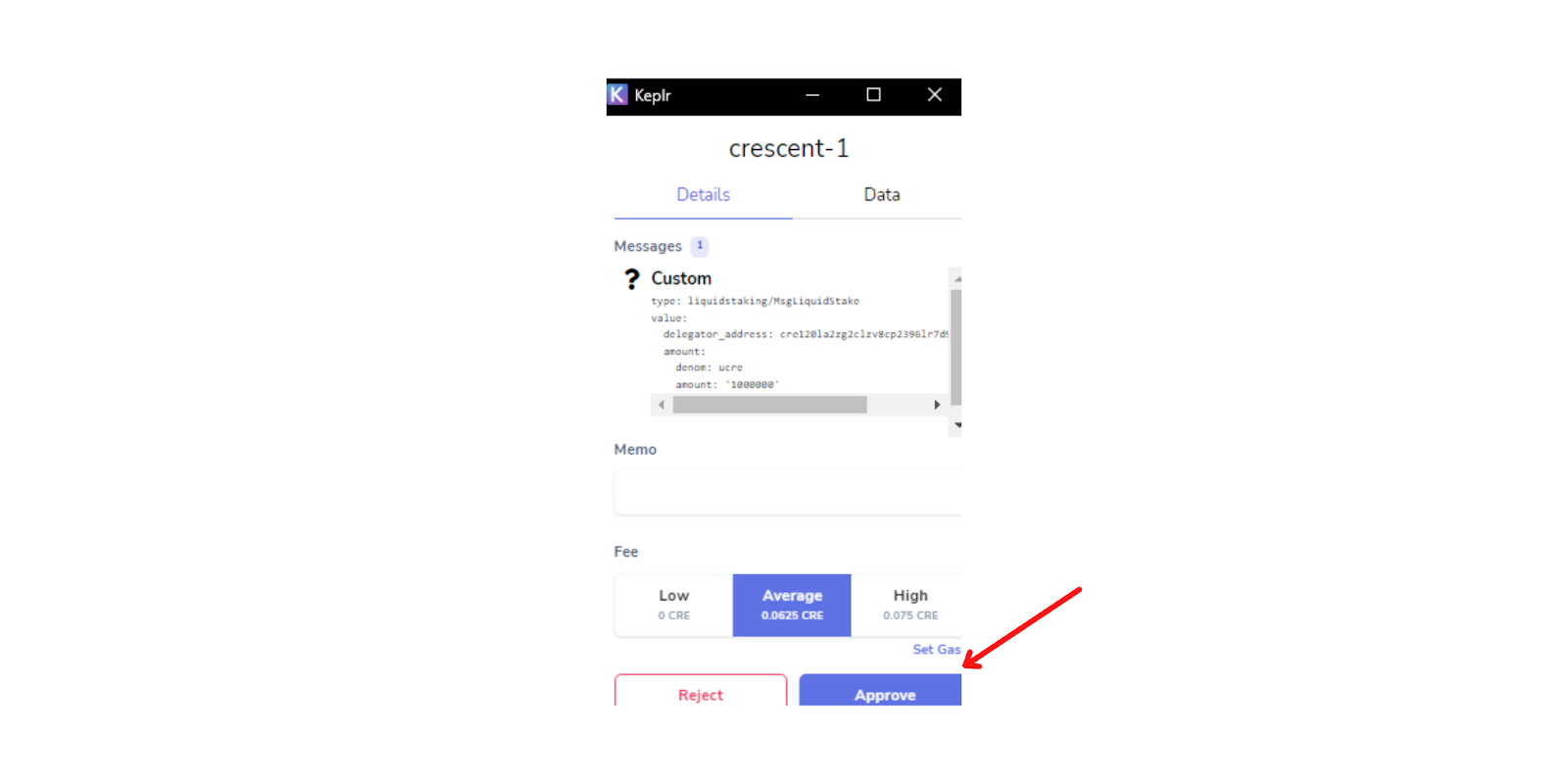 Congratulations!! You've now staked your $CRE!!
You will receive the staking rewards in the form of $bCRE; when you unstake, it will take 14 days to unbond $bCRE to $CRE, or you can swap $bCRE for $CRE.
$bCRE is your representation of your staked $CRE. By selling them, you no longer have anything staked.
---
DISCLAIMER: This is not financial advice. Staking, delegation, and cryptocurrencies involve a high degree of risk, and there is always the possibility of loss, including the failure of all staked digital assets. Additionally, delegators are at risk of slashing in case of security or liveness faults on some protocols. We advise you to do your due diligence before choosing a validator.