Looking for an alternative way to stake $NEAR? In this guide, we show you how to stake through Dokia
Hi Readers👩‍💻,
Previously we shared our guide to delegating and staking $NEAR with their native platform. However, if you're looking for another way to stake, you might want to have a look at the Dokia Cloud platform.
For those unfamiliar with Dokia, it is a proof-of-stake infrastructure provider and validator. As a NEAR ecosystem contributor, they build a user-friendly Staking Dashboard you might be interested to check out. In this short guide, we're taking you through staking NEAR tokens with Dokia.
🤩 NEAR Protocol
Most often named NEAR, the NEAR Protocol is a decentralized application platform created to facilitate the future web and power its economy. According to NEAR, the envisioned future web should have everything from new currencies to applications and maybe even entirely new industries.
NEAR is based on the same underlying technology as Bitcoin. However, it combines it with advances in community consensus, database sharding, and usability. The protocol has been built from the ground up to be the most accessible network globally — for both developers and their end-users — while ensuring scalability and security to serve those same users.
Three factors make this possible: building decentralized applications, onboarding users with excellent experience, and scaling applications. In doing so, NEAR is the first-ever community-based network to extend the reach of Open Finance and power the future of the Open Web. Please visit our article here or look at the video below for a complete guide on the protocol.
💰 How To Stake $NEAR With Dokia
Before getting started with staking $NEAR, you will, of course, need a wallet, which you can learn more about here. Next, visit the Dokia Staking Dashboard and select $NEAR.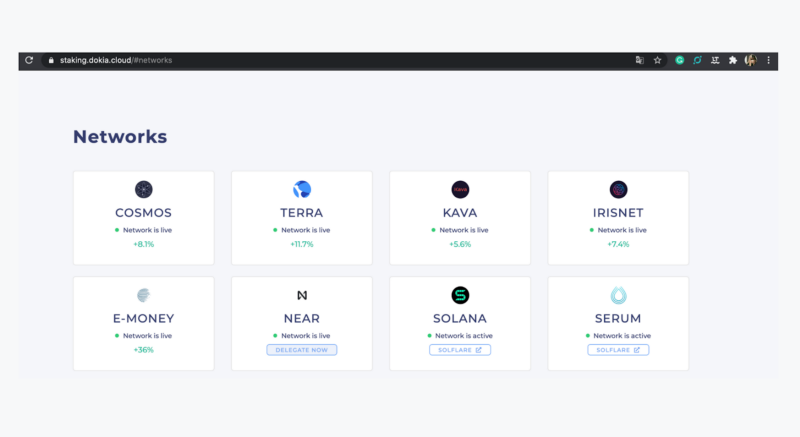 Next, an overview will open that shows you how much NEAR has already been staked, what the commission rates are, and how many validators there are on the network. Select "Delegate Now" to continue.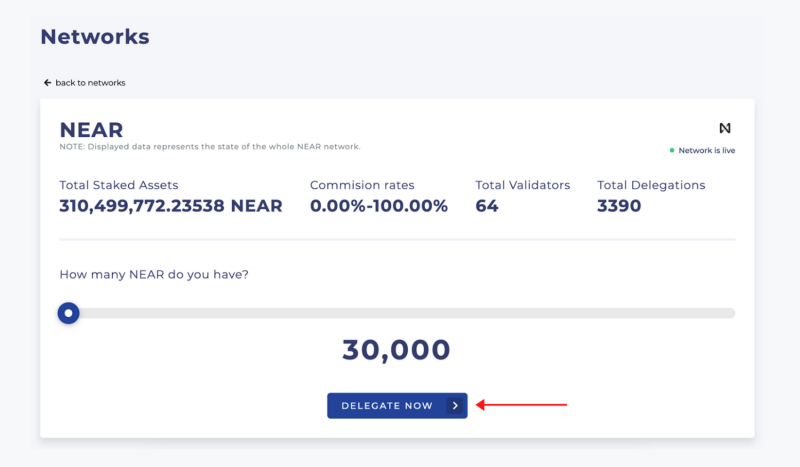 The overview of validators that you can select will open automatically. Scroll through the pages to find the validator of your choice. On the overview, you'll also be able to see how many delegations the validator has, the commission rate, and if they're on the current epoch. Select the validator and click "delegate to".
Don't forget to contribute to decentralization and select validators with smaller voting power. If you would like to show some support to Stakin, our validator handle is stakin.poolv1.near.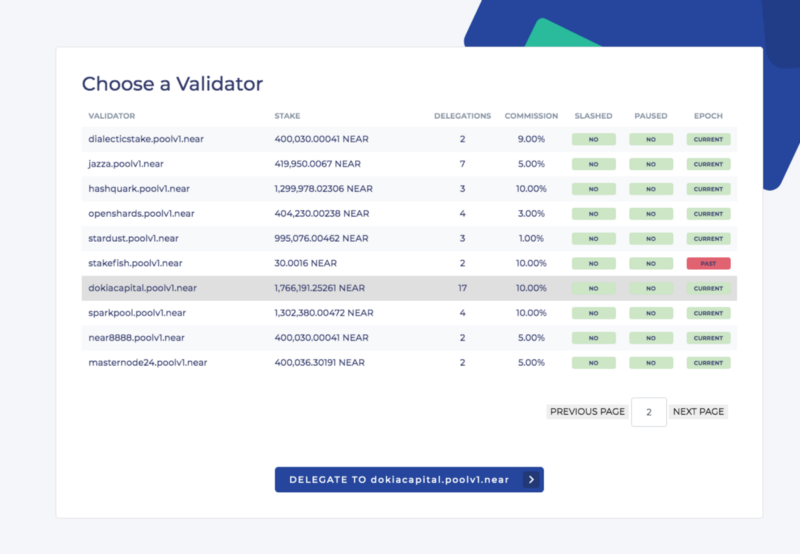 You'll be asked to select the staking method — you have two options — either continue to the web interface or use CLI. We recommend using the web interface for an easy-to-use process and select "continue to web interface". Next, you'll have to choose the auth method, the "NEAR wallet" in this tutorial. For security reasons, it is better to use hardware wallets such as Ledger.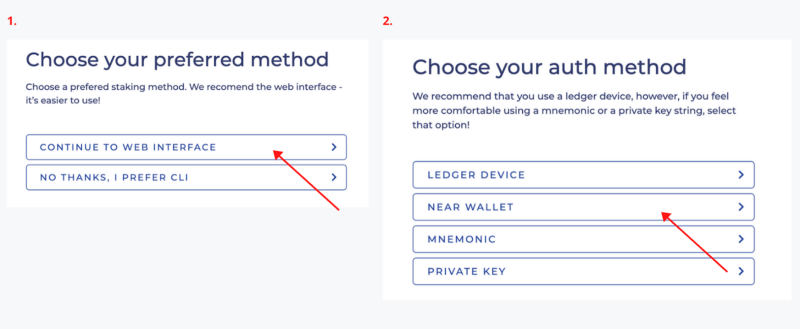 You will be asked to connect your NEAR wallet and authorize the Dokia Staking Dashboard on the NEAR wallet; select "authorize".

The NEAR wallet will open up and request you to allow staking.dokia.cloud access to your account. Side note: they won't be able to take any $NEAR or make any adjustments to your wallet without your authorization.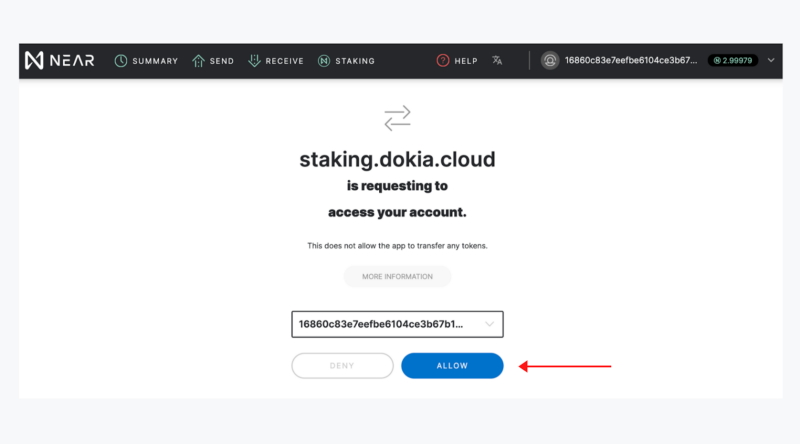 Select "Allow" to continue. Once selected, the validator screen will re-open, and you will need to re-do the process of selecting a validator and the web interface. When completed, select "next". Enter the amount of $NEAR that you'd like to stake and choose "next" once again.

Select "sign the transaction", you will be guided to the NEAR Wallet platform to confirm your transaction. Select "Allow" to continue. And that's it! You've now successfully staked your $NEAR with the Dokia Capital Platform.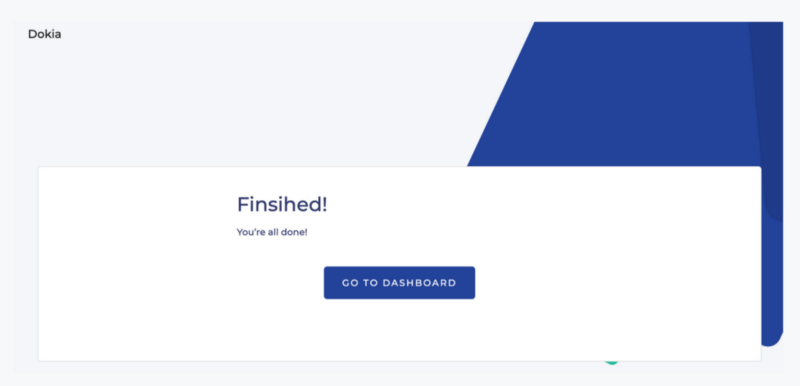 You can access your Staking Dashboard to show you some useful stats: Account ID, Account Balance, Total Staked Balance, and your delegation details.
---
DISCLAIMER: This is not financial advice. Staking, delegation, and cryptocurrencies involve a high degree of risk, and there is always the possibility of loss, including the loss of all staked digital assets. Additionally, delegators are at risk of slashing in case of security or liveness faults on some protocols. We advise you to do your due diligence before choosing a validator.