Staking $NEAR from MetaMask on Aurora with Stader and Rainbow Bridge
Recently, Stakin partnered with Stader Labs, a non-custodial innovative contract-based staking platform that makes it easy to find and use staking solutions and is highly focused on security. Stakin joined the platform as a validator for NEAR liquid staking, known as NearX. If you'd like to learn more about Staking versus Liquid Staking, and Liquid Staking NEAR on Stader, please visit our YouTube video below for a step-by-step guide.
Besides Liquid Staking NEAR directly on Stader, it's also possible to use Aurora and thus the Rainbow Bridge.In this article, we'll run you through the process of doing so.
To get started, open the Rainbow Bridge app via the official link: https://rainbowbridge.app/transfer. Your dashboard should look similar to the one below. On the top right, select the little icons to open the menu. Next, select "Connect" to the wallet option of your choice. In this case, we'll be using NEAR Wallet.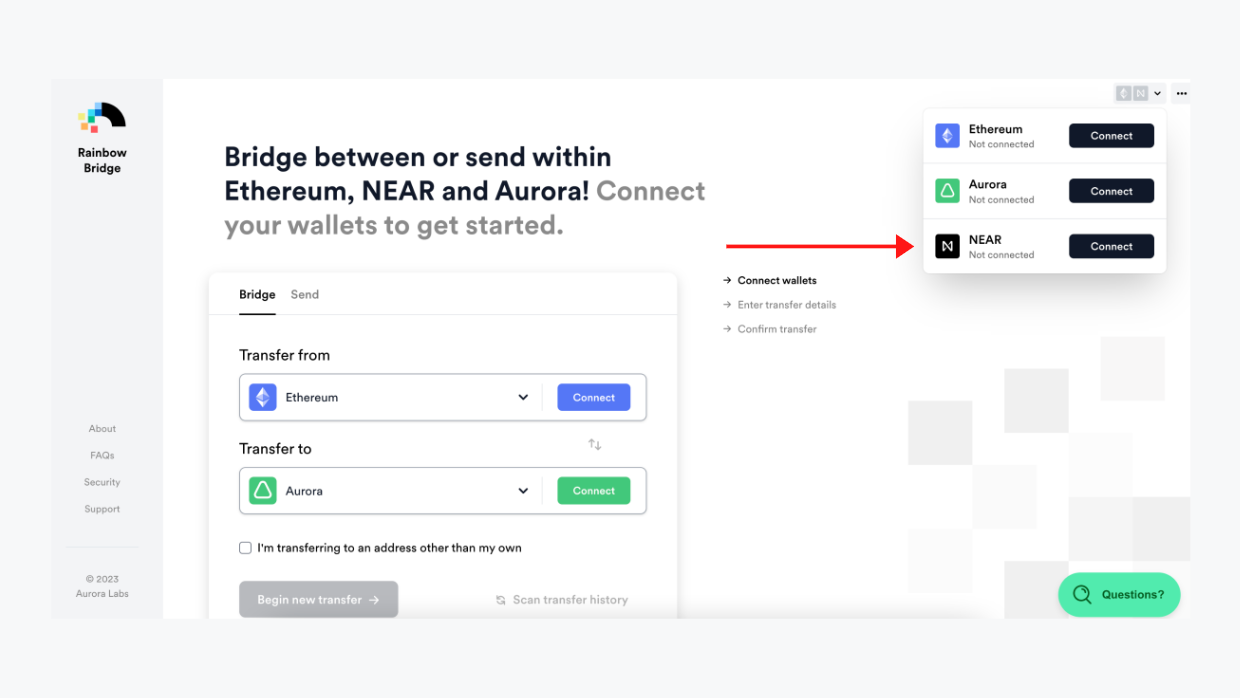 Your NEAR wallet pop-up will appear asking you to confirm the connection with Rainbow Bridge. Read the details of the connection and select "Next" if the info is correct. To continue, select "Connect".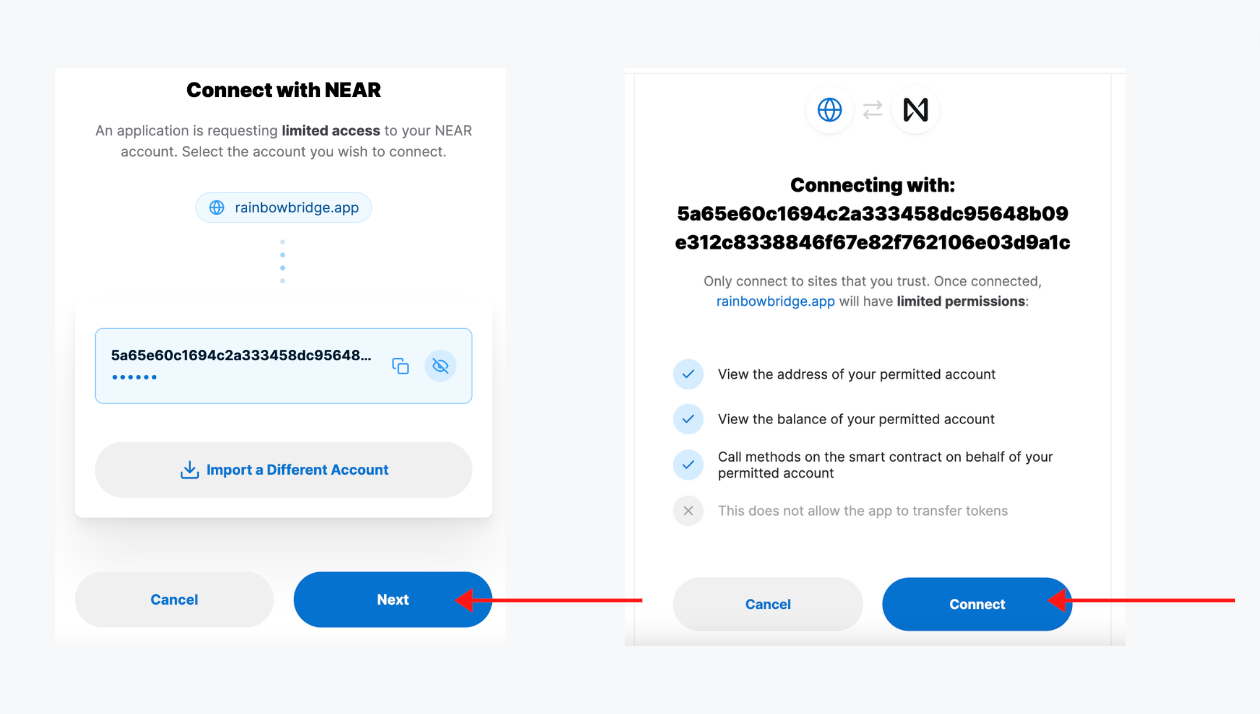 Your NEAR Wallet is now connected to the Rainbow Bridge. To continue, go back to the Rainbow Bridge Dashboard. On the dashboard, select which asset you'd like to bridge. To bridge from NEAR to Aurora, you'll also need to connect your MetaMask wallet. To do so, repeat the steps that you just completed with NEAR wallet. Once done, your screen should look like the one below.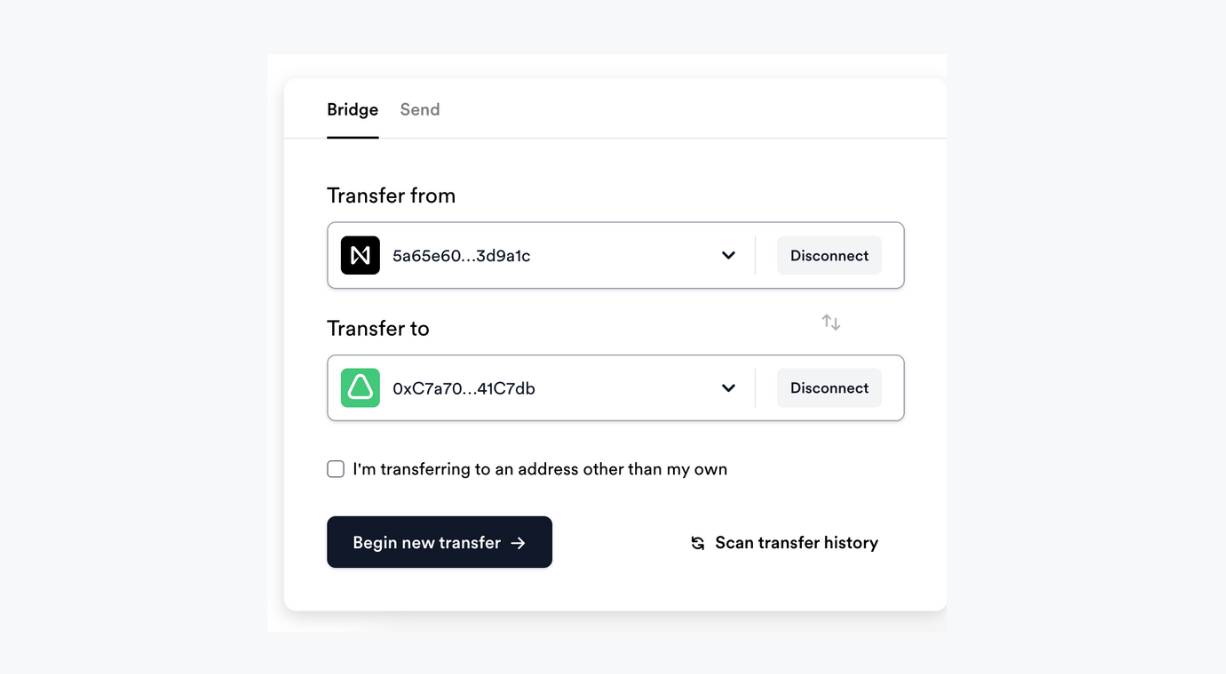 Select "Begin New Transfer". Choose your token, in this case NEAR. Enter the amount that you'd like to bridge (remember to always keep a little for transaction fees).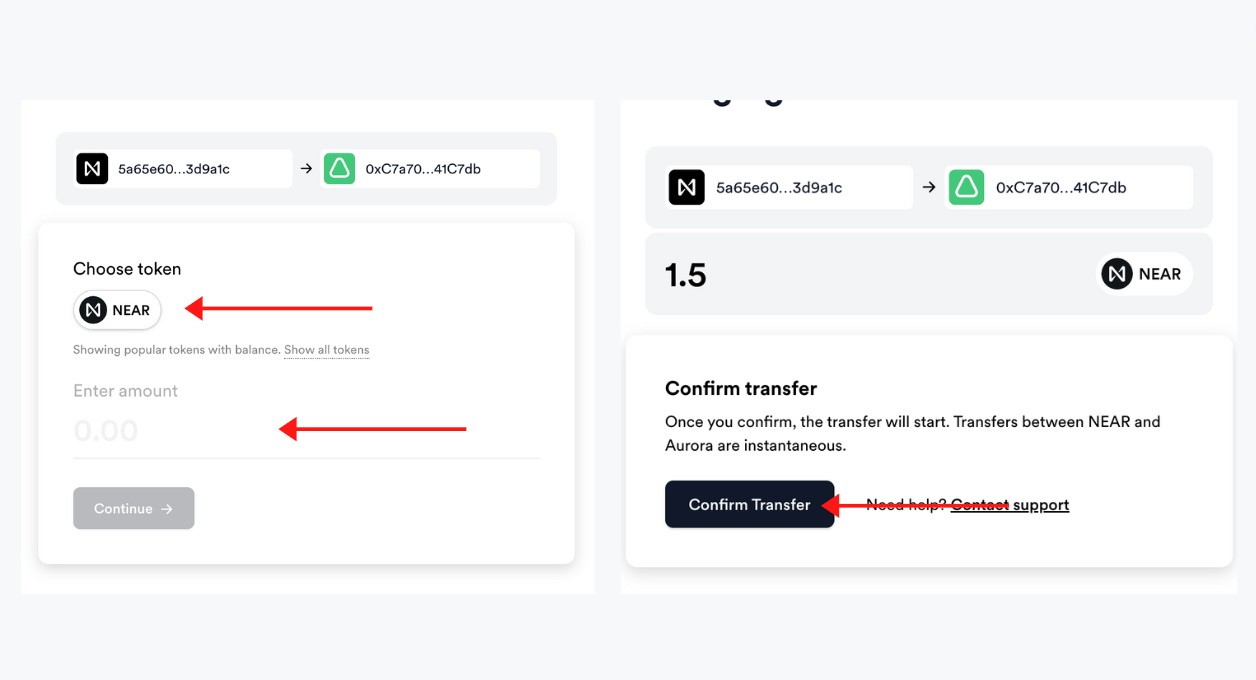 If happy with the amount, select "Confirm Transfer". Next, your NEAR wallet pop-up will appear asking you to confirm the transaction. To continue, select "Approve".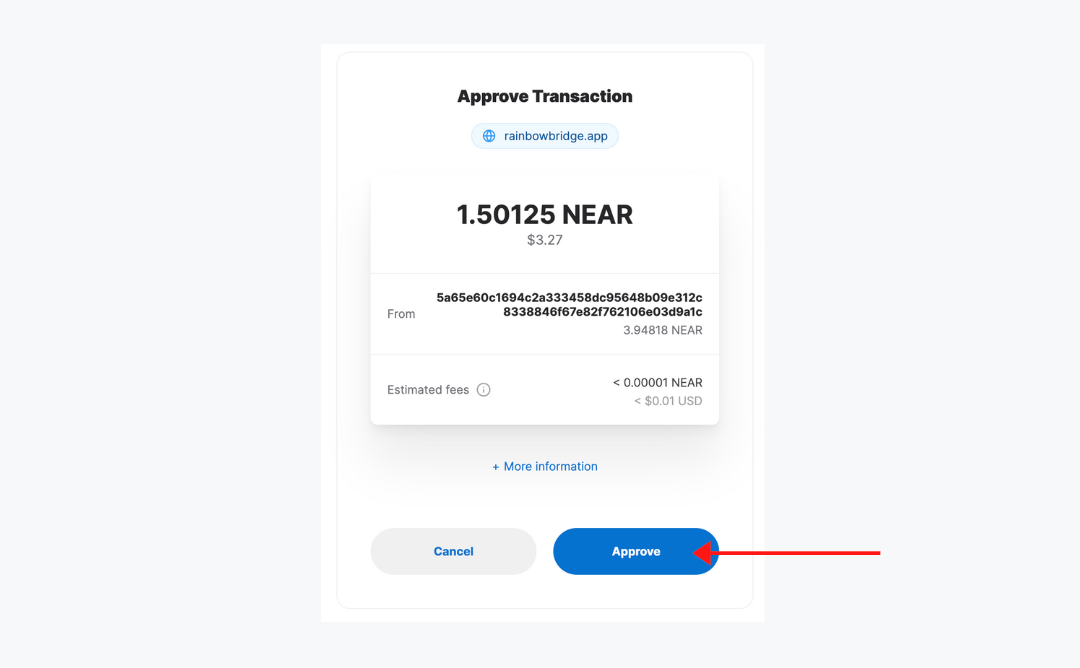 You will find your transaction in the Rainbow Bridge dashboard under "Completed Transfers".


Now that you've successfully transferred your NEAR, it's time to start Liquid Staking on Stader.
Liquid Staking on Aurora with Stader
To get started, go to: https://near.staderlabs.com/lt/near/?amp%3Butm_referral=Stakin&tab=Stake and select "Start Staking".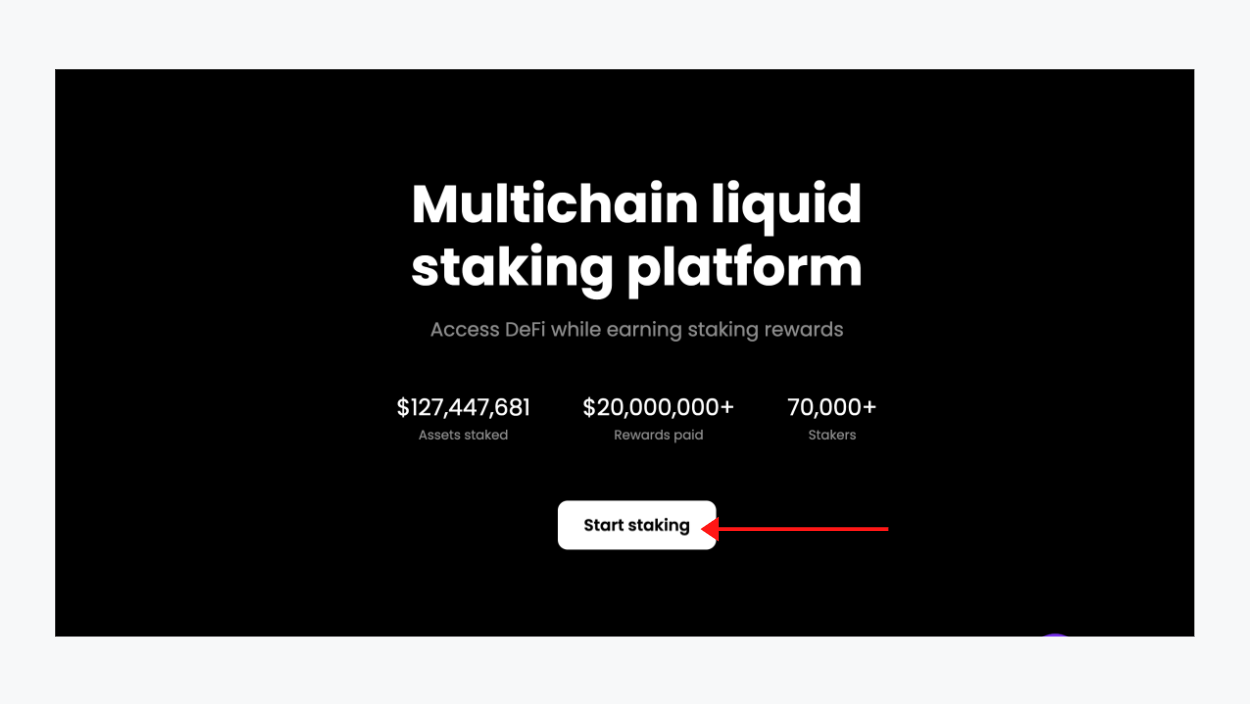 Select "NEAR" from the networks that appear to continue. The NEAR Liquid Staking dashboard will now open-up. It should look similar to the image below.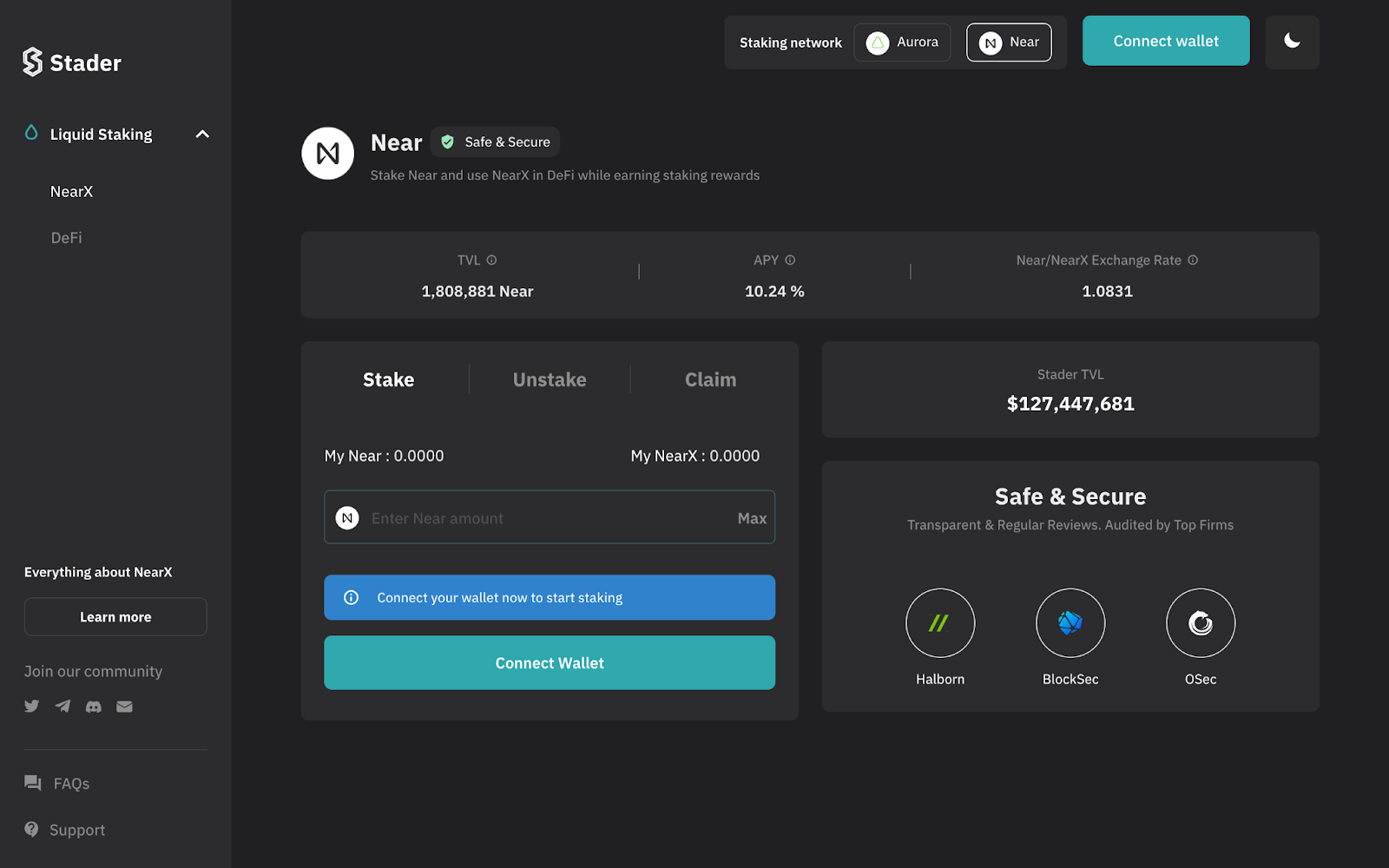 In the dashboard, select "Aurora" as the staking network. Next, select "Confirm" to continue.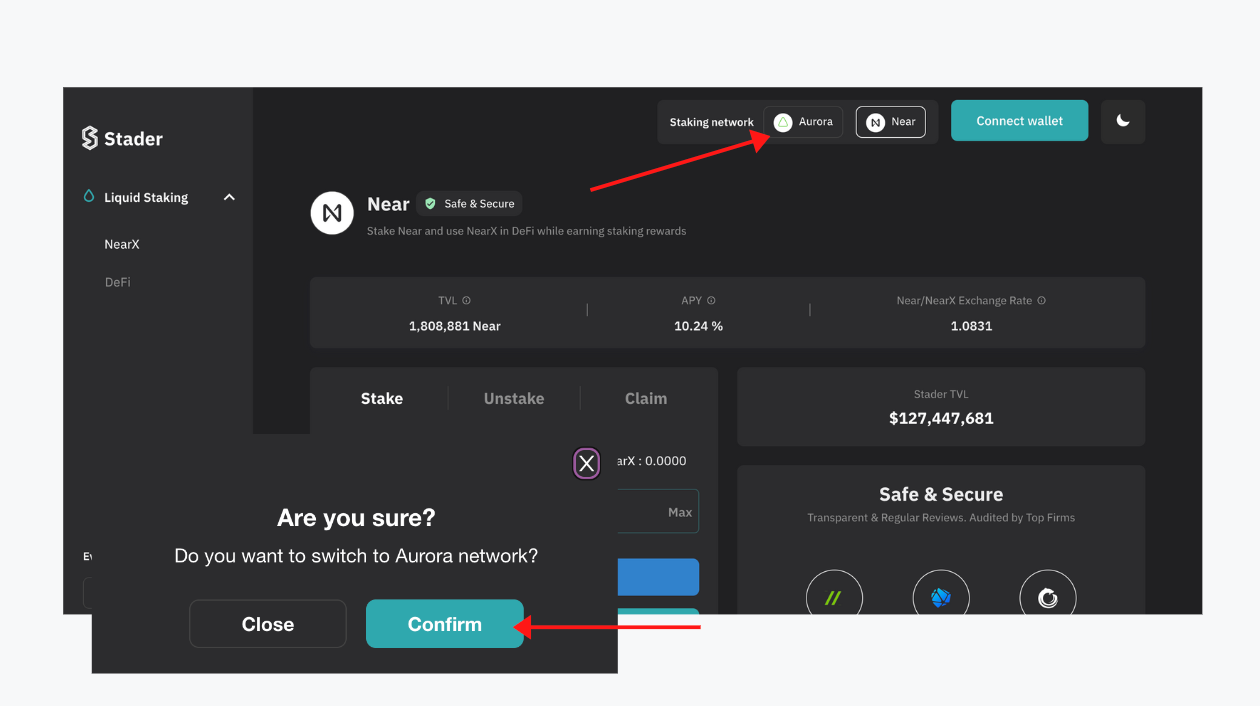 Once connected, in the top menu, select "Connect Wallet". In the pop-up, select "MetaMask". You will now have to give the permission to the Stader DApp to connect with your MetaMask wallet. Pay attention to the network that you're selecting - ensure it's Aurora's. Next, go through the transaction details and connect your wallet by selecting "Next" and "Connect".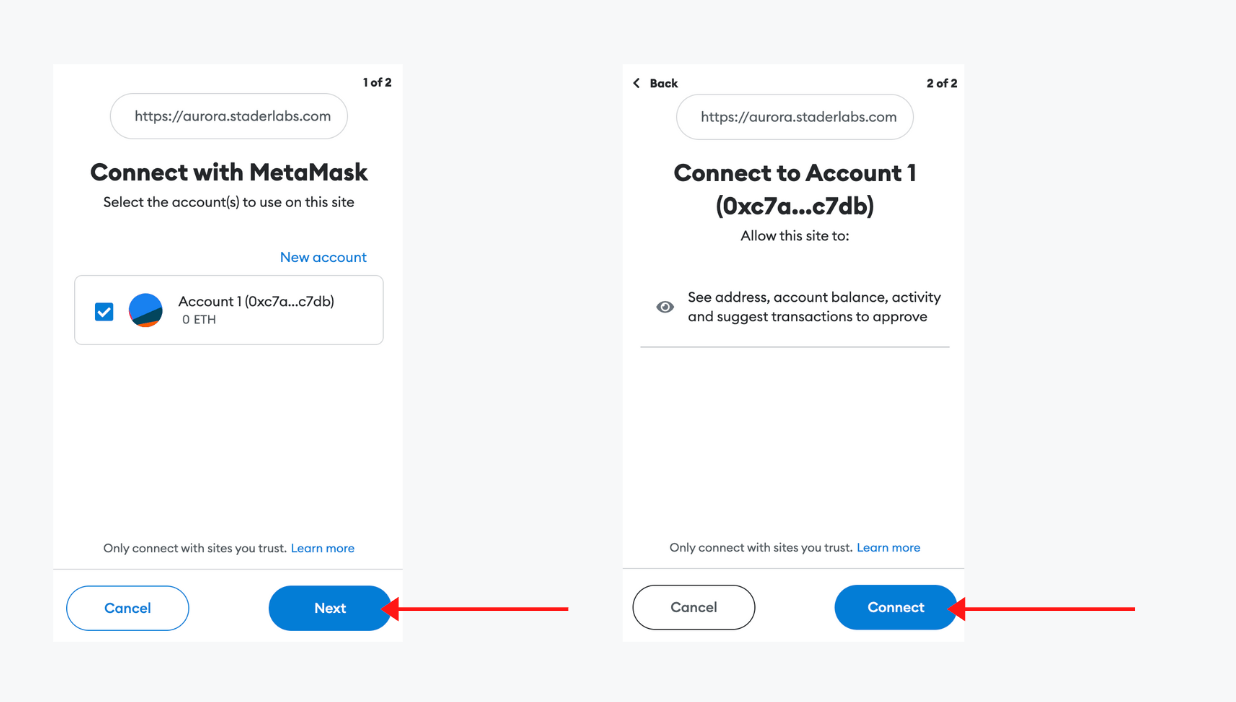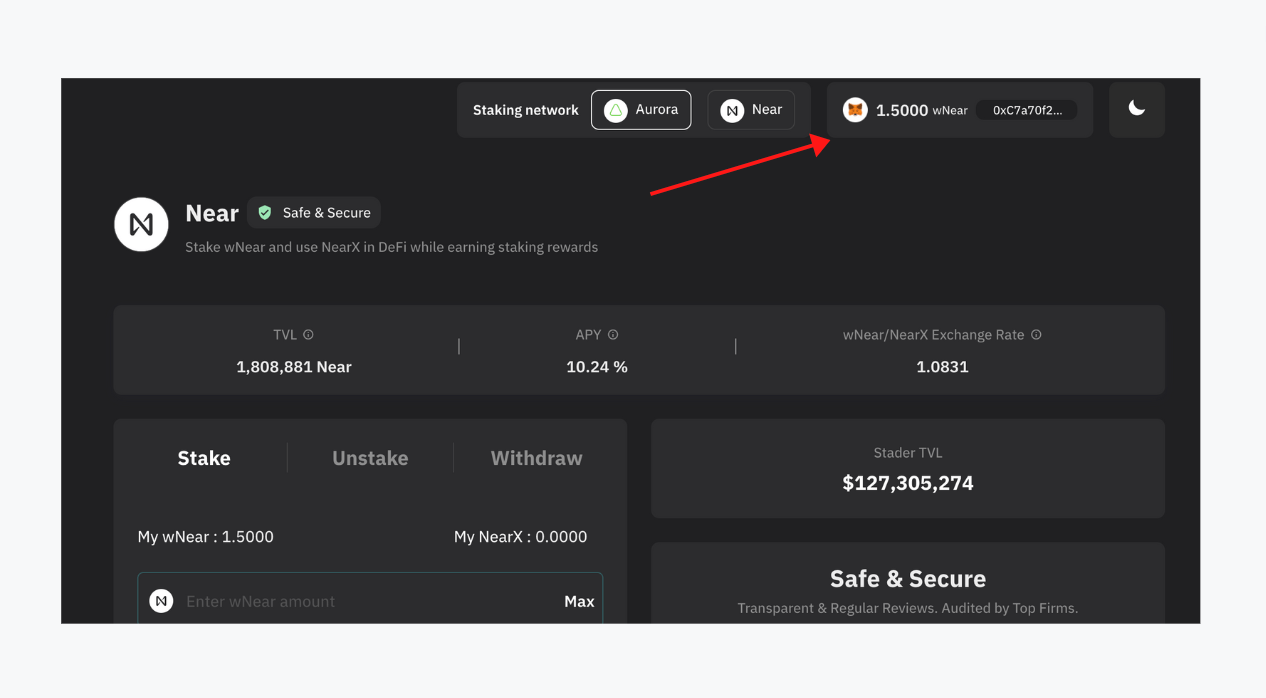 Once the connection is complete, you will see your assets displayed in the top menu (see image above).
On the Liquid Staking dashboard, select "Approve Staking" to unlock your wNEAR assets.  Once confirmed, fill in the amount of wNEAR that you'd like to stake and select "Stake wNEAR". Please note that the minimum amount wNEAR to stake is 1. Furthermore, by staking your wNEAR will be swapped for NearX.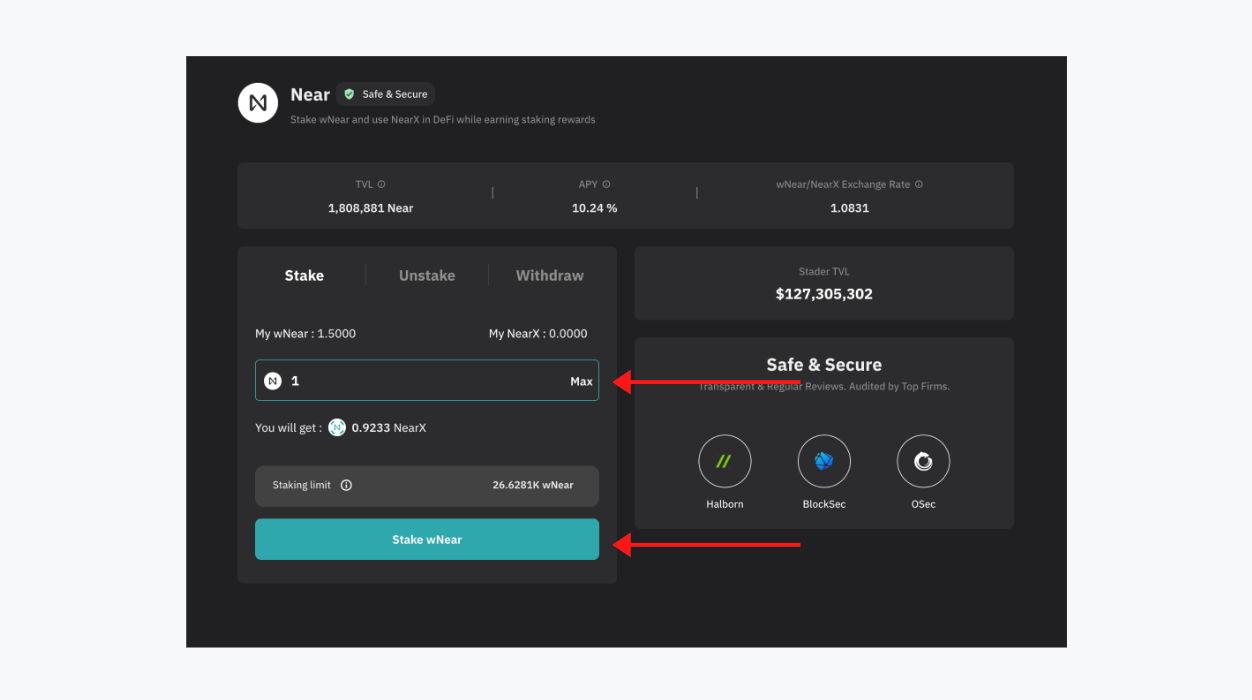 Confirm the transaction in your MetaMask wallet, and that's all! You've now successfully staked your wNEAR!
---
DISCLAIMER: This is not financial advice. Liquid Staking, Staking, delegation, and cryptocurrencies involve a high degree of risk, and there is always the possibility of loss, including the failure of all staked digital assets. Additionally, delegators are at risk of slashing in case of security or liveness faults on some protocols. We advise you to do your due diligence before choosing a validator or interacting with blockchain networks and smart contracts.