A Step-By-Step Guide To Claiming And Staking Your SKL
Hi Readers,
It's been a fascinating couple of weeks for the SKALE Network, and we're happy to be able to bring you our step-by-step guide to staking their $SKL assets. However, before getting started, we'd like to announce some exciting news. Wel partner with Codefi Consensys to enable a feature-rich and diverse staking experience for users to secure the SKALE Network upon launch on October 1st and beyond.
The Codefi Activate Team aims to build a better user experience for digital asset holders. It is the cornerstone of creating better and more active network participation and that decentralization doesn't have to come at the cost of fragmentation. Additionally, they're focused on bringing users the optionality of staking across a range of providers in a single interface. It is a significant milestone for decentralized network participation and enables distributed security to the industry.
Check out the video below for an explanation about the Activate Platform.
What is the SKALE digital asset? Quick Recap
Now that you know a little more about the Activate platform, let's look at this quick recap of how the SKALE digital assets work.
The SKALE Network's native asset is called $SKL. It is a hybrid token representing the right to work as a validator, stake a delegator, or access a share of its resources by deploying and renting an Elastic Sidechain or Blockchain for some time as a developer. So, in a nutshell, it services as an instrument of transfer for three functions:
Securing and staking — delegators stake their assets to validators (such as Stakin), who then run nodes that make the SKALE network function by validating blocks, securing the network, and executing smart contracts. As a reward for their efforts, they receive SKL assets.
SKALE Chain subscription fee payment method — developers can purchase subscription access to elastic blockchains, also known as S-chains, using their SKL assets.
Voting and Governance — SKL assets can vote, which controls all economic parameters in the network.
The SKALE Network has been launched on the Consensys Activate platform, as discussed above. The platform makes it effortless to use the token for staking and delegation and is built to meet the Proof-of-Use (PoU) standards. SKL holders can use the platform to delegate, earn rewards, and then use those rewards.
For a complete overview of the SKALE Network, have a look at our introduction article here.
Let's Get To Staking
Step 1 — Create An Account
To get started and create your account, go the Activate website and select "sign-up" in the web page's top right corner. If you've already signed up, you can also use the login button on the top right corner to fill out your details and access your portfolio.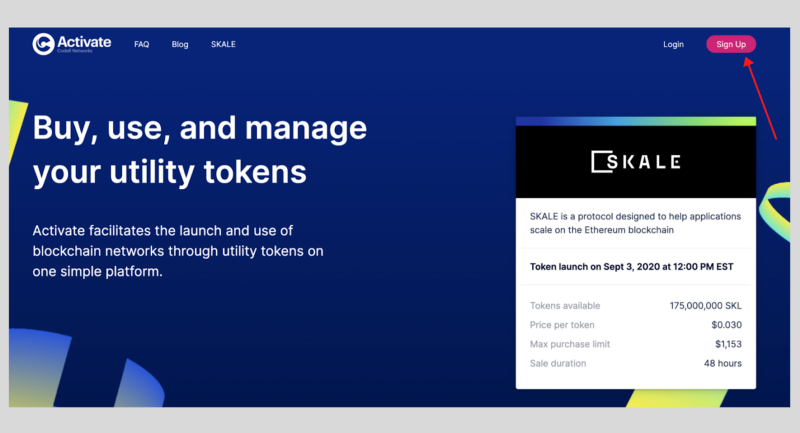 If you're new to the platform, fill out all your details and wait for a confirmation email. When you receive the confirmation email, click on the link to sign in for the first time and get started. However, most of you probably already have an account since this was necessary to take part in $SKL initial offering.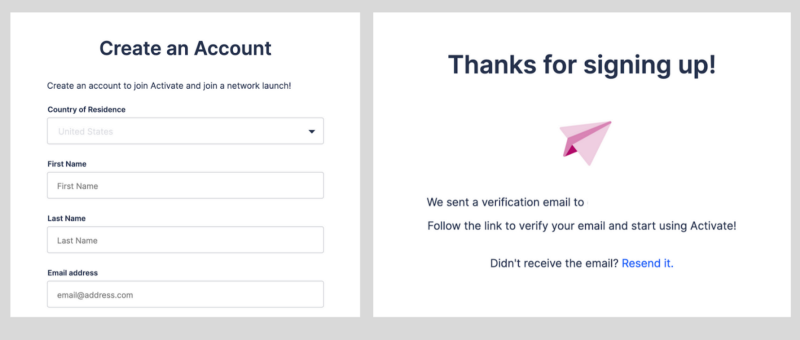 Before you can claim and stake your $SKL assets, make sure that you have enough ETH in your registered wallet to cover the costs associated with the transactions.
Step 2 — Claim Your $SKL
When you're logged in, the first page automatically loads the dashboard (see image below). On the dashboard, select: "Get My Tokens". A pop-up will appear where you can see a summary of the purchased amount and associated SKL tokens. Ensure that you connect the wallet you registered as your receiving wallet when going through the purchasing process.
In the summary, click "Retrieve My SKL Tokens" to start the transfer request. Doing so will open up a portal for your registered wallet to confirm. Once you've approved, wait for a bit while your transfer is processed. You should see a confirmation screen (as below) in the case of a successful transaction.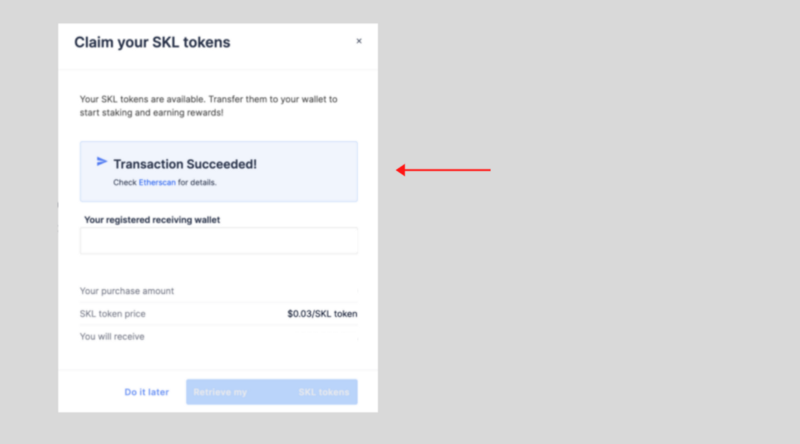 Step 3 — Get To Staking!!
Now that you have claimed your $SKL click on the dashboard, and then select "Stake" on the top menu bar to navigate the staking dashboard.
You can view all the different validators in the staking menu that you can select to delegate your assets to. It is possible to use multiple validators instead of just one.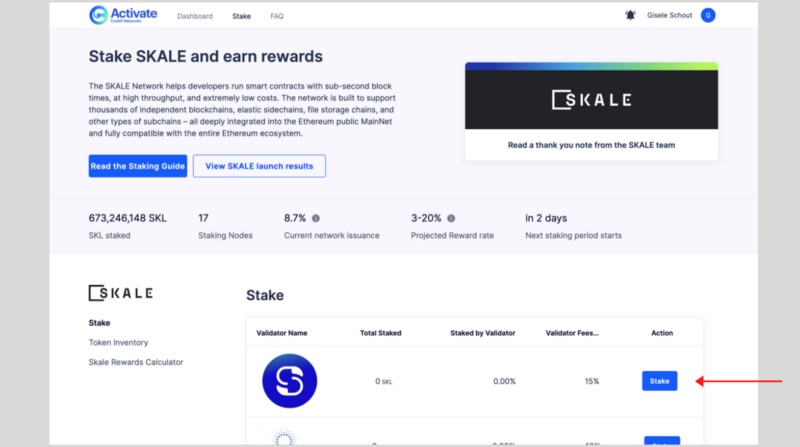 If you're interested in learning more about the validators, click on the logo of Stakin, for example, to view a dropdown screen with more information. You'll also find contact information about each validator there in case you need any support. Select the "Stake" button on the right side of the validator logo to start delegating.
Step 4 — Submit a Delegation
Once you've selected "Stake," a pop-up will appear with the terms, conditions, and other information about staking. You must read through before you choose "Stake My First SKALE tokens".
A screen like the one below will be shown. Enter the amount of SKL you would like to stake, but keep in mind that: with Proof-of-Use, you are required to stake 50% of your assets for at least 60 days. Therefore, there is a 50, 70, and 100 percent button to make it easier for you. Furthermore, you can also determine the amount manually by entering the SKL amount. If the amount is lower than 50% of your total balance, you'll get a warning from the platform.
After you've selected the staking amount, you'll need to fill in a period. The SKALE Mainnet Launch on Activate only lets your staking period be two months. Other options will become available after the first 60 days. Consider the Terms of Service, which are linked on the bottom of the screen. When you're ready, select "Continue".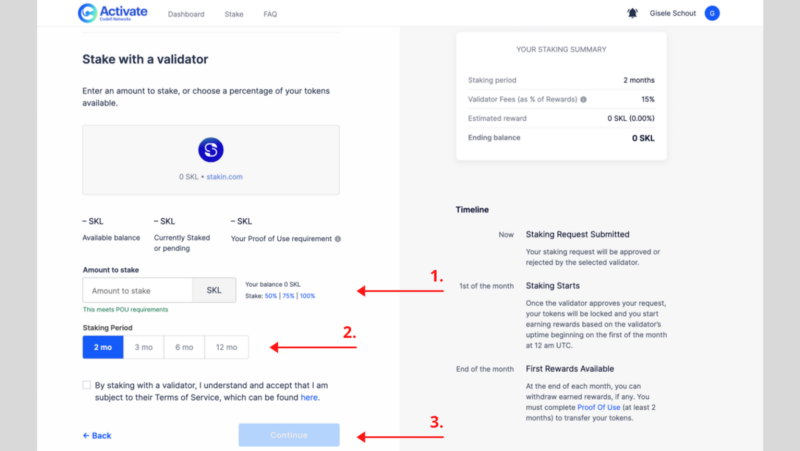 After you've selected "Continue," a pop-up with a complete summary of your delegation request will appear. Read the summary carefully, and when ready, click on "Stake SKL to Validator", activate your wallet, and present you with a confirmation request.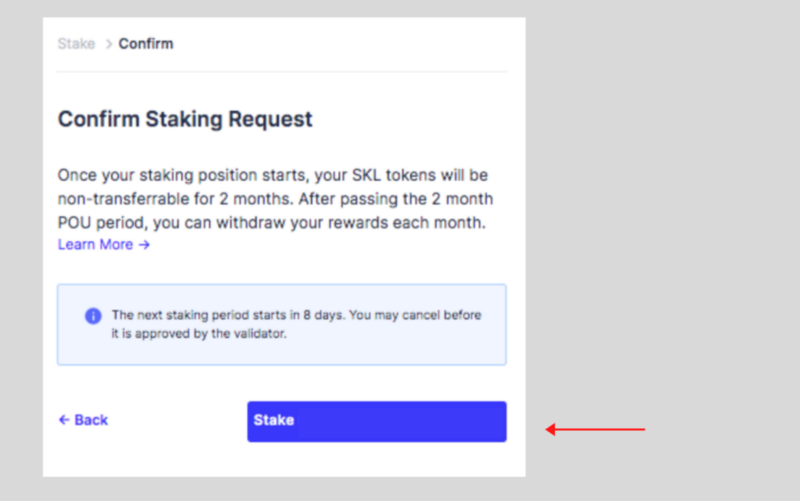 You'll see a transaction confirmation to confirm that your stake was successful! On the "Stake" dashboard, you'll also be able to see all your staked assets and results.

---
DISCLAIMER: This is not financial advice. Staking, delegation, and cryptocurrencies involve a high degree of risk, and there is always the possibility of loss, including the loss of all staked digital assets. Additionally, delegators are at risk of slashing in case of security or liveness faults on some protocols. We advise you to do your due diligence before choosing a validator.