Introducing SolFlare The First Staking Wallet For Solana
Stake Solana Using Keystore With Solflare!
Hey Readers👩‍💻,
Today we're taking you through a step-by-step guide on how to stake Solana with the SolFlare wallet. But first, let's have a look at the first wallet for Solana.
💫 The SolFlare Wallet
Dokia Capital created the SolFlare wallet, and it is the first-ever digital wallet created explicitly for the Solana Network. Enabling you to send, receive, and stake SOL. The staking process used to require the use of a command-line interface, but with SolFlare, it is a natural and flowing experience that makes it easier for anyone to do so.
The wallet has an integration option with the Ledger Nano S hardware wallet; however, the team is working on adding multiple other hardware and CLI wallets in the future.
🚀 Let's Start Staking
Step 1 — Create Your Wallet
First, before we start with staking, you'll have to download and set up your wallet. Visit the SolFlare website, and select "create a wallet." You can choose to create a wallet with a keystore file, or with a Ledger hardware wallet. In this tutorial, we're using the keystore file. For security reasons, we recommend using a Ledger. We will make another article on how to stake your Solana with Ledger soon.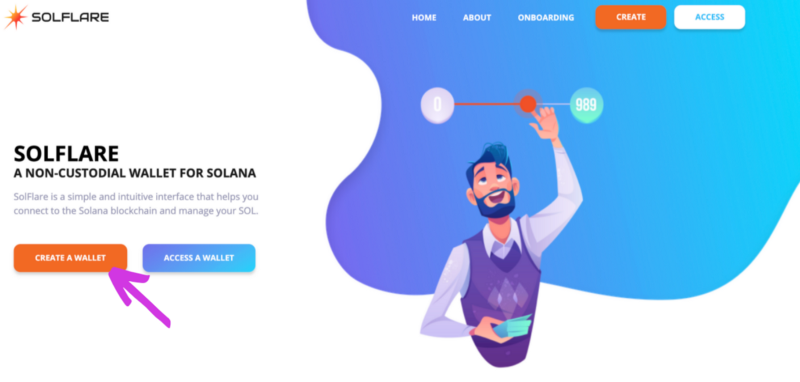 Fill in your password, and write your password down somewhere (preferably offline or on an external drive or password manager for security reasons), then select "next". SolFlare will automatically create a key store file, which you have to download and once again store in a safe place. Every time you want to access your wallet, you'll need both the keystore file and your password.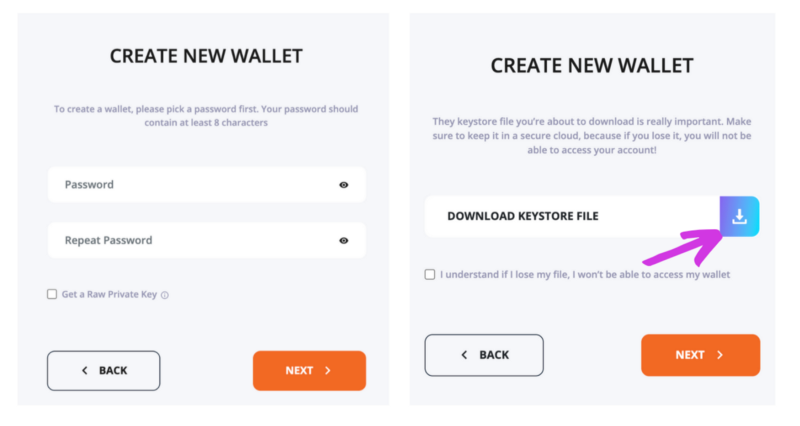 Step 2 — Access Your Wallet
Now that you've created your wallet, it's time to get some SOL in there to start staking. So, access your wallet by merely clicking "access" on the homepage of the SolFlare website.
The wallet interface will open, showing you your public address, the amount of SOL you have in your wallet, a "transfer SOL" button. You can switch between dark-mode and light-mode. Furthermore, it is possible to switch between the Mainnet and Testnets.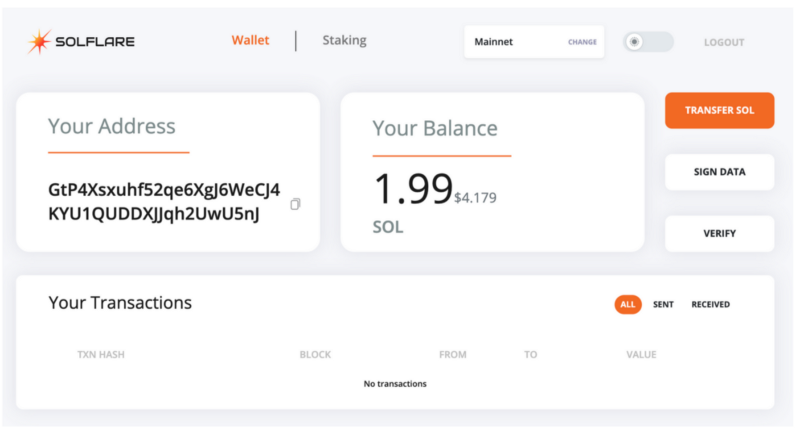 Now select "transfer SOL" to get the SOL assets you bought from the exchange to your wallet. Once your funds have arrived, it's time for the next step.
Step 3 — Creating a Stake Account
Within the Solana network, staking works slightly differently and is a bit more complicated than in traditional Proof-of-Stake networks. If you want to find out more about Solana, click here.

Scroll down on the interface, and select "get started"; this will open up a pop-up that asks you how much SOL you'd like to deposit. Fill out whichever amount you'd like to use. Make sure not to apply all funds, since you still need some for transaction purposes. Then select "next". You will be asked to fill in your password, after which the funds will be transferred to your staking account (see image below).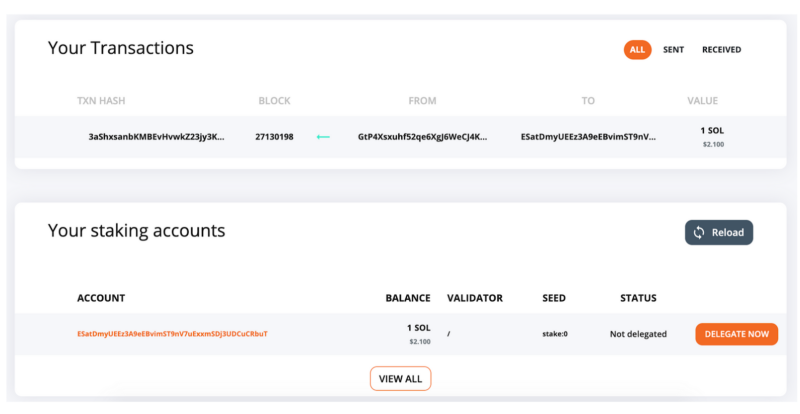 Step 4 — Let's Start Staking!
With your SOL moved to your staking account, scroll up on the interface to select "staking". The staking interface will open, showing you your balance on your staking account, your normal balance on your wallet, and the validators you can delegate to. Select "delegate now".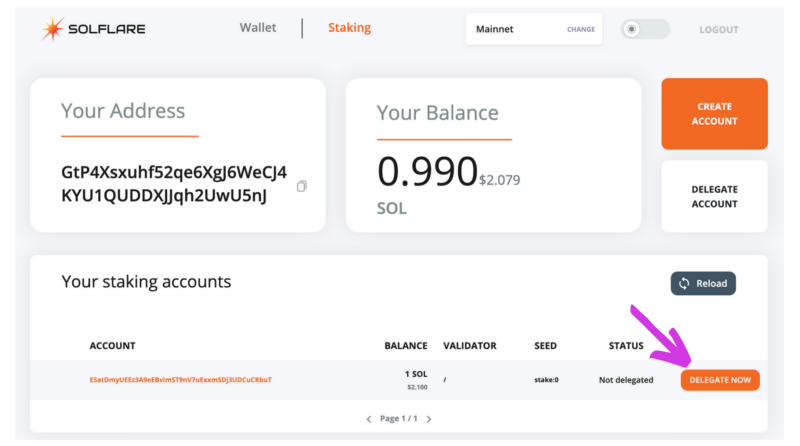 A pop-up will appear, where you can select the validator you'd like to delegate your assets to. Use the search option to find your validator by name quickly. Afterward, fill in your password to confirm.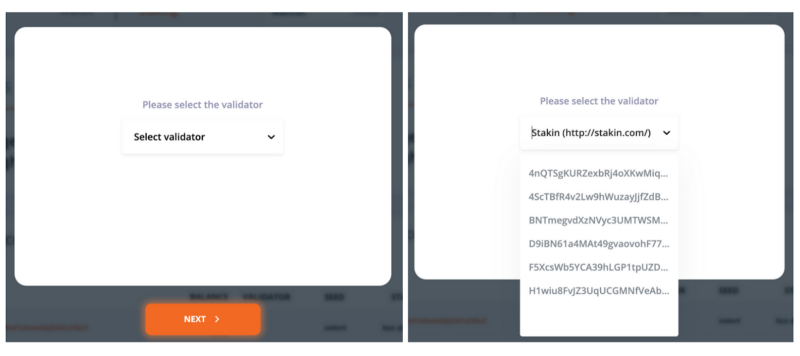 Step 5 — DONE!!
A pop-up will appear that says "transaction complete". It is important to remember that it will take around 45–50 minutes for the changes to show up on your interface. You can check your transaction on Solana beach. And that's it! You've now staked your SOL assets.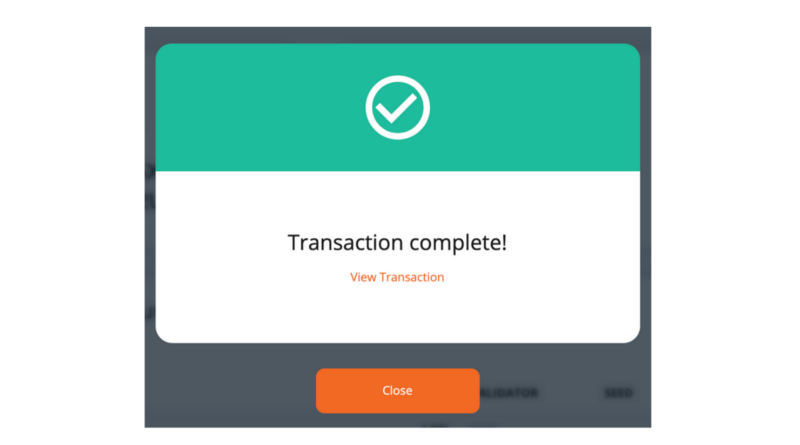 More Information & Sources
---
DISCLAIMER: This is not financial advice. Staking and cryptocurrencies investment involves a high degree of risk, and there is always the possibility of loss, including the loss of all staked digital assets. Additionally, delegators are at risk of slashing in case of security or liveness faults on some PoS protocols. We advise you to DYOR before choosing a validator.