Stakin Guide: How To Delegate Your $STARS Stargaze via the Stargaze Platform and Keplr Wallet
Stargaze (native token $STARS) is a decentralized, community-driven Proof-of-Stake Layer-1 blockchain for NFTs built on Cosmos. The protocol includes a zero gas fee NFT Launchpad where creators can sell their collections to the community and an NFT Marketplace where users can trade and stake their NFTs.
The network's native asset is the Stargaze Token ($STARS). $STARS is used for governance, to secure the blockchain, and provide a default mechanism to store and exchange value and to purchase NFTs on the Stargaze Marketplace and Launchpad.
Create your Keplr Wallet
Once ready, open the page. Select "Create a new wallet" to start setting up your account. If you already have a Keplr wallet, select "Import existing wallet."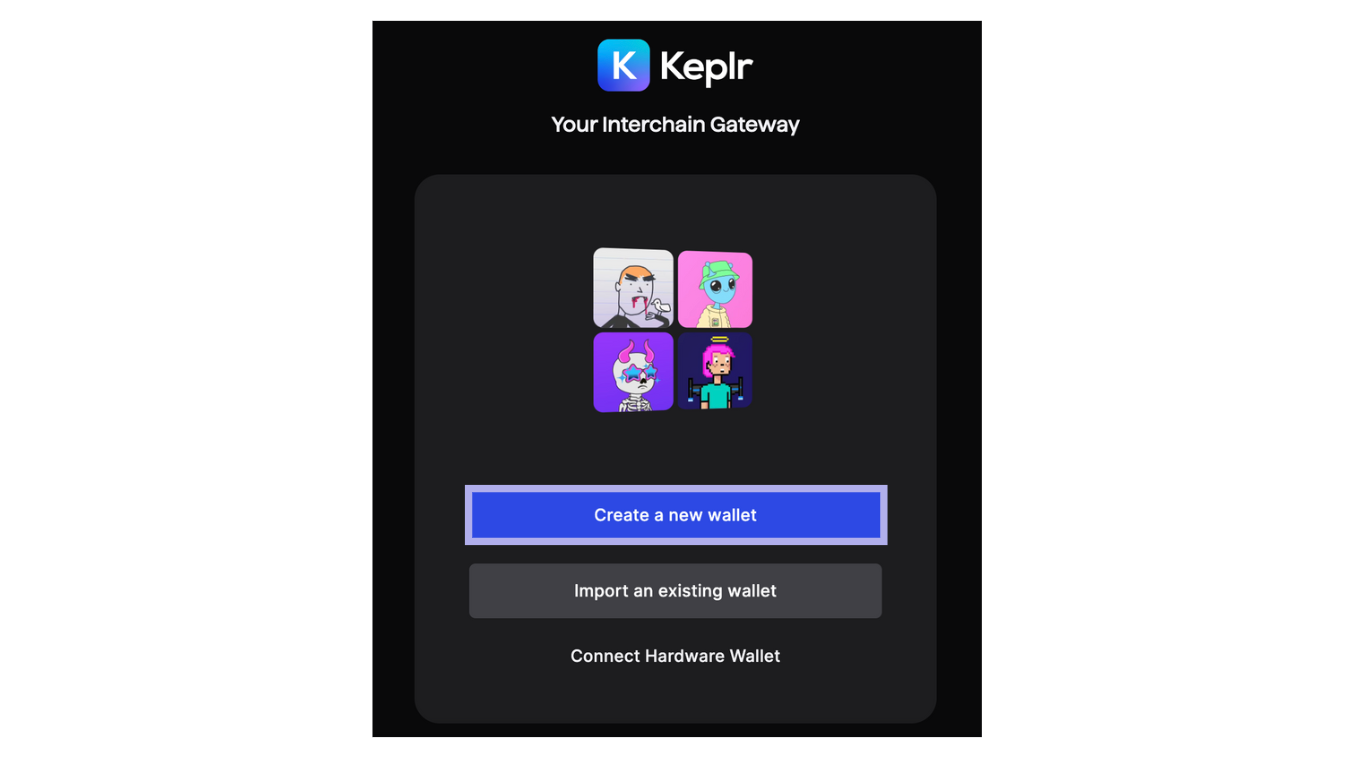 If you've selected "Create a new wallet", Keplr will ask you to select a new recovery phrase or to connect with Google. In this guide, we'll use the Recovery Phrase.
Remember to store your recovery phrase securely offline and never share it with anyone. If you lose your recovery phrase, you will lose the assets within the wallet.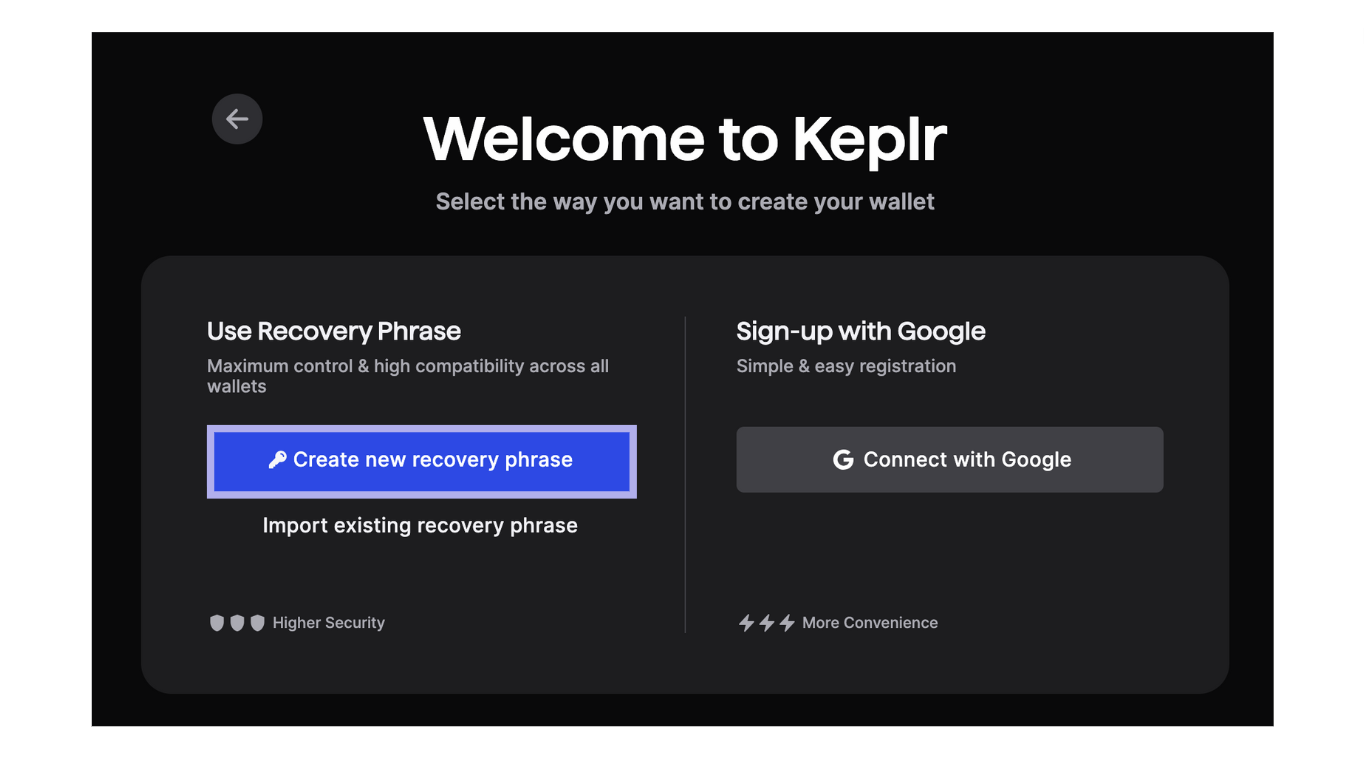 Ensure you copy the seed phrase somewhere safe. Create an account name and desired password to access the wallet and confirm by selecting "Next".
To confirm the creation of your Keplr wallet, fill out a selected number of seed phrase words and select "Register".
You're Keplr wallet is now ready. Go to: https://wallet.keplr.app/ to continue.
Funding Your Wallet and Staking $STARS
--> You can purchase your $STARS on a DEX or swap them on Osmosis if you don't have any yet.
You can deposit your $STARS to your Keplr wallet by selecting "Stargaze" on the left menu of your Keplr wallet. Next, select "Deposit" in the dashboard or click on the wallet address in the top right to copy it.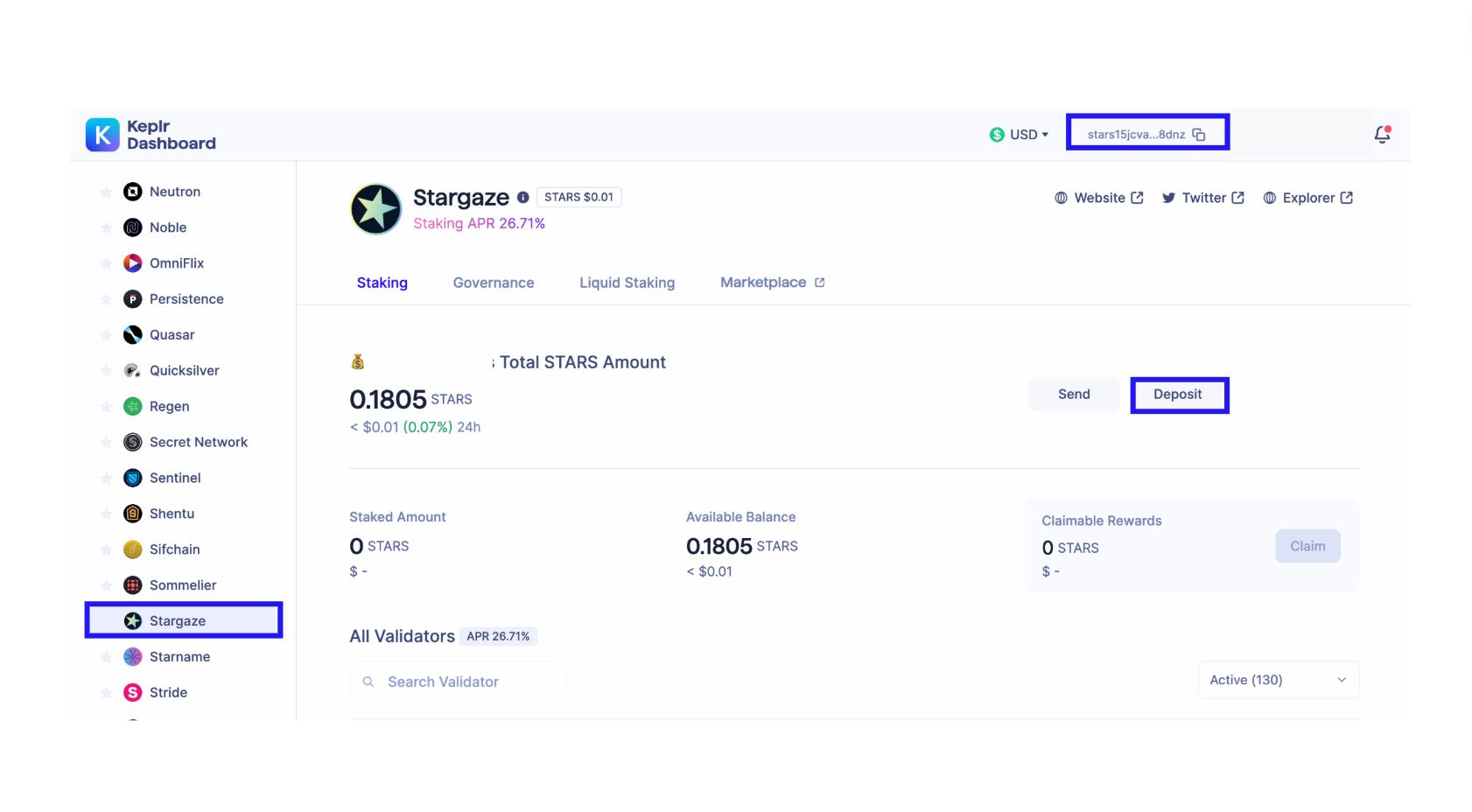 Send the $STARS to your new wallet, wait a few seconds, and now you're ready to get started with staking.
Delegate $STARS  
To start staking your $STARS, in the "Stargaze dashboard" ensure you're on the "staking" tab (see image below). If so, a list of validators should be visible. Select a validator by adding the name of your desired validator in the search bar or by scrolling down.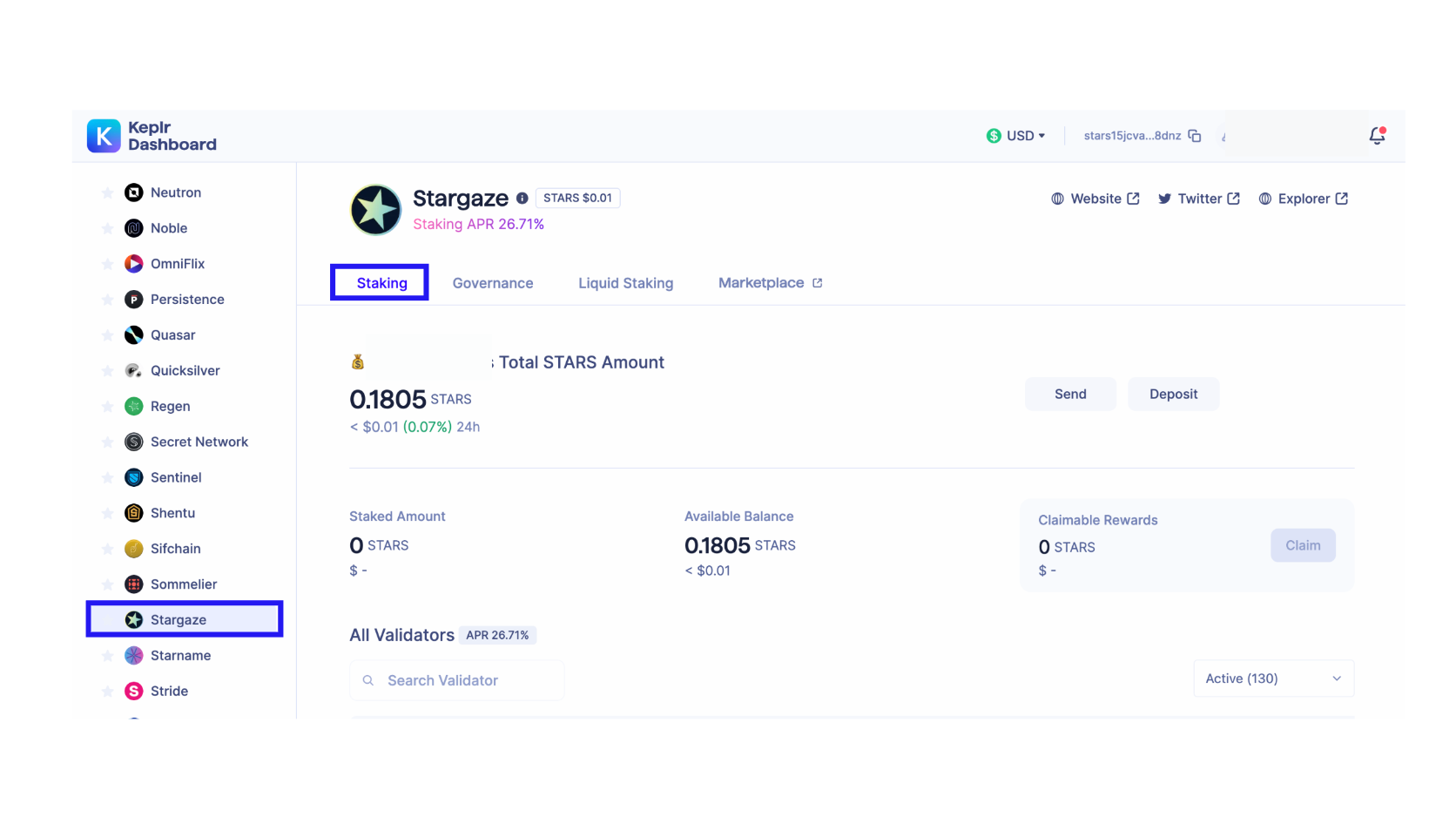 To select the validator click on their name. A pop-up will appear. In the pop-up select "Delegate" to continue.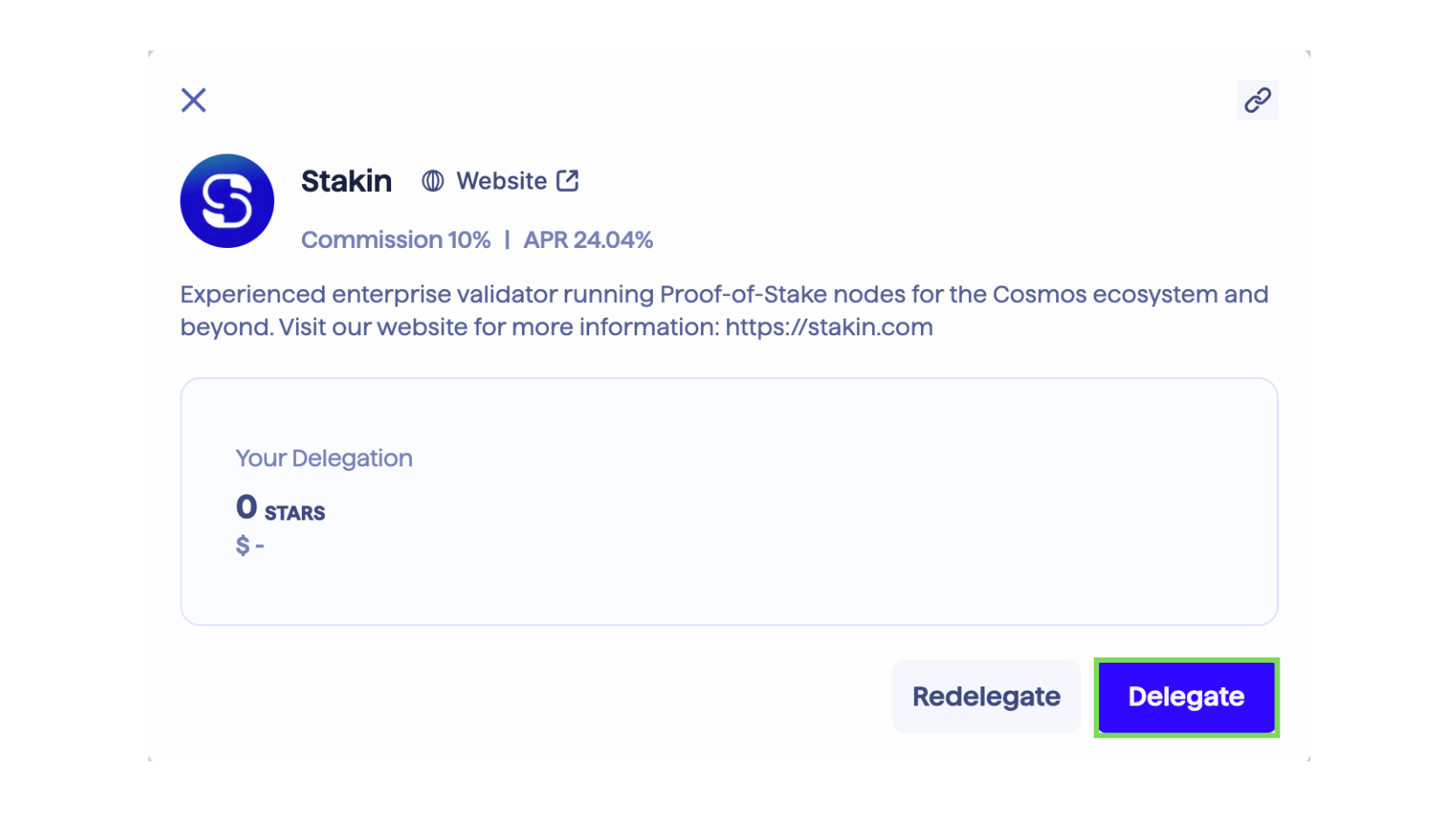 Once selected, fill out the amount of $STARS that you'd like to delegate. Keep in mind that you need to keep a small amount for transaction fees in the future.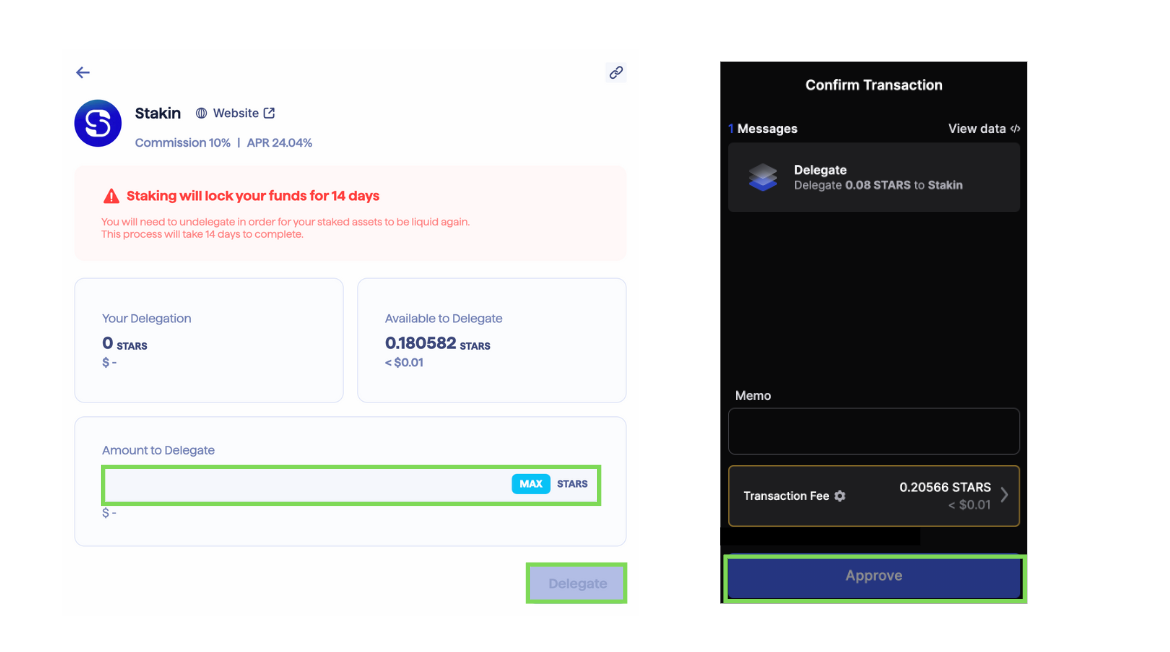 Confirm the transaction details are correct and select "Approve" to continue. Wait a few seconds, and that's it! You've now staked your $STARS and are earning staking rewards.
Some things to keep in mind:
Staking your $STARS will lock your funds for 14 days, during which you can't access them.
Compounding or re-staking has to be done manually. This means you need to go to the Keplr wallet and select "Claim" to claim any rewards and then re-stake them.
You can check your transactions via: https://www.mintscan.io/stargaze
---
DISCLAIMER: This is not financial advice. Staking, delegation, and cryptocurrencies involve a high degree of risk, and there is always the possibility of loss, including the failure of all staked digital assets. Additionally, delegators are at risk of slashing in case of security or liveness faults on some protocols. We advise you to do your due diligence before choosing a validator.