Everything You Want To Know About Staking Tezos With Your Hardware Wallet
Please Note: Stakin has discontinued its Tezos public infrastructure as of 1st of January 2022, as such the baker is no longer generating rewards and this guide is not longer maintained. For more information, read our official announcement (link to it) or visit https://stakin.com.
---
Hi Readers👩‍💻,
Today, we're looking at how to stake Tezos ($XTZ) with your Ledger Live App and the Ledger Hardware Wallet. But first, a quick recap of the Tezos network. You can check out our more detailed articles for those of you new to the blockchain world here.
In a nutshell, Tezos is an open-source platform for assets and applications that can evolve by upgrading itself. Stakeholders govern upgrades to the core protocol, including the amendment process itself. So, what makes Tezos so unique and such a popular Proof-of-Stake (PoS) protocol?
Firstly, Tezos has its blockchain that has been built from the ground up. Additionally, the Tezos consensus relies on a less power-hungry algorithm than other similar PoS algorithms. However, according to most stakeholders and competitors, the most significant difference between different blockchains and Tezos is how it allows its ledger rules to be self-governing. Self-governing is done by creating the "apply" and "score" variables a part of the mutable state.
Every blockchain relies on three different parameters, known as the state, apply, and score. The "score" determines the valid blockchain branch (sometimes known as the total hashing power). The "apply" is an internal, mutable state type and refers to a transform that takes state (S) and transaction (T) to produce a new state (S).
🎉 Let's Start Staking
Step 1 Connecting Your Device and Installing Tezos App
Before you can get started on the actual staking, you'll have to download the Ledger Live app, connect your Ledger Nano and install the Tezos App. So, when you connect your Ledger for the first time to your computer (regardless of whether it's a Windows, iOS, or something else), you'll get the question if you'd like to add the Ledger Live App to your programs. Select yes, and follow the steps given to download the wallet.
However, if, for some reason, you've forgotten to download the Ledger Live App when first connecting your device. Go to the official Ledger website and download the app. Pay attention that you don't download the app on any unofficial platform, etc. this can compromise your wallet's integrity.
Once you've downloaded and installed the Ledger Live App, connect your Ledger Nano wallet and access it. Select "initialize the new device," or already have a device initialized, select "use an initialized device". Continue and choose your password for entering the wallet or fill-out the password you've already created. It's also possible to quickly restore your account by selecting "forgot password".
Now select "manager," and in your search bar, enter "Tezos". Next, select the "Install" button (see below). On your Ledger device, click both buttons at the same time to allow the installation.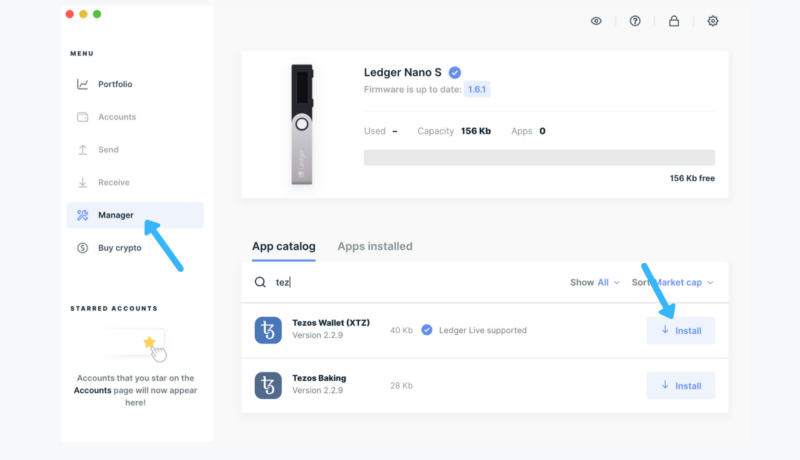 You'll get a confirmation once the Tezos Wallet is installed (see image below).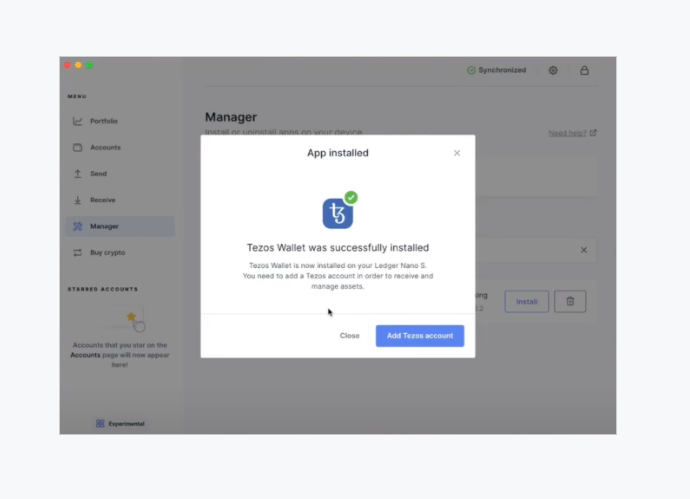 Step 2 Connect Your Tezos Wallet
Once you've installed the Tezos Wallet on your Ledger Live App and, therefore, on your Ledger Nano device, it's time to connect your Tezos Wallet account. Select the "Accounts" page on the left drop-down menu. Now select "Add Account" on the top right side.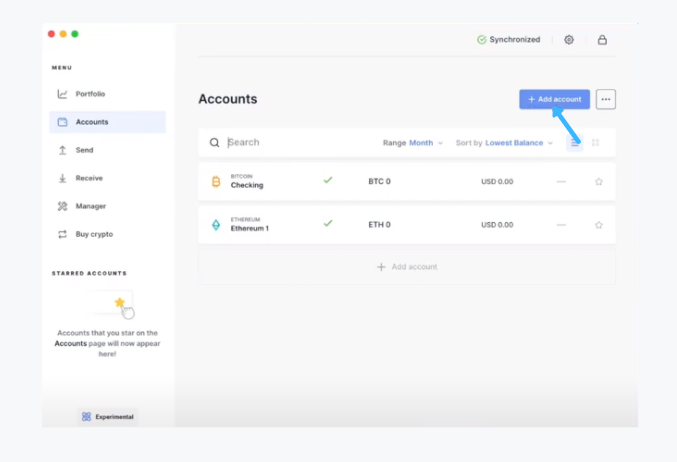 Choose Tezos from the list. The easiest way to find it is by adding "Tezos" is by just typing it in. Next, select "continue". Open the Tezos Wallet app on your device, then click "continue". Once again, you'll have to confirm your decision to connect the wallet by clicking both buttons simultaneously on your Ledger.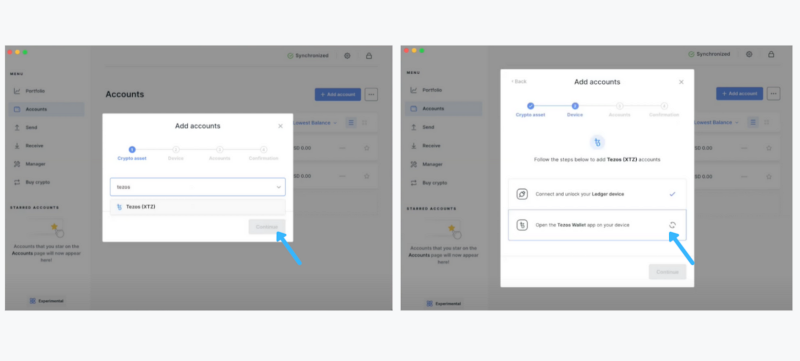 To add a new account, select the "add account" button. Now, you should see a pop-up that says: "Account Successfully Added". Select "close" to go back to the accounts page. You'll now see the account listed on the account page.
Step 3 Receive Your $XTZ
Now that you have added your wallet and your account, it's time to have some $XTZ in your account so that you can start staking. First, select the Tezos Wallet on the "account page". Clicking on it will show you all kinds of details. Then, select "receive" and click on "continue". Ensure the device still has your Tezos Wallet open and then click "continue" again.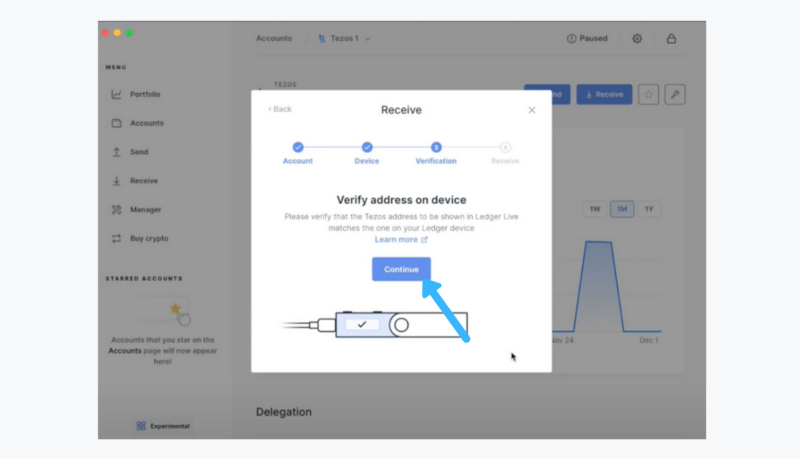 On your Ledger, verify that the address displayed in Ledger Live matches the one on your device. You'll need to provide a public key hash, which you can copy from the app by selecting "copy" (see image below).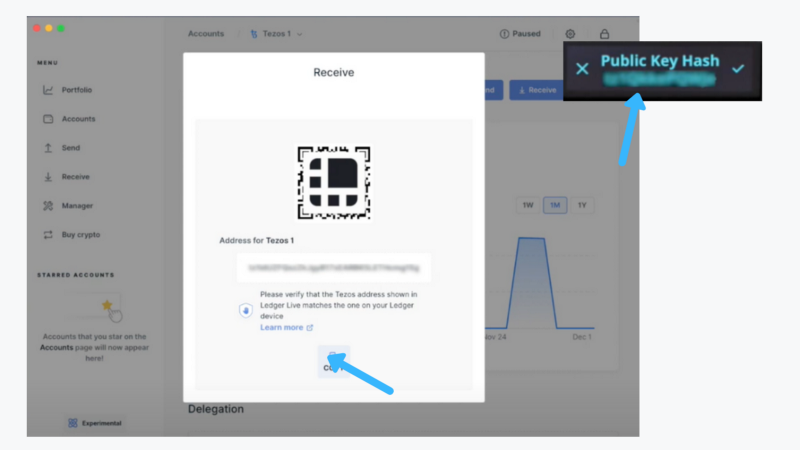 Press the right button on your Ledger to accept the address. Share your address with other wallets or a sender to transact. Close the window and wait for your assets to be received.
Step 4 Time To Start Staking
A banner will show up on the wallet account page where you can select "earn rewards". If you scroll down, you will also see a delegate section; there, you can also choose "earn rewards".
A pop-up will appear; select "Delegate to earn rewards" to continue. Take your time to read through the given information. If the right account is selected, press "continue".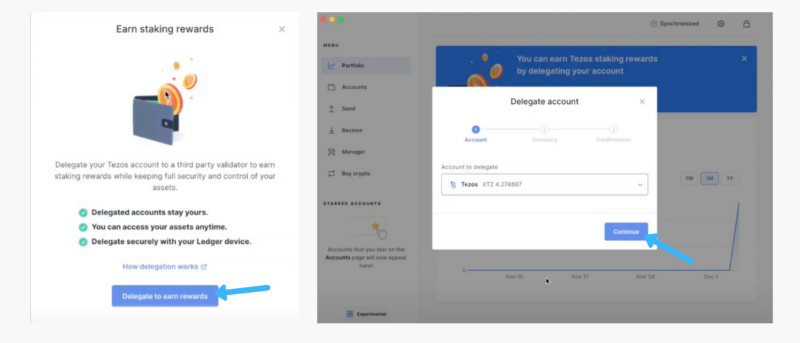 A random validator will be selected. However, you can switch it to the validator of your choice — for example, Stakin. Press "select" to choose another validator and then click on "continue".
Once again, open the Tezos wallet app on your Ledger and select both buttons on the top to continue. Your Ledger Nano will ask you to confirm the delegation. Press the right button to accept the delegation details. You'll now see a pop-up saying "delegation sent". You should receive your first rewards within 40 days.
Congratulations! You've now staked your Tezos!!
---
DISCLAIMER: This is not financial advice. Staking, delegation, and cryptocurrencies involve a high degree of risk, and there is always the possibility of loss, including the loss of all staked digital assets. Additionally, delegators are at risk of slashing in case of security or liveness faults on some protocols. We advise you to do your due diligence before choosing a validator.