How to setup a wallet, stake or delegate, claim staking rewards, and unstake or unbond XPRT using Persistence web wallet and Keplr Wallet
Persistence (XPRT) is a delegated Proof-of-Stake (PoS) blockchain focused on creating next-gen financial products such as the lending and borrowing of crypto assets, tokenizations of real-world assets, management and issuance of debt, and much more. As staking is needed to secure the network, we will explore how to set up a wallet, stake, claim rewards, and unstake $XPRT tokens.
Setting up Keplr Wallet
Install the wallet extension
If you haven't downloaded the wallet yet, go to https://wallet.keplr.app/; a pop-up will appear as soon as you enter the website. Click on the pop-up; it will lead you to the Chrome extension store. Select: "Add to Chrome".
Once you've added the extension, click the puzzle icon on your screen's top-right menu, pin it, and click the Keplr logo to open the Keplr web page.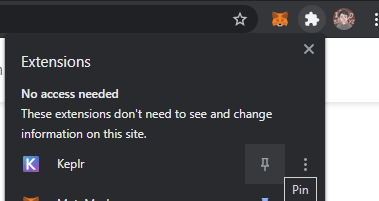 Create Your Wallet
On the Keplr web page, select "Create New Account" to start setting up your account. There is also an option to Sign in with Google, powered by Torus. If you already have a Keplr wallet, select "Import Existing Account".
Create new account
If you've selected "Create New Account", Keplr will ask if you'd like to have a Mnemonic Seed of 12 or 24 words. Remember to store your seed phrase securely offline and never share it with anyone. If you lose your seed phrase, you will lose the assets within the wallet.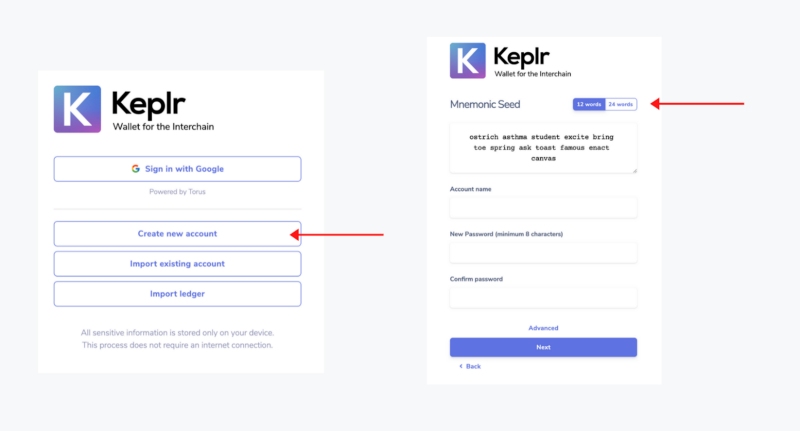 Once you've copied your seed phrase, fill out your account name, and desired password and confirm by selecting "Next".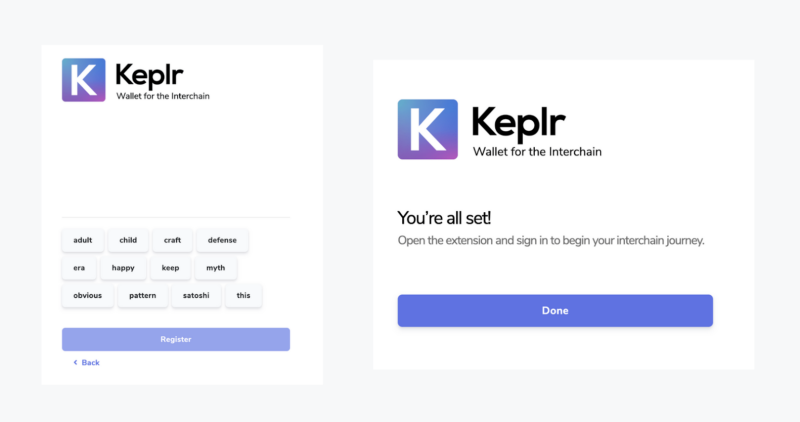 Import existing account
If you've selected "Import existing account", Keplr will ask you to input your mnemonic phrase or private key, desired account name, and new password as well.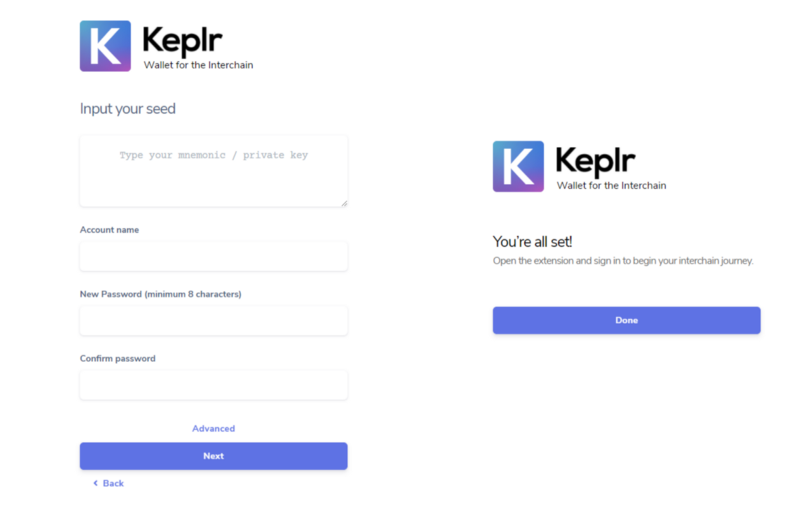 Staking using Persistence Web Wallet and Keplr Wallet
Sign in using Keplr Wallet
Go to https://wallet.persistence.one/, select "Import an existing wallet", then choose "Use Kepler".
You will be asked by Keplr regarding "Chain Add Request", choose to approve.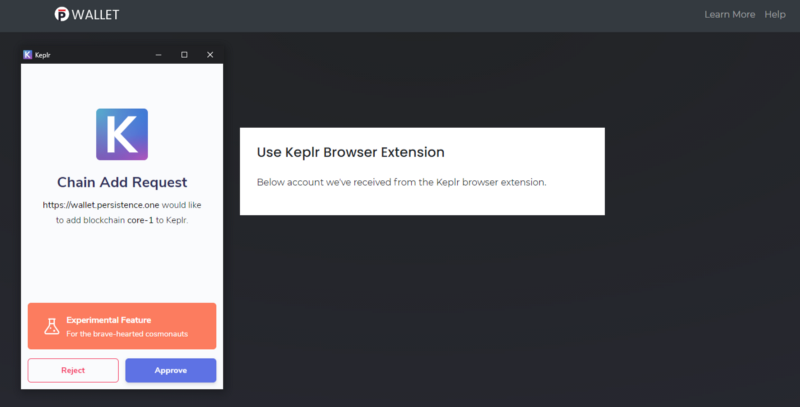 After adding the Persistence chain, the web app will try to connect to your wallet. Approve it again.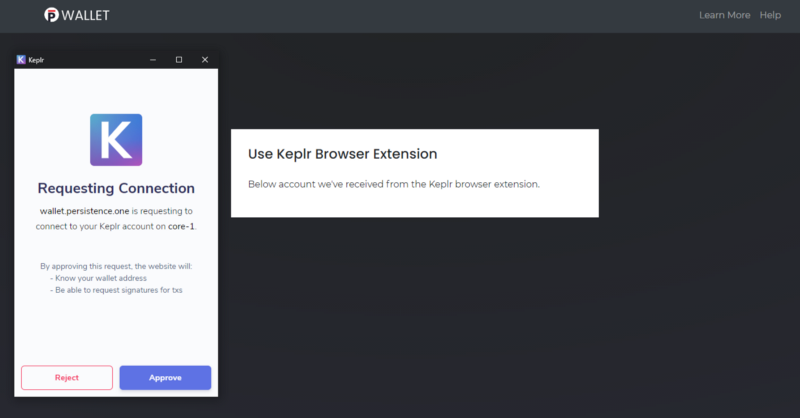 Once done, click the "Use" button to be redirected to the dashboard. If the button does not appear, refresh the page (re-connect if required).

Staking
After arriving in the dashboard, you can proceed in staking by selecting "STAKING" in the top right corner. Look for "Stakin" with the blue logo and click "Actions".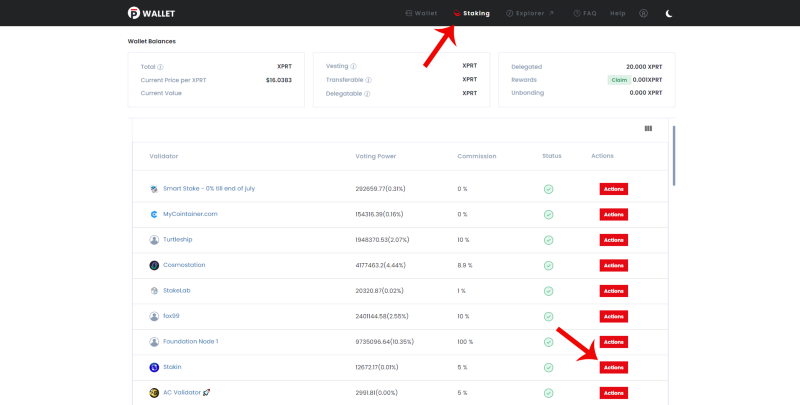 Press "Delegate" and enter the amount that you want to stake. Do not stake all of your XPRT; leave some to cover the network fees. At least 1 XPRT left would do.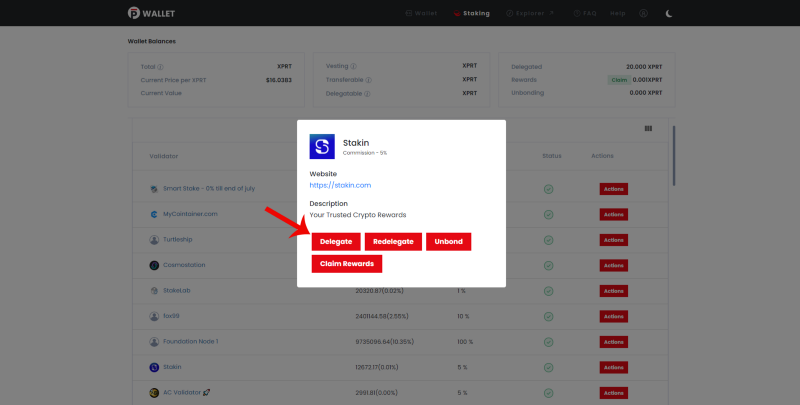 Select your desired fee and approve the transaction. Once the transaction is confirmed, your XPRTs are now staked.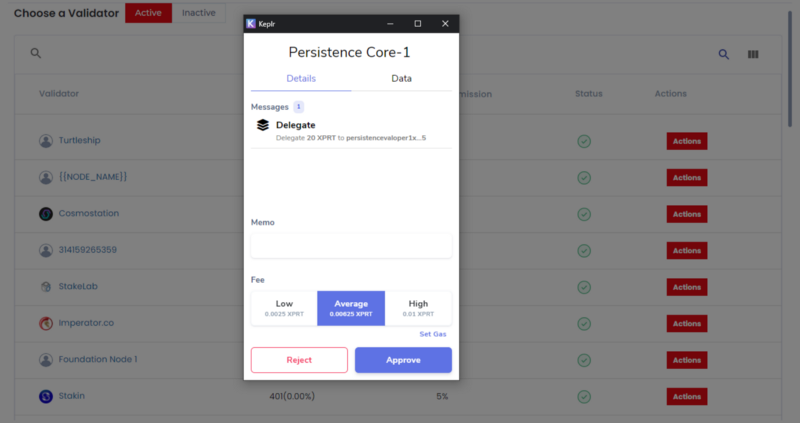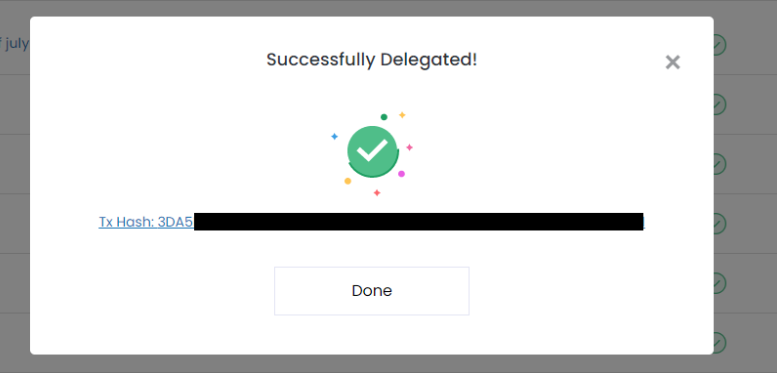 Claiming rewards
Click the "Claim" button located in the top right corner.

Select the validator which you want to claim the staking rewards from.

Submit and approve the transaction. Congrats, you successfully claimed your staking rewards!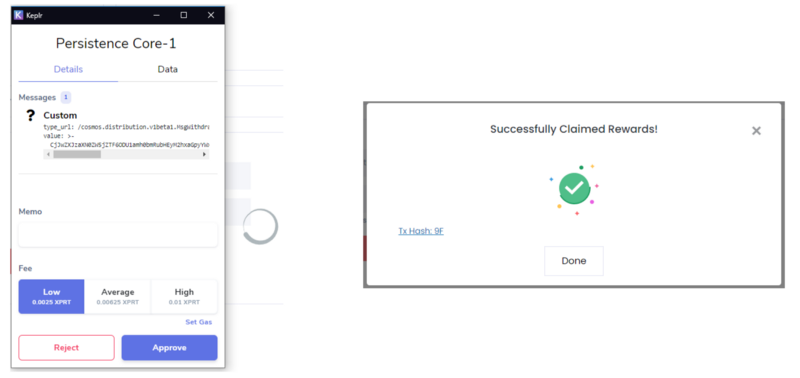 Setup Address for Rewards Withdrawal (optional)
This feature lets you claim the staking rewards and receive them at a separate address.
To proceed, click the "Claim" button and select the "Setup Address for Rewards Withdrawal".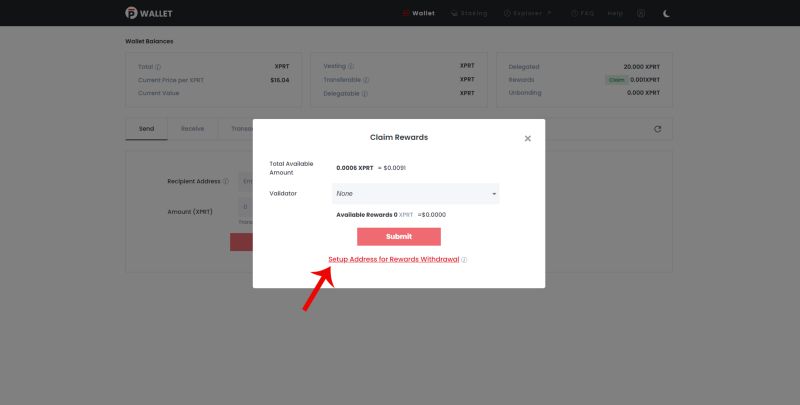 Enter the withdrawal address, and submit the transaction.

Now, every time you claim your staking rewards. It will be sent to the address that you submitted earlier. If you want to revert it back to your main wallet address, just do the changing process again.
Unstaking/unbonding
Unstaking/unbonding your XPRT tokens will take 21 days. You will not earn any staking rewards during the unstaking process, and it is not possible to cancel it. Therefore, make sure you did intend to unstake it.
Go to the "Staking" tab, click "Actions" of the validator that you are staking with, then select "Unbond".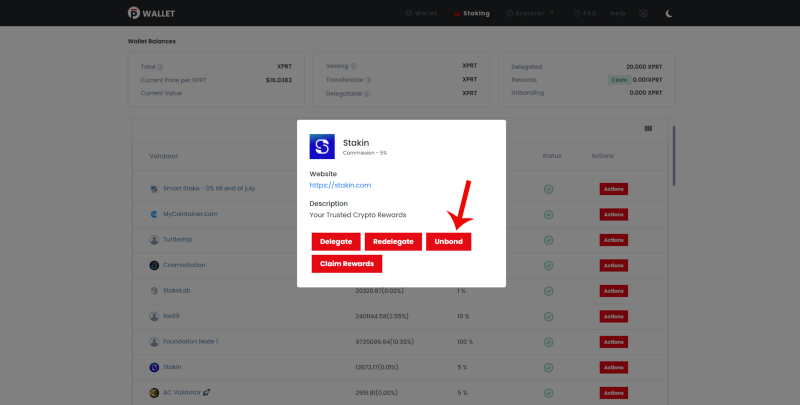 Enter the amount that you want to unstake/unbond and press submit.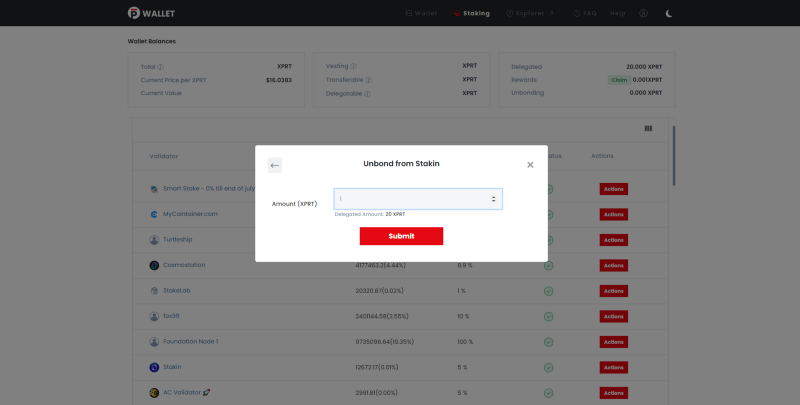 Approve the transaction and the unstaking period will now start.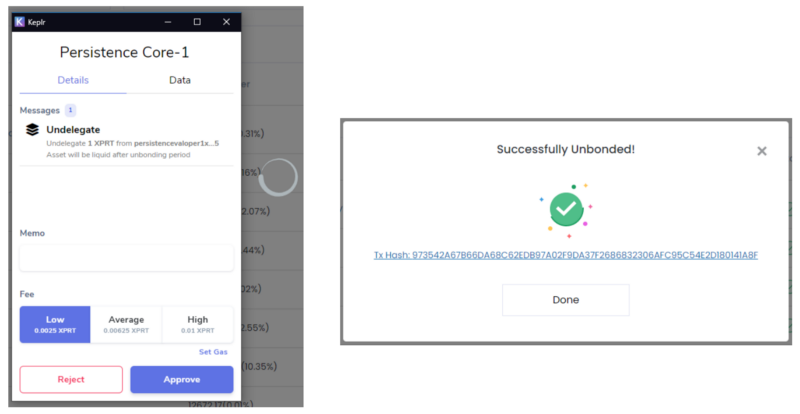 If you want to know the completion time of the unstaking period, head over to the explorer (https://explorer.persistence.one/) and enter your address in the search bar.

What are the risks in staking Persistence (XPRT)?
Your staked XPRTs are prone to slashing. This occurs when the validator you staked with does the following:
Soft slash. This occurs when the node does not validate for 6 hours (inactivity). It results in losing 0.01% of the tokens that have been delegated.
Hard slash. It happens when a validator double-signs. You can lose 5% of the tokens that you have delegated.
It is advisable to:
Research the track record of the validator you want to stake with (check their websites, protocols that they are operating in, social media accounts, etc.)
Diversify your staked XPRT to a couple of validators.
---
DISCLAIMER: This is not financial advice. Staking and cryptocurrency investment involves a high degree of risk, and there is always the possibility of loss, including the loss of all staked digital assets. Additionally, delegators are at risk of slashing in case of security or liveness faults on some PoS protocols. We advise you to DYOR before choosing a validator.