This is the 3rd article of our series on ICON, in which we introduce the 3 participants to which you can stake your ICX: P-Reps, DApps…
ICON Staking Ecosystem Participants: P-Reps, DApps, and EEPs
This is the third article of our series on ICON, throughout which we introduce the various components and differentiating elements of the ICON project 🌕.
In this article, we will review the various ecosystem participants that you can stake your ICX, too: P-Reps, DApps, and EEPs.
If you want to know more about staking on ICON, you can check our previous article, "ICON Staking and Delegation Explained."
There, we explained that one of the unique features of ICON resides in the fact that ICONists can delegate to three sectors of ecosystem participants at the same time, and cumulate returns from the three and YES, the gains add up. 🚀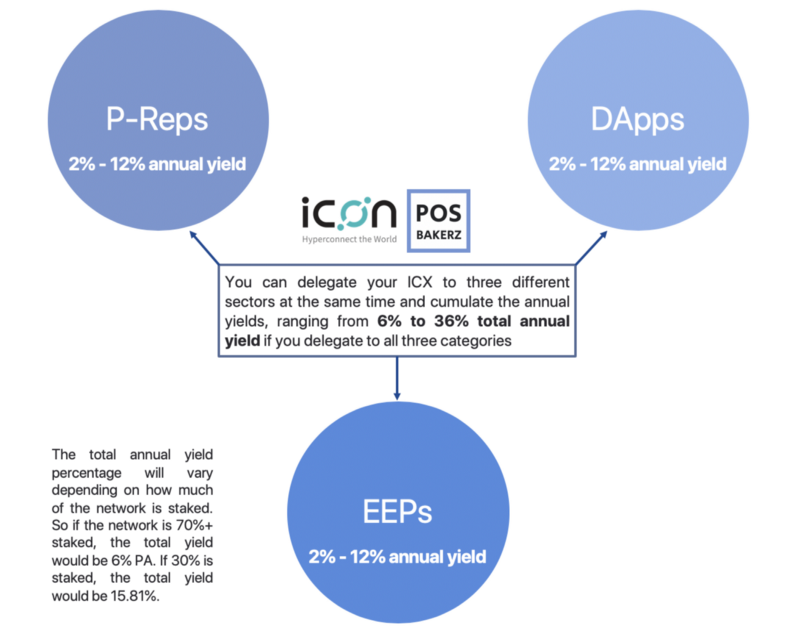 P-Reps
P-Reps, which stands for public representatives, are full nodes elected by ICONists. P-Reps are incentivized through staking, with the system taking into accounts the proportion of votes that a P-Reps gets, given that 1 ICX = 1 Vote.
Their primary role is to maintain the network secure, decentralized, validate blocks, and verify transactions. Additionally, they are also responsible for voting within the decentralized governance system and ecosystem growth through community building and product development.
At first, there will be a total of 100 P-Reps consisting of 22 Main P-Reps and 78 Sub P-Reps. In September 2019 will start the ICONSENSUS event, during which ICONist will be able to vote on-chain for their preferred P-Reps.
Stakin is applying for P-Rep, you can visit this link in case you wish to know more about our application.
Main P-Reps can produce and verify blocks, as well as participate in network governance, while Sub P-Reps can only maintain the chain and eventually become Main P-Reps one day. Hence, representative rewards are given to all 100 P-Reps according to the number of votes received, but only Main P-Reps will earn production and verification Rewards.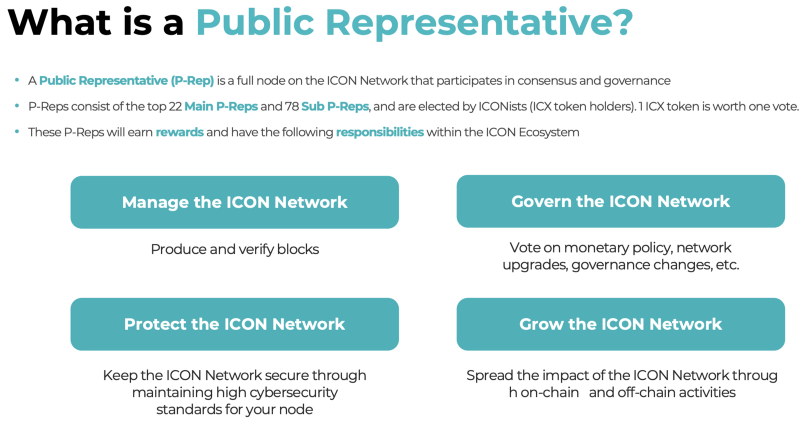 DApps
DApps are decentralized applications that run on the ICON blockchain through smart-contracts. Technically, it means that transaction records and back-end code of the apps are transparent, running, and recorded on the blockchain. Unlike traditional applications, DApps do not need a centralized intermediary to function or to store users' data. Being open-source and without central points of failure, DApps can lead to many exciting applications in domains such as Decentralized Finance (DeFi), Cloud, Insurance, Networking, Data, Computing, and even Gaming.
In addition to traditional incentives, ICON DApps builders are also incentivized since they will receive a portion of the block rewards based on the staking votes that they collect from the community.
With ICON's Fee 2.0, DApps builders also have the option to subsidize users for the transaction fees involved in using their app, which is, in our view, a big plus for mass adoption. The good news is that DApps operators are compensated through staking, hence they do not burn too much ICX in doing so, but it ultimately leads to a better UX since the fee part becomes invisible for ICON DApps users.
As an ICONist, you will be able to support which DApps you want to help by staking your ICX to your preferred applications.
EEPs
EEPs stand for Ecosystem Expansion Projects, whereby members of the community propose and develop projects and activities that contribute to ecosystem expansion.
An EEP can be proposed by any ICONist and has the opportunity to receive delegations, which would result in funding through block rewards, from all ICONists. Some examples could include the creation of developer documentation/tutorials, the hosting of meetups/conferences, or the development of other tools to support the network (block explorers, wallets, etc.).
Get to know more about ICON.
DISCLAIMER: This is not financial advice. Staking and cryptocurrencies investment involves a high degree of risk, and there is always the possibility of loss, including the loss of all staked digital assets. Additionally, delegators are at risk of slashing in case of security or liveness faults on some PoS protocols. We advise you to DYOR before choosing a validator.