Who is working with ICONLOOP, and what are the upcoming projects?
Hey ICONists🧑‍🚀,
In today's article, we're taking a look at all the different use cases that ICONLOOP has brought into the ICON ecosystem so far.
🕵️‍♂️ What is ICONLOOP?
For those of you who are new to the ICON Network, or just unfamiliar with ICONLOOP, here's what it's all about. ICONLOOP is a company dedicated to creating unique, innovative blockchain use-cases in many different industries by providing technologies and solutions to global partners. The ultimate goal of ICONLOOP is to bring mass-adoption of blockchain-based services like:
DID refers to Decentralized ID, a technology that provides a safe and straightforward take on the digital identification process. Users of this application can create a Self-Sovereign Identity that lets them control their data without relying on third parties.
MyID is a blockchain-based mobile identity service that is realized through utilizing the DID (see below) technology. Personal data is stored on the user's smartphone application. The data is self-owned and can be selectively used, leading to a safer and easier self-management of your data. MyID also supports identity checks on general services and real-name verification required for financial services.
VisitMe is also based on the DID technology and eliminates the multiple steps involved in visiting an office building. Users can make a reservation to visit the office using the app and get a QR code to access the building.
Broof is a blockchain-based certificate issuance service that supports the function of issuing certificates that are impossible to forge or falsify with additional internal storage. By using this service, organizations like schools can be free from setting up a database and save the costs of issuing and storing paper certificates. For a complete article on this service, click here.
DPASS is a blockchain-based self-sovereign identity service realized through the DID technology. Users can safely manage their personal information on the DPASS app and use different services without repeatedly adding their data. With the help of blockchain technologies used in Broof, personal data stored on the app is impossible to forge and is secure and private.
💼 ICONLOOP Use Cases
Before we dive into different enterprise use cases, let's discuss another use case first. One of the first and most revolutionary partnerships of ICONLOOP is that of the Seoul Metropolitan Government. In March this year, they announced that they would start implementing blockchain-based voting on the LOOPCHAIN (ICONLOOP's developed blockchain engine). But they didn't just leave it at that; they also connected the LOOPCHAIN with the Seoul Automotive Industry Integrated Information System. The reason given by the Seoul Government is that the M-Voting system needed blockchain technology to make it more reliable, transparent, and prevent tampering with any data as well as increase the user experience for voters.
🌐 ICONLOOP & Amazon Web Services
ICONLOOP and Amazon Web Services (AWS) put their hands together so that ICONLOOP can build its globally dispersed network of blockchain nodes called the ICON Development Network. This network will be configured to ensure users on the blockchain only need front end access and operating logic to use AWS services like AWS Lambda.
The users of AWS Marketplace can use the benefits of ICONLOOPs ICON Development Network to quickly deploy infrastructure systems for Blockchain as a Service (Baas), to lower usage costs and other technical challenges. Users can build and verify different blockchain networks with a variety of development and tests connected with configuring nodes as needed. When asked about the collaboration, Jeong of ICONLOOP said: "AWS provides a developer-friendly environment, and supports a variety of SDKs; this makes it possible for developers to test services, by reading API documentation directly".
👨‍💻 ICONLOOP & Korea Productivity Center
ICONLOOP has also signed a strategic Memorandum of Understanding (MOU) with the Korea Productivity Center (KPC). The center is the first educational consulting firm in Korea to build a blockchain-based industrial ecosystem. This collaboration aims to increase the customer value of the KPC by implementing the ICON Broof technology. The use of Broof will improve the transparency in issuing qualified certification for multiple curriculums at the KPC. For the full announcement by ICONLOOP, click here.
🎨 ICONLOOP & ARTnGUIDE
Another ICON Broof collaboration of ICONLOOP is with ARTnGUIDE, an online service platform based in Korea that focuses on co-purchasing works of art. The company is helping to popularize making investments in art by making it more accessible.
Together, the organizations aim to prevent forgeries and theft by recording ownership of jointly purchased works of art on the blockchain, reliably managing them, and disclosing the details of all transactions transparently. Before this collaboration, there was only the availability to store ownership records on the Ethereum blockchain. However, ICONLOOP goes beyond the storage of ownership; it also records the arts' images on the public blockchain.
🏦 ICONLOOP & SBI Savings Bank
But it's not just art and schooling systems that ICONLOOP is making significant progress in. The SBI Savings Bank, based in Korea, now has a blockchain-technology based personal authentication service. The Bank's mobile smart banking app lets users authenticate their identification number (PIN) or fingerprints through 'SBI Simple Authentication". Additionally, improved security — from blockchain — enables users to log in and quickly initiate transfers without a public certificate or a one-time password. All of this is possible because of the storing of information among nodes on the SBI blockchain network, and verifying the data integrity through SCORE, a smart contract environment developed by ICONLOOP. Check the announcement here.
📞 ICONLOOP & ITU
ICONLOOP has also signed a collaboration deal with the International Telecommunication Union (ITU), the United Nations' specialized agency for information and communication technologies. Both parties will establish a high-level framework of cooperation in the ITU Smart Incubator Programme to provide support and knowledge on blockchain-related technologies to the start-up ecosystems. So, while ICONLOOP will not be directly building something for this organization, they have made a breakthrough in getting blockchain to be more globally and main-stream accepted. ICONLOOP is now an official advisor for a United Nations organization. For the full announcement, click here.
🚀 Fintech Innovation Fund
While not necessarily a ICONLOOP use case, this recent development couldn't be left out. On the 5th of June 2020, ICONLOOP and Icon Nation announced that they've been selected to receive funding from the $100 Million USD Fintech Innovation Fund. Read the announcement here.
🛡️ The MyID Alliance
The MyID Alliance is not so much a collaboration of ICONLOOP and one other organization. Instead, it is a service of ICONLOOP focused on establishing a blockchain-based digital ID ecosystem that puts "MyID" at the center, trying to resolve user inconveniences effectively. The alliance currently consists of 68 enterprises and are aiming to obtain at least a hundred various kinds of enterprises before the end of 2020. The corporations come from many different markets such as e-commerce, fintech, healthcare, commercial banks, security firms, and more. For an extensive list, click here. The MyID Alliance will initially be working based on three things:
They are expanding the DID ecosystem, based on the trust in the financial sector.
Regulatory sandbox on finance Designating exceptional cases; MyID is the only platform in Korea that can be used in the financial sector with the Financial Services Commission's designation and is, therefore, working as a regulatory for building trust in blockchain within the industry.
Qualified DID technologies.
The roadmap of the MyID Alliance looks as followed: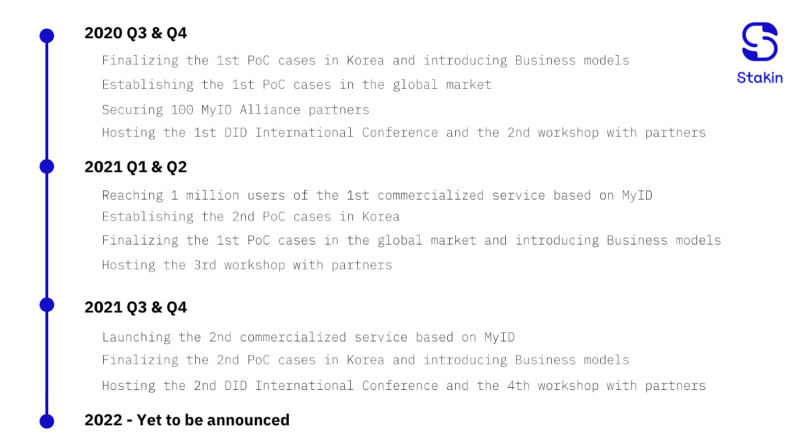 More Information & Sources
---
DISCLAIMER: This is not financial advice. Staking, delegation, and cryptocurrencies involve a high degree of risk, and there is always the possibility of loss, including the loss of all staked digital assets. Additionally, delegators are at risk of slashing in case of security or liveness faults on some protocols. We advise you to do your due diligence before choosing a validator.