ICX DeFi and Staking Made Easy?! An In-Depth Guide
Hi ICONists🧑‍🚀,
There is something new out there for the ICON Community: ICONFi crypto staking and earning service. The platform provides an easy solution for ICX staking and allows users to earn a yield on other crypto assets such as BTC, ETH, USDT, and the latest addition, USDC. In this article, we will tell you all about using the platform. But first, let's have a look at what's behind this platform's creation.
ICONFi is led by ICON Founder Min Kim and Sean Kim, an expert in financial products and underlying trading systems. The ICONFi team has 15 members who share an extensive background in quantitative trading, asset management, business operations, and blockchain.
The initial main features of ICONFi are:
User-friendly interface: Easy one-click staking to earn rewards, which simplifies the staking process, and helps ICX holders to vote effortlessly.
Multi-blockchain approach: Staking and support for additional digital assets; as mentioned above, ICONFi supports multiple assets outside the ICON Network. Based on the interest of the community, more digital assets will be added in the future.
Auto-compounding: Automated ICX claiming and re-staking to earn more rewards; this is aimed to help take away the frustration of many ICON users with the process of manually claiming and re-staking their digital assets.
So, why was ICONFi needed? Well, let me start with a question for you. Have you ever lost access to a decentralized wallet thanks to the loss of your private key or password? If the answer is yes, then you're not the only one. Many crypto users have lost keywords, passwords, and, therefore, ultimately their funds. ICONFi was created to solve this problem with a simple, secure, and low-friction service for helping users stake and grow their digital asset investments. It is aimed to be a hassle-free, all-in-one wallet that integrates services designed to grow digital assets and allows beginners to get involved easily.
As Min Kim, ICON Project Founder, said to Blockchain Wire at the time of launch: "We believe ICONFi can be the gateway to other DeFi products like decentralized wallets, as well as an entry point for the ICON ecosystem and blockchain technology as a whole". That said, let's give it a try.
How To Use ICONFi for Staking
Step 1 — Install The App & Create Your Account
First, to get started, go to the website: https://www.icon-fi.com/ and select the download option for Android or iPhone. You can also open your Google Play or Apple Store and search manually for ICONFi.
Next, select "Sign Up" and fill out your email, preferred password, and agree to the terms of use. Select "Sign Up" once again. An email will be sent to you with a code for verification. Make sure to fill the 6-digit code out in the app within 10 minutes. Otherwise, the code will no longer be valid.
Once that's done, the login screen will appear. Fill out your email and password once again and select "Log In". And that's it; you've now created your account.
Side note: withdrawal is disabled for the first 72 hours from when your account is created for safety reasons.
You will also be asked to complete an OTP (Google Authentication) and KYC. Please note that you will have to do both; however, if you'd prefer to do it later, you can skip this step.
Step 2 — Deposit ICX To ICONFi
Once all the above steps are ready, it's time to deposit ICX to ICONFi. In the app, select "Deposit" and then choose ICX on the drop-down menu and click on "Create Deposit Address". Copy the address and use it to send it to your ICONFi wallet.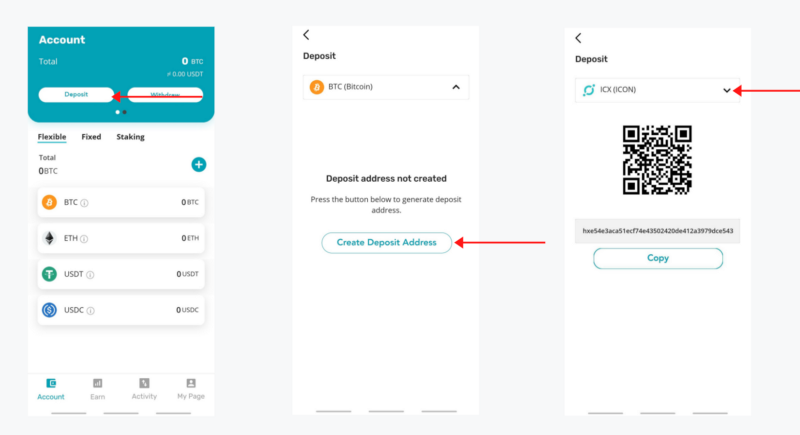 Once you've deposited assets in your account, it's time to get to staking.
Step 3 — Staking ICX with ICONFi
Staking your ICX with ICONFi means that your ICX will be automatically distributed to all active Sub P-Reps in equal amounts. At the time of writing, the earning rate is around 11.46%.
On the dashboard, select "Earn". And then select "Staking" on the top menu. Next, select "ICX" and fill in how much you'd like to stake. Once filled out, select "Apply Changes".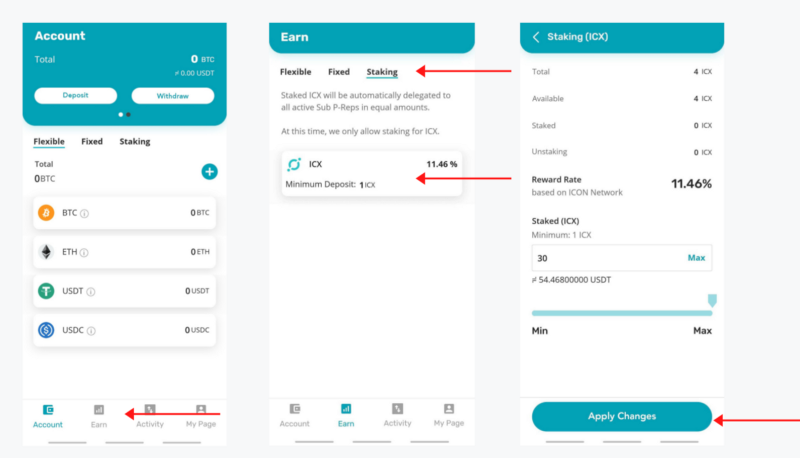 And that's it! You've now staked your ICX with ICONFi.
Using ICONFi for BTC, ETH, USDT, and USDC
Besides staking your ICX, it is also possible to earn on BTC, ETH, and other assets through a 'flexible' or 'fixed' option. The flexible earn allows you to freely deposit and withdraw while earning over your deposited assets. The fixed earn option allows you to earn more on your assets, however, they are locked up for a period of time.
---
DISCLAIMER: This is not financial advice. Staking, delegation, and cryptocurrencies involve a high degree of risk, and there is always the possibility of loss, including the failure of all staked digital assets. Additionally, delegators are at risk of slashing in case of security or liveness faults on some protocols. We advise you to do your due diligence before choosing a validator.