User Guide and Overview of Osmos, the first IBC-native AMM
Hi Readers,
In today's article, we're having a look at the first IBC-Native Automated Market Maker (AMM): Osmosis. Osmosis is an advanced AMM protocol built with the Cosmos SDK, allowing developers to build, design and deploy their own customized AMMs. With Osmosis, cryptocurrency holders of IBC compatible blockchains (such as Cosmos, Regen, Akash, and more) can seamlessly swap their tokens.
As the creators behind the AMM noted in their "Vision for Osmosis": the two core tenets of the Cosmos ecosystem are heterogeneity and sovereignty, and Osmosis takes these two values and extends them into the core characteristics of their AMM protocol. So, what does that mean? Well, rather than focusing on a one-size-fits-all homogeneous approach for AMMs and the liquidity pools, Osmosis is created in a way that allows the most efficient solution is reachable through the process of experimentation and rapid iteration. That is achieved by offering in-depth customizability and a governance mechanism in which each AMM pool's liquidity providers govern and direct their pools.
$OSMO
The native asset of Osmosis is the $OSMO token, a governance token that provides a decentralized coordination method for token holders to decide the strategic direction and all future changes to the Osmosis protocol.
Within the protocol the native asset will be used for voting, allocating liquidity mining rewards for the different liquidity pools, setting the base network swap fee and governance. Because of the expectation that the rate at which Osmosis changes and adds new features, software upgrades etc., is expected to be way faster than the Cosmos Hub, active stakeholders and liquidity providers must be actively engaged in the process of discussing, voting, and passing protocol upgrades. Osmosis will have an initially released supply of 100 million OSMO at genesis, split evenly between the Fairdrop recipients and a strategic reserve. Unlike most Cosmos SDK chains where tokens are distributed on a per-block basis, Osmosis has daily epochs and releases new tickets only at the end of each epoch.
Tokens that are newly released will be distributed to a combination of staking rewards, liquidity mining incentives, developer vesting, and a community pool:
Staking Rewards: 25%
Developer Vesting: 25%
Liquidity Mining Incentives: 45%
Community Pool: 5%
You can also see the Token Release Schedule below.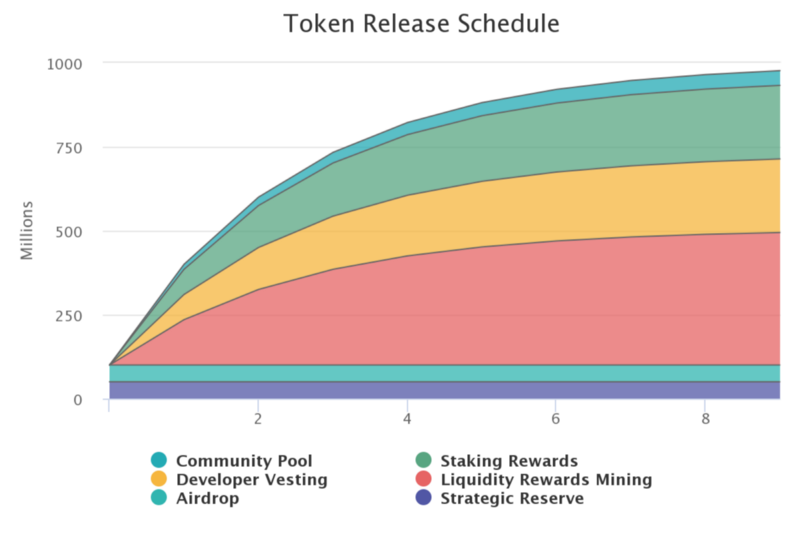 For all information about the Osmosis, Token Release, have a look at their Medium. Now that you know a little more about Osmosis let's have a look at how to use the platform.
Osmosis User Guide
To get started, visit https://app.osmosis.zone/ and connect your wallet.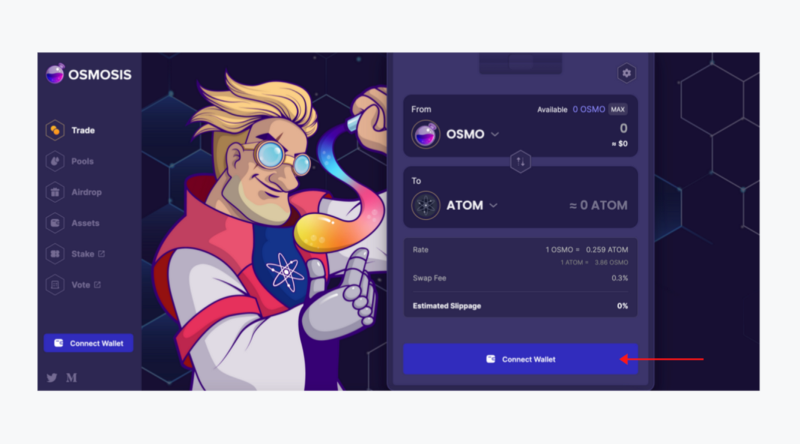 First, select "Connect Wallet," and your wallet extension will open a pop-up asking you to unlock your wallet. Fill in your password and select "Unlock". Next, select "Approve" to accept the connection. And that's all there is to it.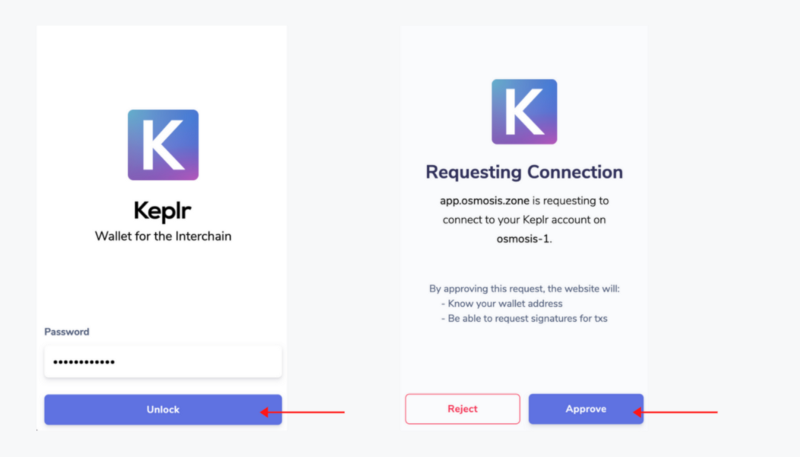 Even though your wallet is now connected, that doesn't mean you have any assets on the Osmosis platform. You will need to deposit them first. On the left side menu, select "Assets". The asset dashboard will show you the total assets, assets available and bonded assets. You can also see the different IBC assets that you can upload. For this tutorial, we are going to swap some $ATOM for $OSMO. So, we will need to deposit $ATOM.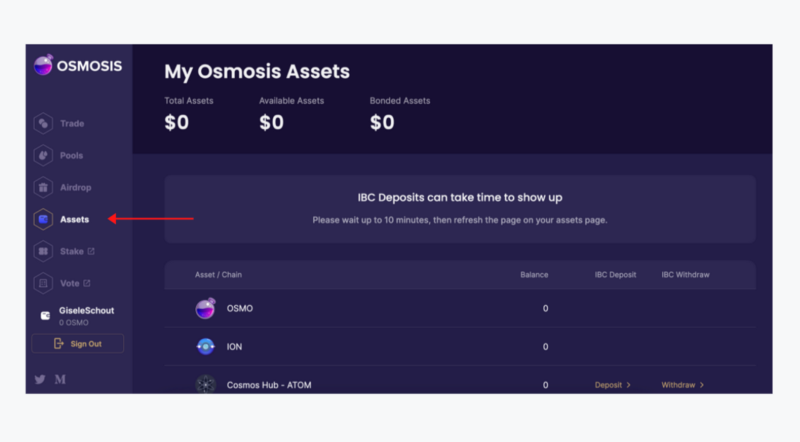 On the dashboard, scroll down to select the asset of your choice and select "Deposit".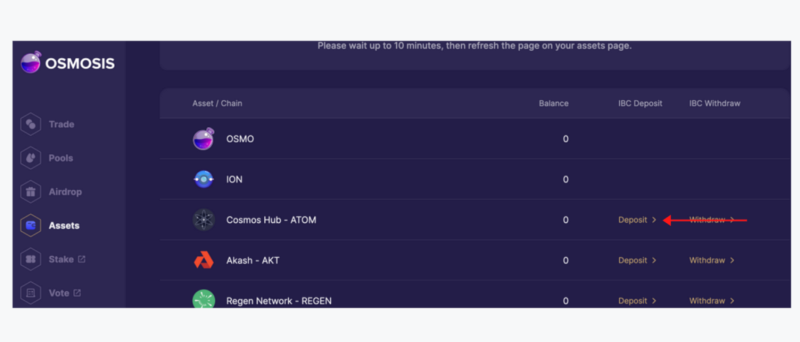 Next, double-check if the address is correct, and select how much you'd like to deposit. Then, to confirm, select "Deposit".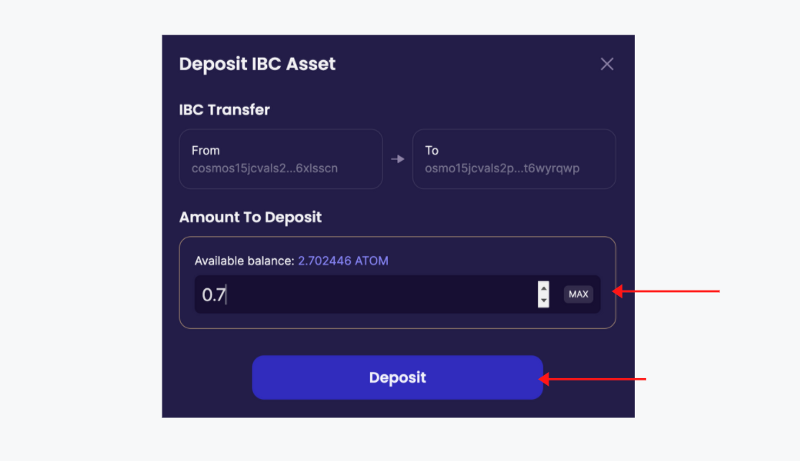 Your wallet will pop up again and request you to select the transaction fee and approve the transaction. Keep in mind that transactions can take up to 10 minutes to appear in the dashboard.
To swap, select the asset that you'd like to swap from. Fill in the amount you'd like to swap and select "Swap". Once again, like with the deposit, confirm the transaction via your wallet.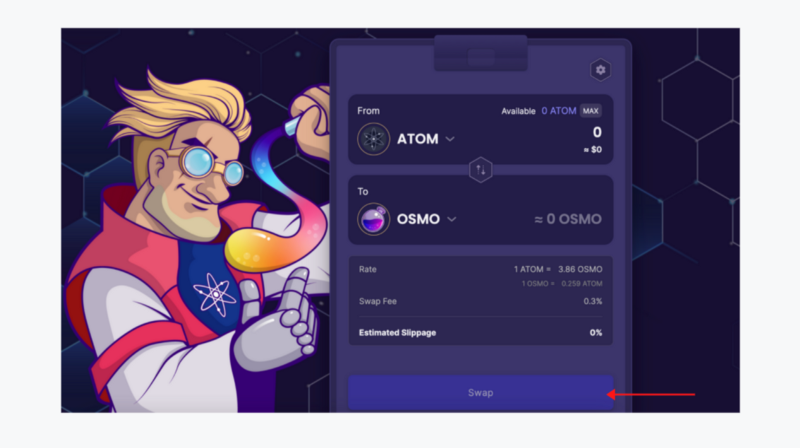 Suppose you want to use the Liquidity Pool, select "Pools" on the left menu. Then in the dashboard, select the pool of your choice.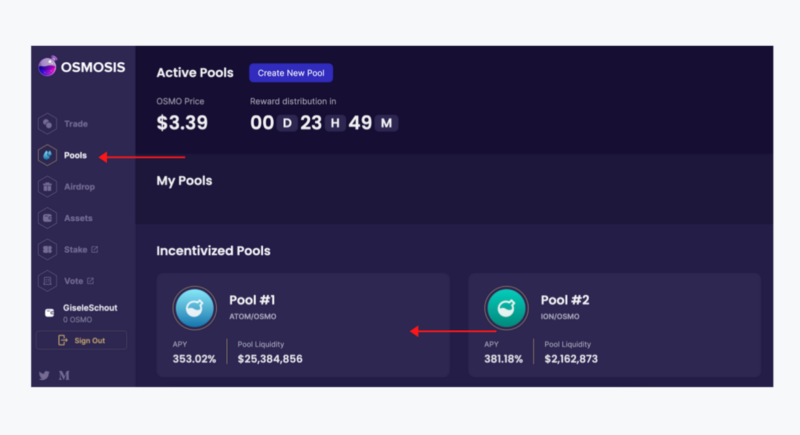 To add liquidity, select the "Add/Remove Liquidity" button on the top of the screen.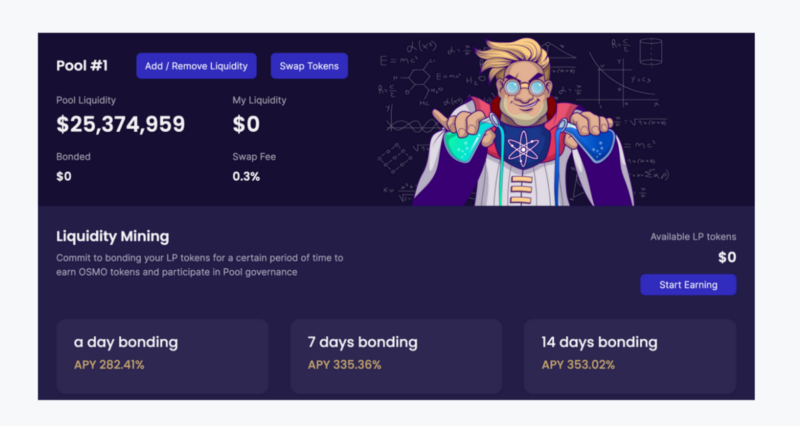 Once again, fill in the amount that you'd like to add to the pool. Then, confirm the transaction via your wallet. And that's all, folks! It's that easy to use the Osmosis Platform. Of course, keep in mind that Liquidity Mining doesn't have any guarantees and comes with risk.
In addition to swapping between IBC assets and providing liquidity, you can, if you own some $OSMO, stake these and participate in on-chain governance decisions. If you've staked ATOM before February 2021, there's a chance some $OSMO tokens are already waiting for you in the Airdrop section of the web app!
---
DISCLAIMER: This is not financial advice. Staking, delegation, and cryptocurrencies involve a high degree of risk, and there is always the possibility of loss, including the loss of all staked digital assets. Additionally, delegators are at risk of slashing in case of security or liveness faults on some protocols. We advise you to do your due diligence before choosing a validator.