Who has been building on Solana? What projects are on their way?
Hi Readers👩‍💻,
Solana is known for its high-performance blockchain which can support 50,000+ TPS without sharding and the many innovations that are created on it. A multitude of tools has already been built as part of the Solana ecosystem. With its partner and characteristics, Solana offers a very attractive value proposition for Decentralized Finance (DeFi) apps. Solana has made immense progress towards interoperability and is already connected to the Ethereum ecosystem. For example Wormhole bridge allows users to transfer value between Ethereum and Solana, turning ERC-20 tokens into Solana's corresponding SPL standard.. That said, we figured it would be a great time to find out how the Dapp and DeFi ecosystem for Solana are getting along.
So, before diving into the different project's building on Solana, let's have a quick look at Wormhole. As said above, Wormhole allows existing projects, platforms, and communities to move tokenized assets seamlessly across blockchains to benefit from Solana's high speed and low cost. In a nutshell, Wormhole uses "guardians" picked from Solana's existing validators on the network. Interestingly, Wormhole is a Proof-of-Authority network, borrowing trust and identities from the main chain (Solana PoS).
Bridges are very important to interoperability and the growth of the Solana ecosystem. Yakovenko from Solana said to Cointelegraph that: "Wormhole is just step one". He mentioned that the team is working on a parallel implementation that would feature on-chain light clients, eliminating the need for any type of concrete validator. "These different bridges have tradeoffs between how fast they can be built, user speed, cost, and decentralization, but you can combine them to have the best of both worlds," he said.
What makes Solana so interesting for decentralized projects?
Two aspects that make Solana an exciting ecosystem for many Dapp and other DeFi projects are simply that the blockchain is faster and cheaper. It has been tested to scale to 56,000 TPS in March 2020 and test lab conditions to 111,000 TPS in May 2020. The maximum transactions per second are currently 59,490 and block times 400ms.
Compare that to Ethereum, another blockchain in high-demand for DeFi projects, which handles 15 transactions per second. This quickly illustrates the speed of Solana's transactions. The transaction fees are also extremely low, making it a lot more interesting to experiment on the blockchain.
Another exciting factor is that developers can download Solana software code straight from the Solana Lab's Github, making it easier to have a node up and running and start building on projects in a short period.
Furthermore, Solana Blockchain Apps are built on Rust, one of the fastest-growing languages, according to Github's "The State of The Octoverse". For Solana, Rust solves issues of memory safety and thread concurrency.
Solana has also set-up a very large budget for grants. And many more players in the ecosystem are financing products on Solana, as illustrated by the recent $40m MXC+Okex funding initiative.
That said, who are building/collaborating with Solana to build up their ecosystem?
Who is building on the Solana Ecosystem?
In January 2021, Solana released their overview of the ecosystem, which can be seen in the image below.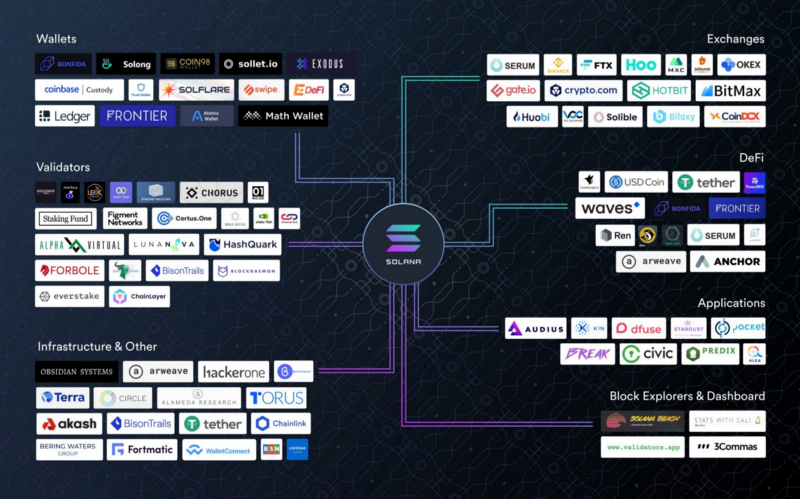 However, this image is just a quick summary and doesn't, by far, include all the current projects being built. At the moment of writing, the Solana ecosystem tracker counts more than 110 different projects from exchanges to blockchains to apps. Below, we have listed some of the highlights.
If you're building a project on Solana or feel that another project should be included in our list, please don't hesitate to reach out!
Serum
FTX and Alameda Research created the Serum Foundation and, therefore, Serum, a high-speed, non-custodial DEX built on Solana. More than a simple DEX, Serum is a fully-scalable decentralized matching engine that can empower a full ecosystem of interconnected exchanges.
Furthermore, Serum is also permissionless — which means they do not hold superior power anymore. It is up to you, the crypto community, to use it as you will. To maximize access to Serum, it supports cross-chain asset swaps, decentralized stablecoins, decentralized oracles, and non-custodial wrapped BTC, BCH, BSV, LTC, ZEC, ETH, and ERC-20s. Serum will decentralize the entire DeFi stack. Nothing will be left centralized. Serum offers funding and grant opportunities for projects like Sushi Swap that are looking to take off in the DeFi ecosystem.
For those interested in building something on Solana themselves, Serum offers grant options and funding for DeFi projects, about which you can find more info here.
Solana Beach
Solana Beach is the official tracking dashboard for the Solana Ecosystem. The platform is created by Staking Facilities and offers insight into transactions, validators, blocks, different assets and more.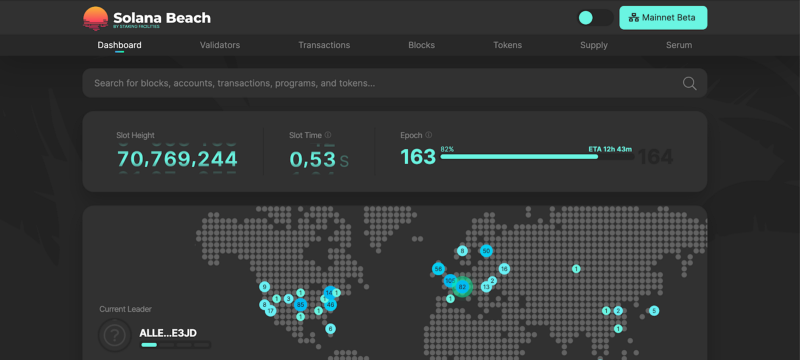 Raydium
Raydium is a DeFi protocol and automated market maker (AMM) built on Solana. The protocol leverages the central order book of the Serum Decentralized Exchange (DEX) to allow lightning-fast trades and shared liquidity and other features for earning yield. What's interesting about the AMM is that it is a central order book for ecosystem-wide liquidity, while others are often only for their own pools.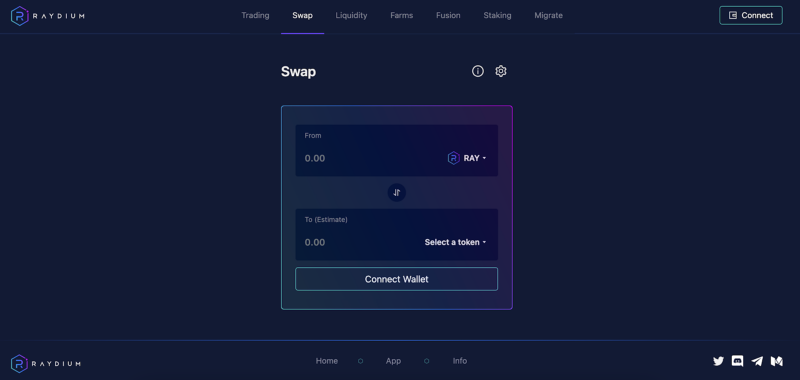 Oxygen
Oxygen.org is a DeFi Prime Brokerage Protocol built for the future to support 100s of millions of people. It is created to help the holders of digital assets to generate liquidity, earning yield, borrow assets to go short, get trading leverage against portfolio assets and allow for efficient use of your assets in three ways: multiple uses of the same collateral, cross-collateralization and market-based pricing.
Mango Markets
Mango Markets is one of the first-place winners of Solana x Serum's DeFi hackathon. So, what makes this platform so special? Apart from the delicious name, Mango is a decentralized, cross-margin trading platform with up to 5x leverage and integrated limit orders on Serum DEX's on-chain order book. Makers of takers can earn interest on deposits and margin positions, as well as trade with near-zero fees thanks to Solana's high-performance blockchain. Users can also contribute SRM into a shared pool to reduce the fees for all traders on the platform.
PsyOptions
The second first-place winner of the Solana DeFi hackathon is PsyOptions. While PsyOptions isn't completely launched yet, it will be a decentralized options protocol in an American style, with SOL and SPL token support. Additionally, the platform can be extended to and composable with leveraged, inverse and volatility products.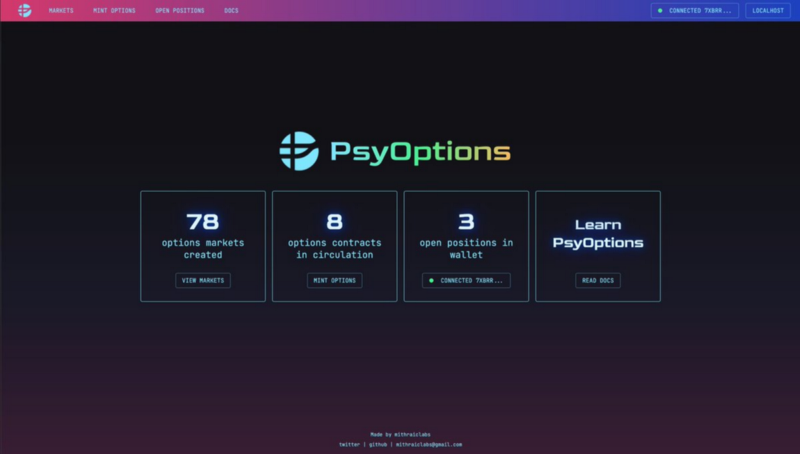 Audius Project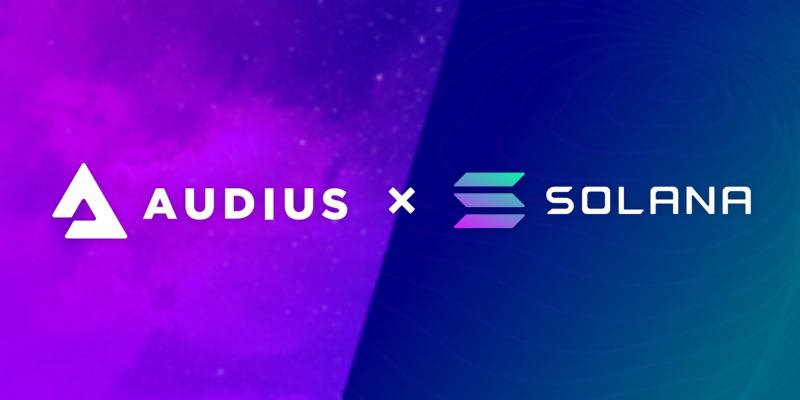 On October 29th, 2020 Audius announced its plans to select Solana to scale community-owned music streaming. The protocol said:
Over the course of the next year, Audius plans to migrate the Audius content management system (CMS) to the Solana blockchain from its current home on POA network.
So, what is Audius? Audius is a streaming platform built for musicians that aren't necessarily signed by a label. Through blockchain technology-free streaming is made possible for anyone who would like to listen.
Star Atlas
Star Atlas is developing a unique gaming experience by combining blockchain mechanics with traditional game mechanics.
"Star Atlas will provide the most powerful opportunity in human history for players to realize economic benefits through the extraction of in-game virtual earnings into real-world income. This integration optimizes Star Atlas' long term goals by plugging into Solana's thriving community, ecosystem, and best in class technology. The overall vision for Star Atlas is not possible on any other blockchain." Michael Wagner, CFA — Star Atlas, CEO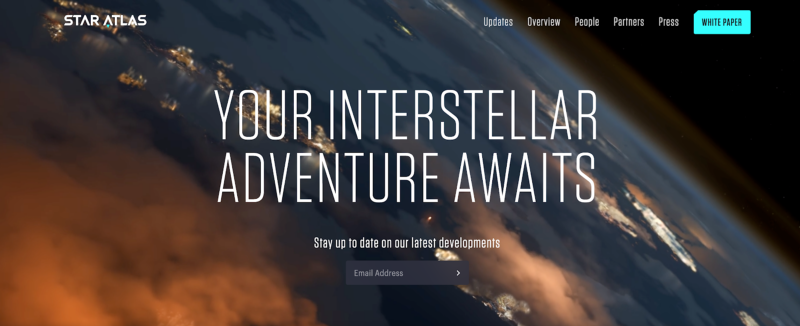 Civic
Civic is a decentralized identity ecosystem, enabling identity verification in a safe and cost-effective way. Using the digital identification platform, you can create your own virtual identity and store it together with personal information on the device. Civic will embed and migrate the already existing Identity Platform to the Solana Blockchain. Additionally, they are also extending and enhancing the platform.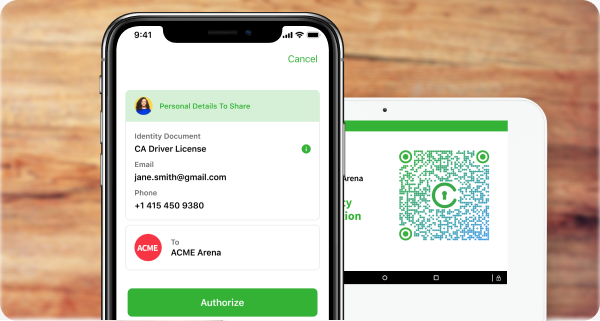 Stardust
Stardust helps game developers, regardless of their blockchain knowledge, create blockchain assets and use them in their games. Using an API with less than ten code lines, a game developer can instantly give players digital assets, marketplaces, payment methods, and explorers. Therefore, Stardust helps to:
Increase revenue: by tapping into a revenue-sharing marketplace and creating provably unique game items.
Improve the gaming experience: it gives players the ability to use the Stardust Game Explorer to verify and discover item information independently.
Seamless integration: the Stardust platform easily integrates directly into your game across all platforms and programming languages.
Currently, more than ten games are being built on Stardust, and practically none of them are crypto-native. The most massive game is averaging between 50,000–70,000 monthly active users and had over 750,000 players in the last 12 months.
Terra
The Terra Network is a thriving payment network supported by a basket of stablecoins pegged to the world's largest currencies. Through the app, CHAI, stablecoins flow in large quantities, which recently crossed over $3 Million in daily transaction volume. Together with Terra, Solana is building a new high-speed token bridge that facilitates Terra stablecoins to Solana's DApp ecosystem. By bringing stablecoins onto the network, Solana aims to dramatically expand the design space for developers, opening the door to novel applications that require price-stable payments.
For our full article on Terra, click here.
Anchor
The Anchor Protocol is a savings protocol that aims to produce a convenient and straightforward savings product with broad appeal to everyday users. Anchor accepts Terra deposits and allows instant withdrawals, and pays depositors a low-volatility interest rate. Anchor lends out deposits to borrowers who put down liquid staked Proof-of-Stake assets from other blockchains as collateral to generate yield.
Anchor stabilizes the deposit interest rate by passing on a variable fraction of the yield to the depositor, which guarantees depositors' principal by liquidating borrowers' collateral via liquidation contracts and third-parties.
Pocket
Pocket's integration with Solana provides decentralized API solutions for developers. Pocket is a decentralized API solution that incentivizes participants to run full nodes for developers who need data for their applications. When you look at Ethereum, you can see how beneficial a well-developed API solution can be. That is why it is the Pocket Network's mission to ensure the sustainable decentralization of blockchain infrastructure aligns perfectly with what they aim to achieve.
Pocket sits above Solana's ledger replication or Archivers. Solana will generate four petabytes of data per year at full capacity, and Archivers are incentivized to store massive amounts of data within the Solana chain, but with no incentive for serving this data in a censorship-resistant manner. By combining the storage and the accessing of this data, nodes are encouraged more than ever before to serve the same users of the chain, further aligning values and incentives.
Tether
Tether brings the USDt stablecoin to the Solana network, which was first announced on September 9th, 2020. USDt is the largest stablecoin by market capitalization and is one of the most widely used stablecoins in the DeFi market. Tether and USDt are essential pieces of any successful blockchain project's infrastructure and have been among the most critical factors for cross-platform settlement.
When technical integration is complete USDt holders can exchange tethers faster than 50,000 transactions per second (and for less than $0.00001 per transaction) by using the Solana network. As speed and costs are the two most considerable barriers holding back DeFi development, these improvements will become the status quo and open up entirely new design spaces and use cases for stablecoins in DeFi.
Fortmatic
Fortmatic, previously known as Magic, develops SDKs that allow users to access decentralized applications with a phone number or email address, without a browser extension. The solution will enable developers to capture a market of users that haven't been onboarded into existing wallet providers. It is as simple as adding three code snippets to any existing web3 applications. Currently, the solution is integrated into over 20 applications, including Uniswap.
Kin
Kin is money for the digital world; in May 2020, the Kin Ecosystem proposed migration from the Kin Blockchain to the Solana Blockchain, which was supposed to help the Kin Ecosystem's continued growth has over 3 million Monthly Active Spenders. So far, there is not much known about the plan for migration to Solana, but we're keeping an eye out!
Chainlink
Decentralized oracle solution, Chainlink has joined Solana to construct an oracle that updates incredibly quickly.
Solana CEO and Founder Anatoly Yakovenko mentioned in an interview with Cointelegraph: "We recently saw market failures due to congestion on Ethereum, including oracle failures, what we're building with Chainlink is a high-frequency oracle that can give a price update every 400 milliseconds — and because of our capacity, we shouldn't see those kinds of market failures on our network. It's solving a fundamental problem that we see in the decentralized exchange space".
Torus
The friction for new users to onboard into the blockchain ecosystem is very high and arguable one of the biggest reasons for slow adoption. That is why Solana and Torus have announced their collaboration to tackle the issue since both teams are focused on making blockchain more accessible, user-friendly, and scalable for everyone.
The Torus Network is supported by a collective of validator nodes run by Binance, Ethersacne, ENS, Tendermint, and other ecosystem stakeholders. The solution they offer is blockchain agnostic since they believe an improved developer experience/user experience should be accessible for everyone.
The collaboration with Solana will focus on bringing the web OAuth user onboarding experience to all developers looking to build Solana applications, giving them access to seamless key management, where they have full control over their login user onboarding wallet system to suit their users' needs.
USDc
USDc is one of the leading stablecoins and is developed by Circle. As a fully backed stablecoin, USDc has become one of the most reputable stablecoin across the whole crypto ecosystem. It's available on Solana and as of March 2021, there is already $320m USDc circulating on Solana.
Arweave
Arweave is a type of storage that backs data with sustainable and perpetual endowments, which lets users and developers store data forever — which is unique and the first time that it is possible. As a collectively owned hard drive that never forgets, Arweave allows you to remember and preserve valuable information on apps and history indefinitely. By preserving, it prevents others from rewriting, keeping your applications safer.
The above list is just a short selection of a few projects that are part of the Solana ecosystem. This list is not exhaustive and, if you're looking to get to know more about the Solana ecosystem, you should check out official and community resources such as Solana.com or SOL Mates Twitter account. There is so much happening in Solana right now, and Stakin is very proud to have been a long-term supporter of Solana since the first public Tour de Sol testnets. You can delegate to Stakin on Mainnet if you would like to support our validator, decentralize stake across the network, and earn a yield on your SOL.
---
DISCLAIMER: This is not financial advice. Staking, delegation, and cryptocurrencies involve a high degree of risk, and there is always the possibility of loss, including the loss of all staked digital assets. Additionally, delegators are at risk of slashing in case of security or liveness faults on some protocols. We advise you to do your due diligence before choosing a validator.