A better way to keep track of passive income from generated staking rewards for Ethereum, Polygon, and Solana has arrived.
Stakin is excited to unveil the latest addition to the Stakin Dashboard: Staking Rewards Reports for Ethereum, Solana, and Polygon. Our newest feature empowers you to effortlessly generate comprehensive data reports of your staked rewards over the previous month.
The generated report showcases a detailed spreadsheet of the daily rewards and other information such as withdrawals, restaked amounts, and total balance. Our reporting tool lets you create reports for individual wallets or validators and multiple wallets simultaneously.
By introducing these reports, Stakin aims to simplify the process of monitoring your staking rewards and facilitate seamless accounting procedures. In light of the increasing regulatory scrutiny on cryptocurrencies worldwide, we believe that staying ahead of the curve and ensuring accurate accounting will support stakers on their journey and make it more enticing for delegators to contribute and fortify the network by staking continuously.
The current networks available for reporting are Ethereum, Polygon, and Solana; however, we will add more networks in the future.
Using the Stakin Dashboard Reports Tool
To create your report, you must have a Stakin Dashboard account and add Ethereum, Solana, or Polygon addresses. If you're unsure how to do this, please see our previous guide here.
Now, let's get started. To create a report, go to the left menu on the dashboard and select "Reports" (see image below).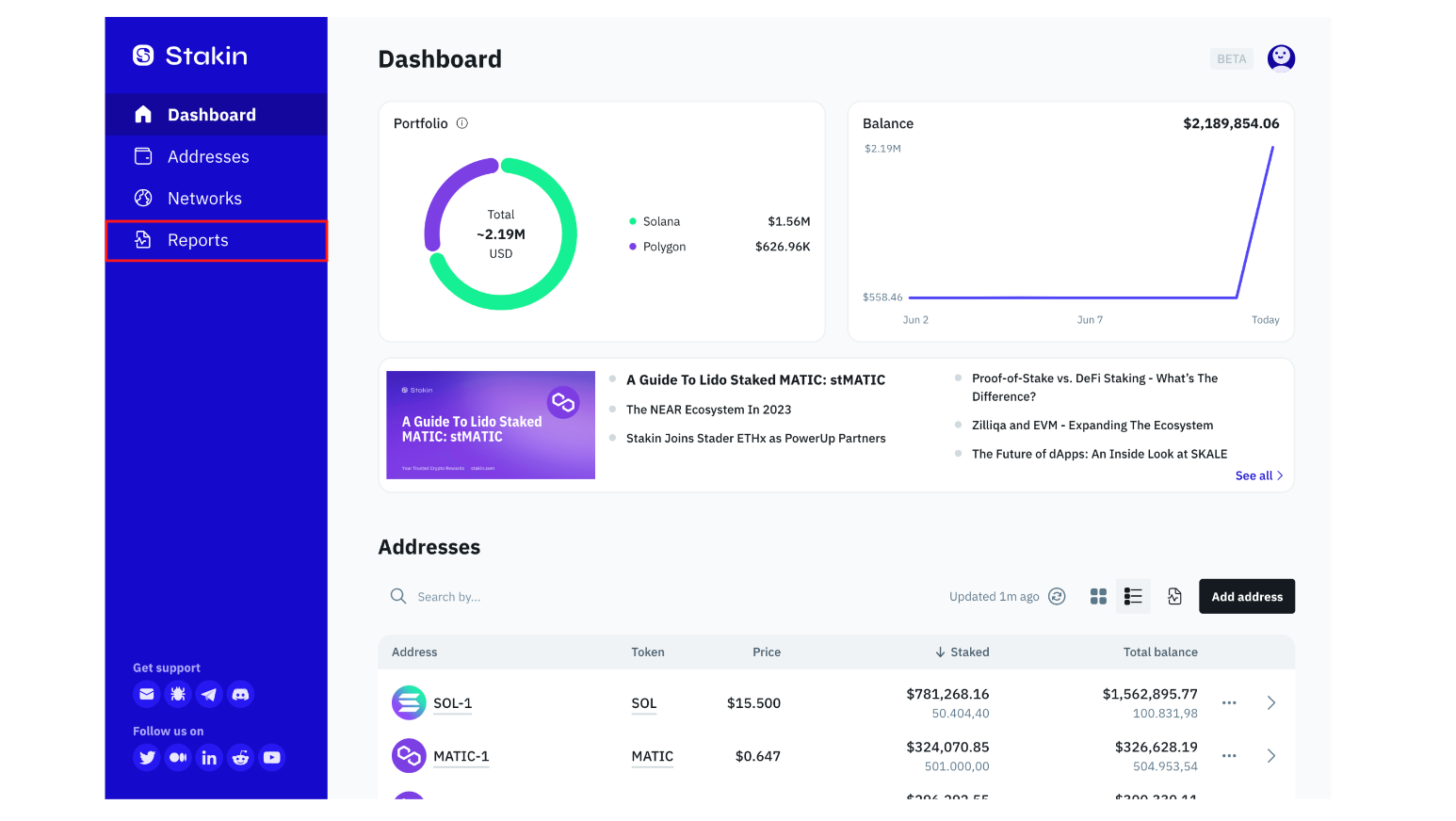 Use the action "Create report" on the options menu of that address, in the addresses list, or on the reports page.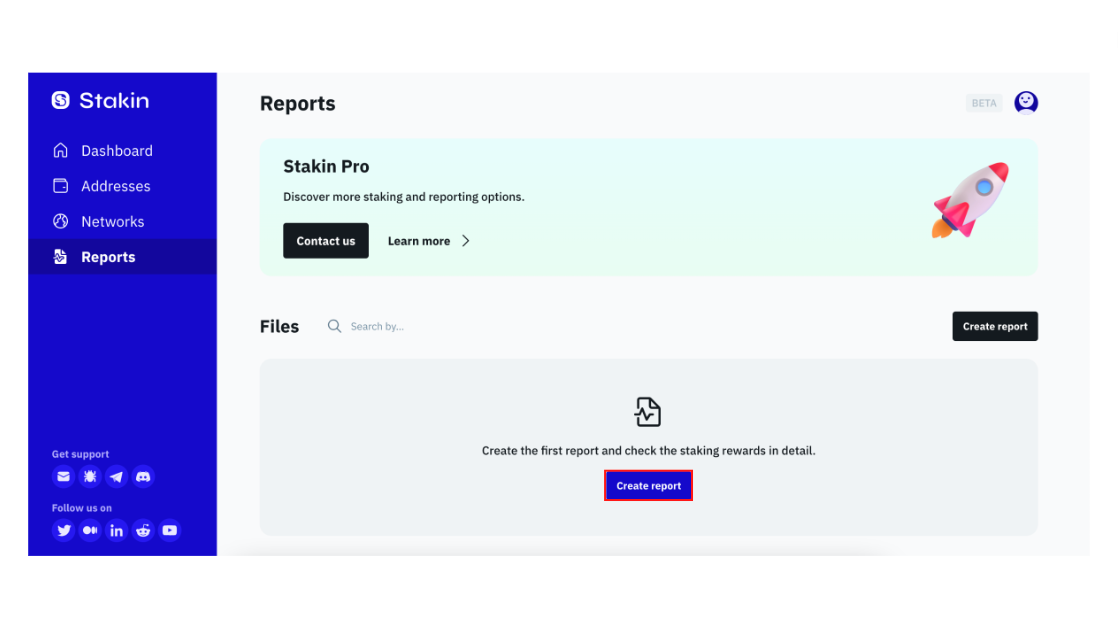 Select the network and time range. Note that when selecting a network, your report will be generated for all the wallet addresses you have listed for that network. Click on "Create report" to continue and approve the generation of your report.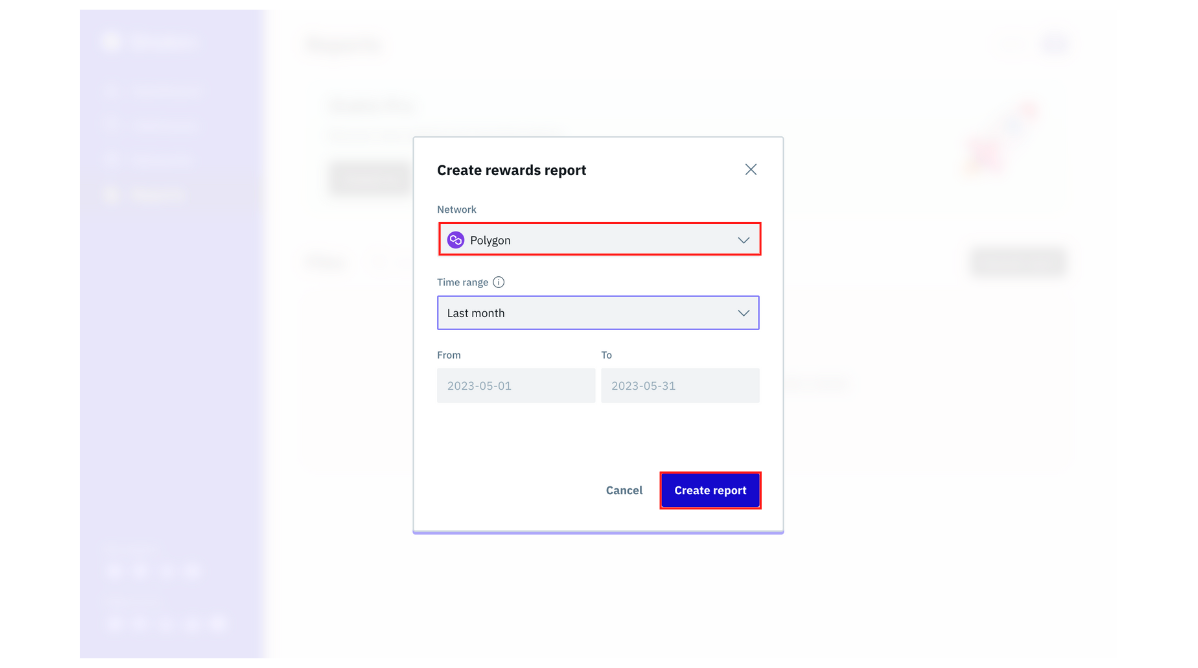 You will be redirected to the reports page, where you will see the status of your report on the far right (see image below).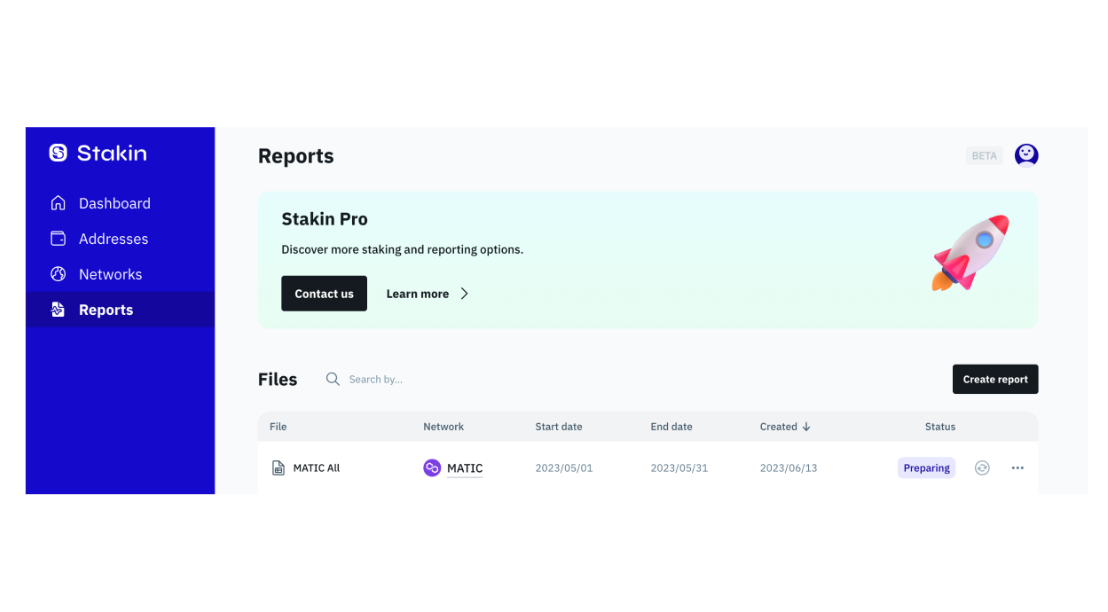 You don't have to wait for the report to be generated; you will receive an email confirmation once the report is ready. In the email, select "Go to Reports List" to continue.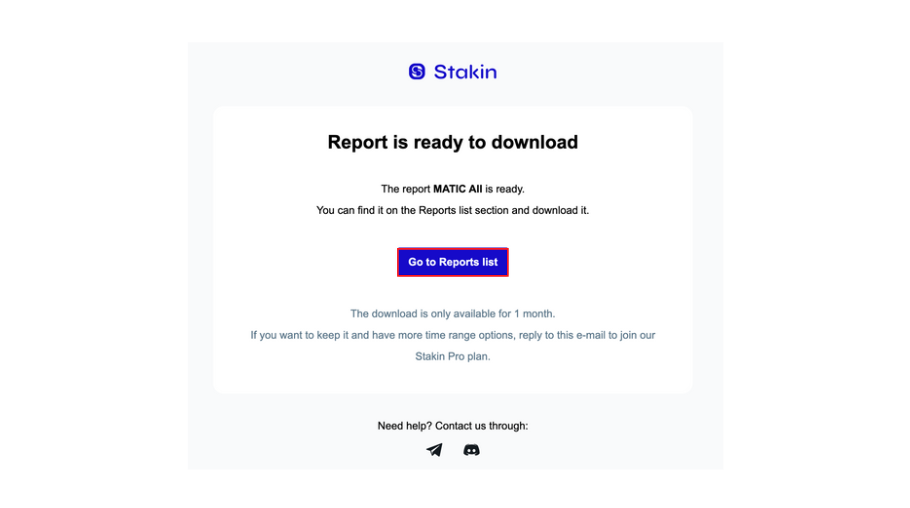 The Stakin Dashboard will open; now, all that's left is to download your report. That's it; you have all your staking data for the last month.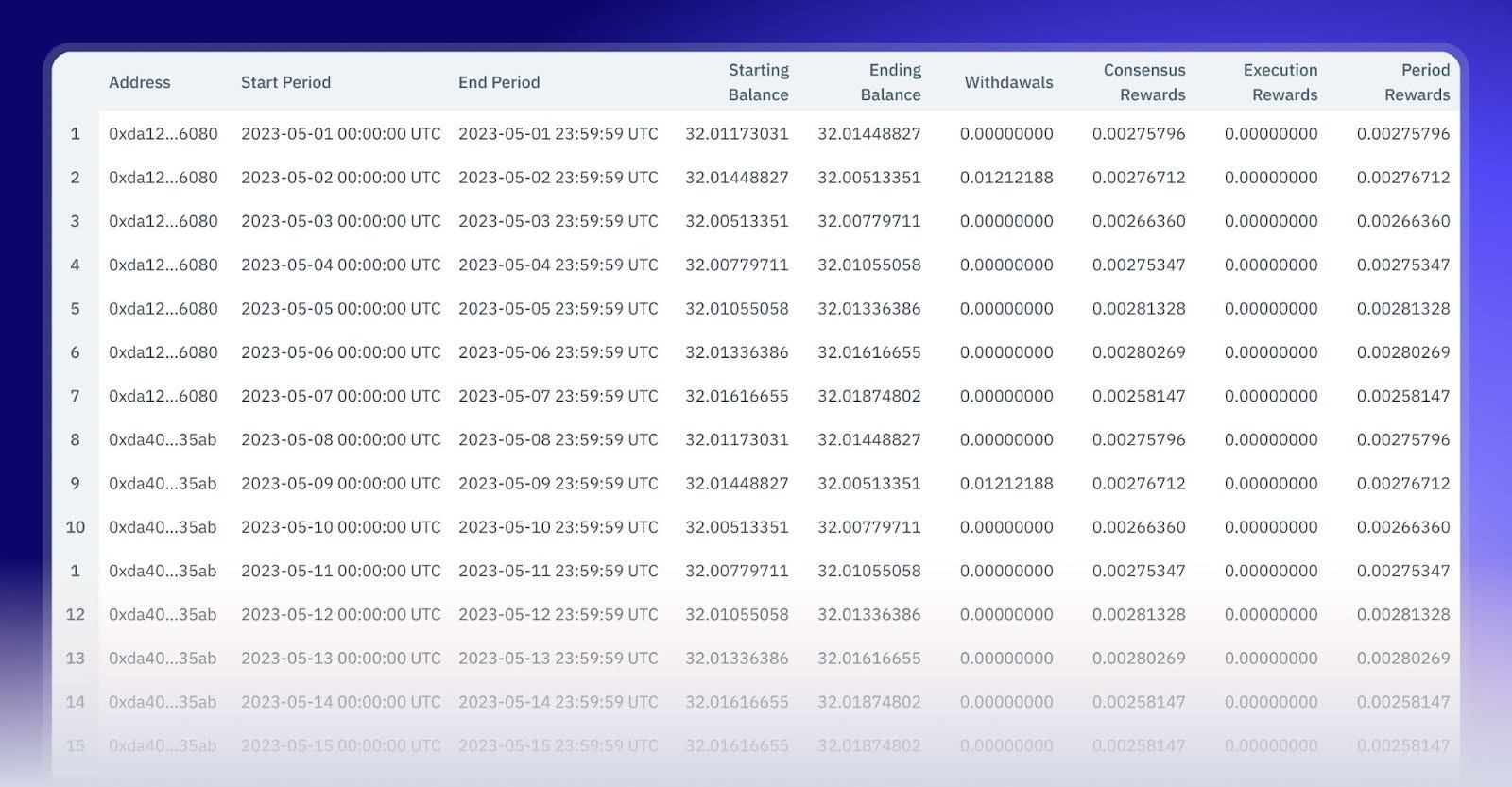 Stakin Pro
Introducing Stakin Pro—advanced seamless access and report generation solution for extended timeframes. With Stakin Pro, you can break free from period limitations and gain the ability to create reports for any desired period.
Not only does Stakin Pro provide limitless reporting capabilities, but it also offers a comprehensive suite of tools. One notable feature is our staking API, which grants you access to valuable data and enables integration with third-party applications. Seamlessly leverage this data within various scenarios according to your preferences. Furthermore, with Stakin Pro, you can access and test new features before launch and, through direct feedback, help build the dashboard tailored to your needs.
To join the Stakin Pro program, use the "Contact Us" option on the reports page of the dashboard or contact us via hello@stakin.com.
Closing Thought
Stakin is thrilled to expand our current services to offering API solutions and tailored Staking Rewards Reports. ​​We value your feedback and invite you to share your thoughts on our new Staking Reports feature via hello@stakin.com. Your input is extremely valuable in helping us refine and enhance our products to serve your needs better.
We look forward to hearing from you as we continue to innovate and provide valuable solutions for your staking journey.
For more information about Stakin, visit the Website, Twitter, Blog, or join the Telegram and Discord community.
---
DISCLAIMER: This is not financial advice. Staking, delegation, and cryptocurrencies involve a high degree of risk, and there is always the possibility of loss, including the failure of all staked digital assets. Additionally, delegators are at risk of slashing in case of security or liveness faults on some protocols. We advise you to do your due diligence before choosing a validator.