Our review and thoughts on the different Tezos Blockchain Explorers.
Please Note: Stakin has discontinued its Tezos public infrastructure as of 1st of January 2022, as such the baker is no longer generating rewards and this guide is no longer maintained. For more information, read our official announcement (link to it) or visit https://stakin.com.
---
Hi Readers👩‍💻,
There are many different blockchain explorers in the Tezos Ecosystem; today, we'd like to share our view on the most well-known ones. For those who aren't that familiar with the term, a blockchain explorer is a browser for the blockchain that tracks all the transactions.
🕵️‍♂️ Tezos.ID
So, let's get started right away. Tezos.ID was one of the first blockchain explorers for Tezos. This identity explorer and analytical tool for the Tezos Blockchain has set its goal to present data delightfully so anyone can get the information they need, effectively.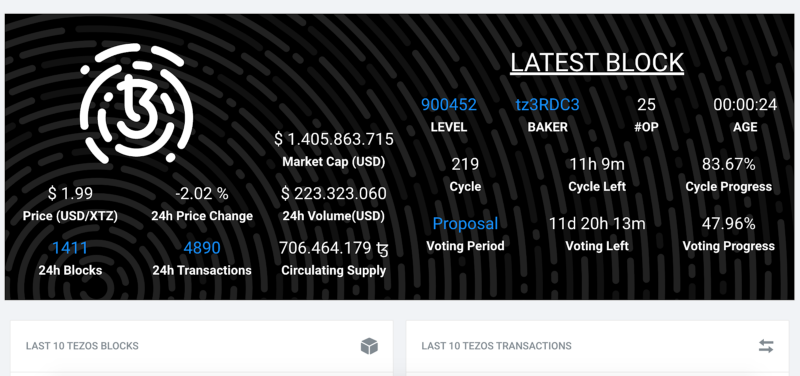 A unique feature of this explorer is the support of Carthagenet, made possible by Cryptiumlabs. With Tezos.ID you can, since November 2019, monitor both the Mainnet as the Carthagenet. The user interface of Tezos ID is dark and gives you all the "essential" data right away. However, the organization of the data, in our opinion, is a bit chaotic. The different colors, patterns, logos, and size of the data make it a little harder to get a good overview of everything. Tezos ID does have a great feature, and that is their list of all the different proposals, with the voting periods on each one.
🧐 TezBlock
TezBlock is created by AirGap an application that makes it possible to use your hardware blockchain wallet on your smartphone. What's very positive about this explorer is that the AirGap team is highly active in documenting changes, updates, and even the flaws that they've found. This transparency allows users to quickly get to know the ups and downs of using this platform. Furthermore, TezBlock prides itself on its minimalistic design that only displays the necessary data in a clean, modern way.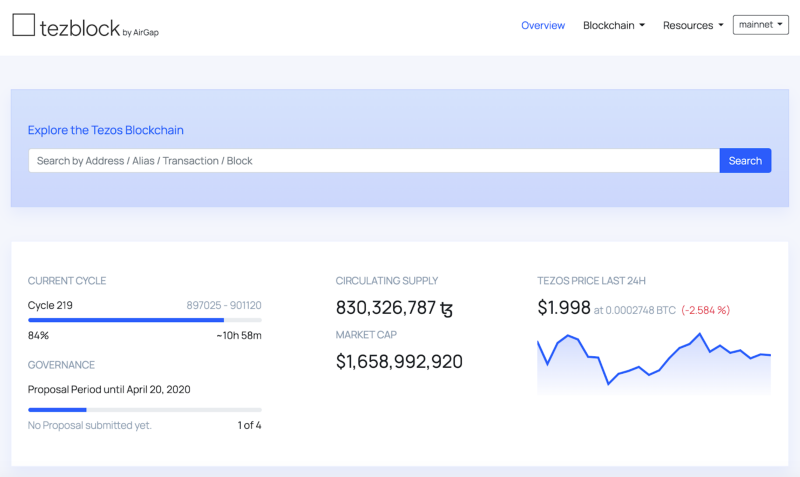 📊 TzStats
TzStats is created because: "We believe well prepared on-chain data is the key to understand the health, risks, and growth, as well as to make network-wide predictions." TzStats is the first analytical blockchain explorer for Tezos, meaning they offer all the functionalities of traditional block explorers but have added extra emphasis on the analytics. The team behind TzStats, prides itself on the easily understandable tables, graphs, and data, offering a deeper understanding of what's happening on the blockchain. TzStats' development is a collaboration between the teams behind KidStunami and StakingRewards.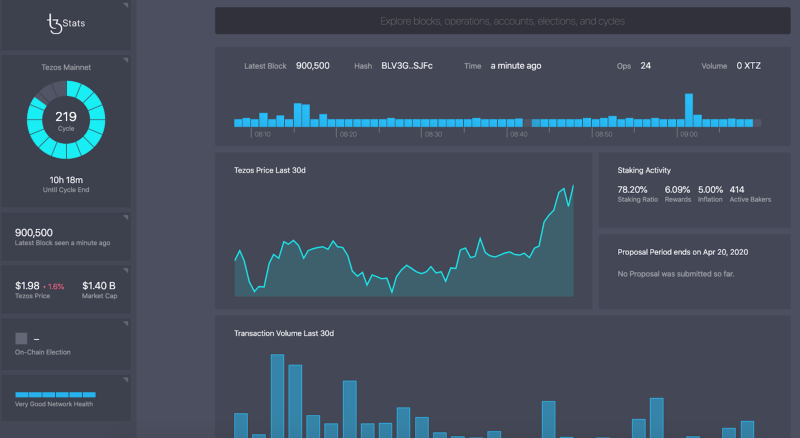 The interface of this explorer has an easy interface, allowing you to get an accessible overview of all the different data. TzStats is a very accomodating explorer for bakers because it shows the already baked and future blocks, the percentage of chance on each cycle, as well as the evolving of the balances (frozen, unfrozen, etc.).
📈 TezTracker
Everstake, a Staking-as-a-Service Provider, develop TezTracker. Among the more common features, the explorer provides extra ones such as NFT token support and personalized account tracking for bakers. The different elements are double-baking & double-endorsement evidence, contract lists, activations, and originations list. The interface of this explorer is clean and light, with an apparent deviation between different data. Moreover, they have a countdown on their homepage, which shows the end of the voting period.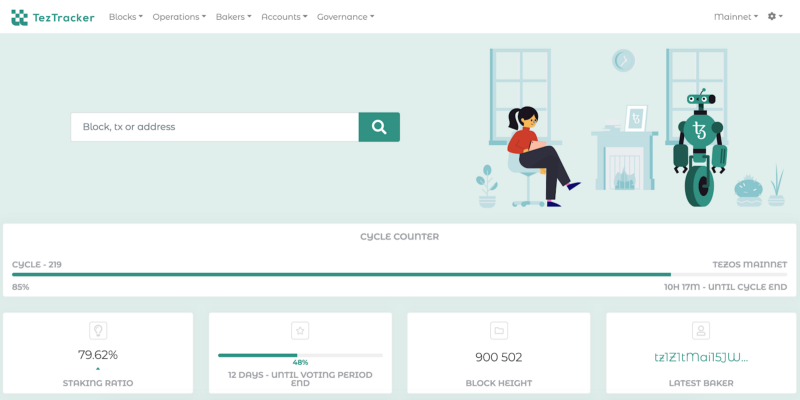 🐯 TzKT
TzKT was created by Baking Bad, a team of crypto-enthusiast and developers with the philosophy to make a difference in the blockchain world. They operate on the principle that everything related to blockchain should be as convenient and straightforward as possible. The reason for this being that they believe that it will minimize the entry barriers for new users and increase the efficiency of the entire ecosystem. Initially, they created a platform on which you can check the different bakers and if they are all paying for rewards. Their latest project is TzKT, an advanced blockchain explorer for Tezos, which is based on its open-source indexer with built-in performant API. The explorers' interface is clean but doesn't have a lot of features. However, it is effortless to check if you're baker pays rewards correctly.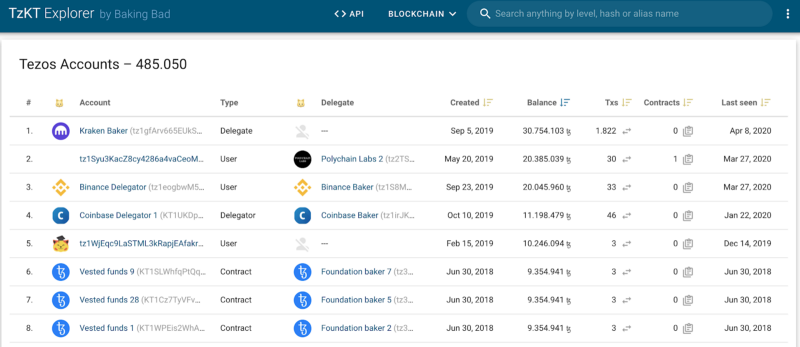 👨‍💼 Arronax
Arronax Blockchain Explorer is an open-source product created by Cryptonomic. This New York-based company provides tools and smart contracts to enable a higher level of decentralization and consortium applications. Different from other more conventional block explorers, Arronax is an analysis-oriented block explorer. The main objective of the platform is not to show details of a single transaction, account, or block.
Instead, Arronax aims to allow its users to ask open-ended questions such as the top ten delegates by their staking balances or payouts greater than 100 XTZ from account X. To be able to answer these open-questions, they've worked together with Conseil.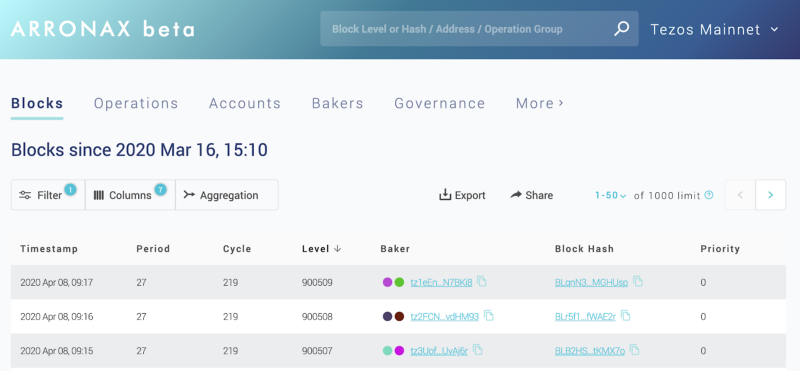 💻 Mininax
The same developers that created Arronax are also behind the development of Mininax. The Cryptonomic team along with the designers of Bldgblox, a platform that has its focus on community engagement and neighborhood impact. For those of you who are a fan of retro design, the impressive user-interface of Mininax will make you very excited. The simple, old-school, neon interface is something your eye draws to immediately. The block explorer provides functionalities to support wallet users looking for simple look-ups. For example, it allows users to look-up necessary information about blocks, certain operations, and accounts from the Tezos mainnet as well as alphanet. Different from its sister-platform Arronax, Mininax is opinionated about the data it presents. The block explorer also serves as a portal into Arronax.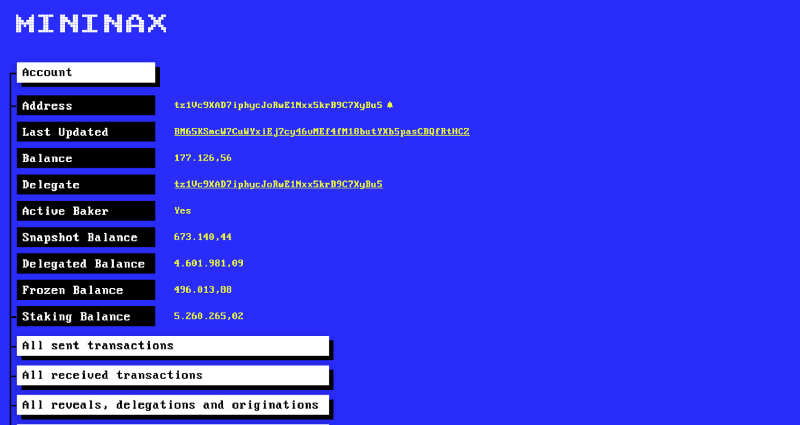 More Information & Sources
DISCLAIMER — This is not financial advice. Staking and cryptocurrencies investment involves a high degree of risk and there is always the possibility of loss, including the loss of all staked digital assets. Additionally, delegators are at risk of slashing in case of security or liveness faults on some PoS protocols. We advise you to DYOR before choosing a validator.