Everything You Want To Know About Staking Your Assets With Cosmostation Wallet
Hi Stationers,
Some of you might be familiar with the Cosmostation wallet, some of you might not. And that is why, today, we're giving you an in-depth guide to using this excellent mobile and web wallet. Additionally, we will also be discussing the DeFi leaderboard and Cosmos Explorer.
Cosmostation prides itself on three main aspects within their wallets and other products. These aspects are: state-of-the-art security, fueling the Cosmos ecosystem and putting delegators before anything else. To ensure their products and platforms security, Cosmostation uses multiple sentry nodes, which create an almost impenetrable structure that prevents various attacks on the validator node and makes it possible to monitor traffic coming in and out the nodes 24/7.
For hardware security, the wallet is currently looking at implementing HSM (hardware security module), a physical computing device that safeguards digital keys for strong authentication. Through the module validator, private keys are stored physically and would never programmatically be exposed.
Additionally, to stand out from the crowd, the wallet focuses a lot on collaborating with the whole Cosmos ecosystem and with blockchains such as Band Protocol, Chainlink, Kava and more. The networks available on the wallet are:
Cosmos
Irisnet
Binance
Okex
Kava
Band
Persistence
Starname
Certik
Akash
Sentinel
Secret Network
Part 1 — Creating Your Cosmostation Wallet
Before you can get started with the Cosmostation wallet, you will have to create one. To create a web wallet, download the app in the Google or Apple store or select download on the webpage.
Once you've downloaded the app, select "create". You will now be shown the different Mainnets for which you can create a wallet. In this tutorial, we've chosen Cosmos (if you'd like to select another asset, the tutorial will still work the same).
Next, click on "show mnemonic" and create a pin code. Write down the entire mnemonic phrase that is given and make sure to store this phrase offline or in another secure location. Please also remember that losing your mnemonics could lead to the loss of your assets.
Then select "create wallet". That's it; you've now created your wallet. If you'd like to make a wallet for each asset, go to "settings" and then "wallet manage". Select the wanted asset and click "create".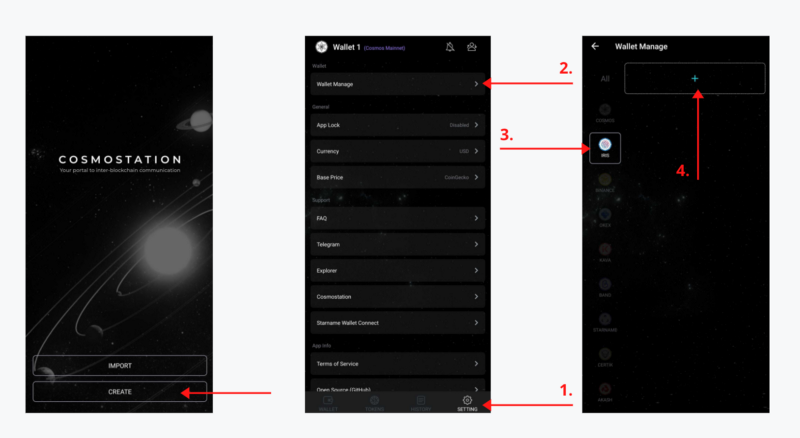 If you'd like to connect your Ledger, please check out the guide here.
Part 2 — Staking With Cosmostation
Once you've created your wallet, it's time to start staking! First, send your $ATOM or other assets to your wallet by copying the address and using another wallet or DEX to send. Wait a couple of seconds, and your assets should appear on the dashboard (see image below).
Next, on the dashboard, select "Delegate". A list of all validators will appear; scroll down to find the validator of your choice (in this tutorial, we will be using Stakin). When you select the validator, you will see the total amount bonded, commission rate and estimated results. Select "Delegate" once again to continue.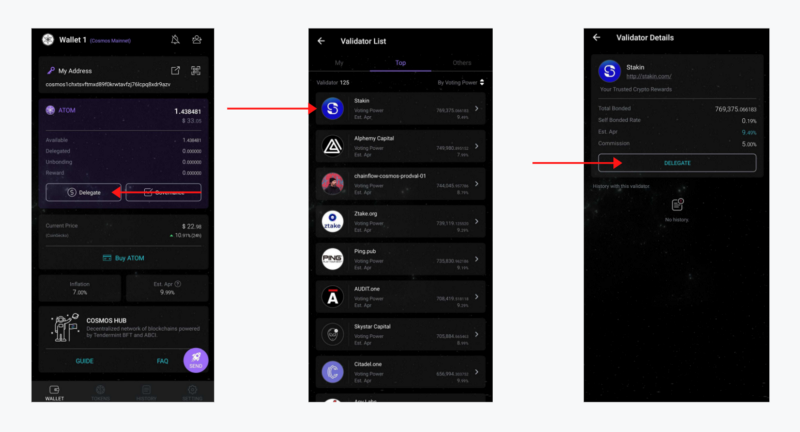 Fill in the amount that you'd like to delegate and click on "Next". You will then see the transaction fee (gas fee), double-check the fee and select "Next". Check all the delegation details and click on "Confirm" if they are correct.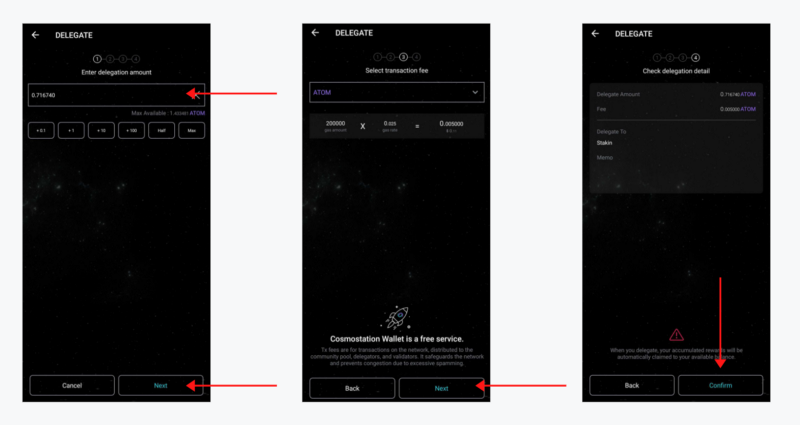 Next, the transaction details are shown. Read through them and select "Done" to continue. Click on "Confirm" once again, and that's it. You've now delegated your assets to your selected validator.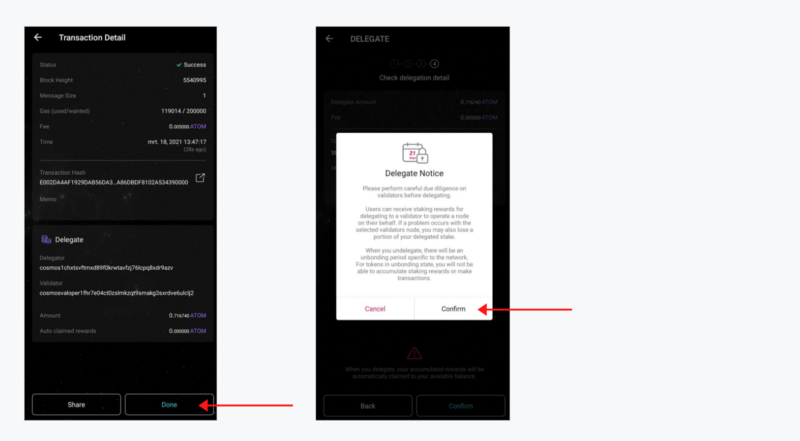 For other assets such as Akash, or IRIS, the entire process works the same. That is why we won't be sharing each assets guide individually here. Instead, let's have a look at the other products of Cosmostation.
Part 3 — Other Cosmostation Products
Besides their web and mobile wallet, the Cosmostation team has created two more products. The first is a Cosmos Explorer called Mintscan, on which you can confirm transactions, exchanges and track blocks for the entire Cosmos Hub.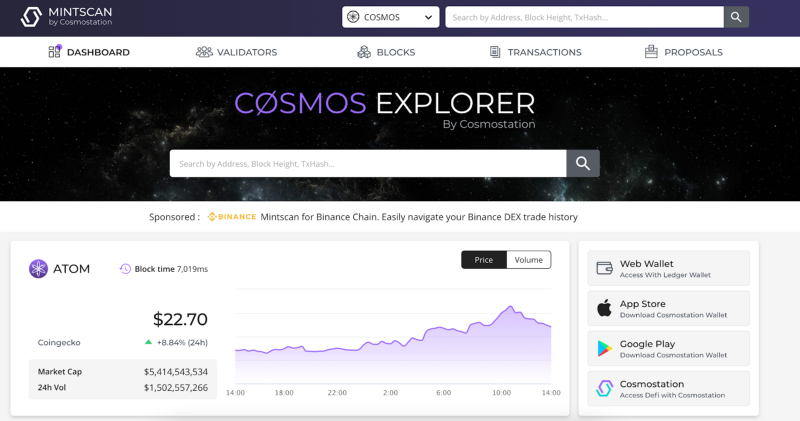 Additionally, Cosmostation has created Defistation, a DeFi leaderboard and analytics website. On Defistation, the metrics and charts displayed allow you to gain better insights into the growing trends and movements in decentralised finance. Right now, the leaderboard only supports Binance Smart Chain. However, it is expected that in the future, other networks will follow.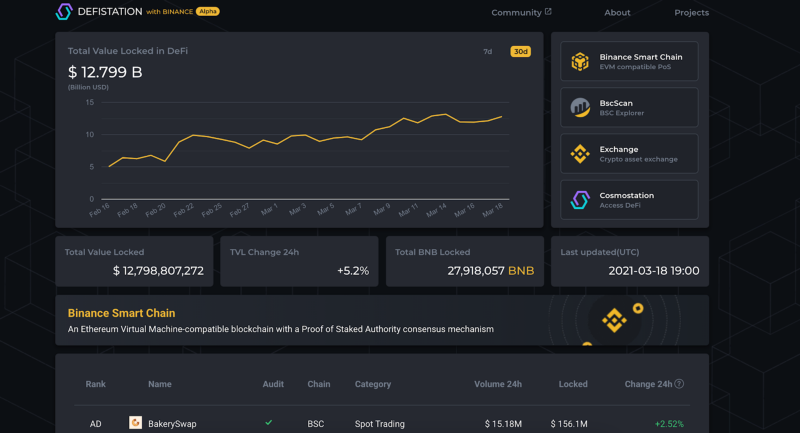 If you're interested in keeping up-to-date with the Cosmostation developments, follow them on Twitter, join the Telegram group or visit their Github for more technical details.
And if you'd like to know more about Stakin, have a look at our Twitter or connect with us through Telegram, Discord and Reddit.
---
DISCLAIMER: This is not financial advice. Staking, delegation, and cryptocurrencies involve a high degree of risk, and there is always the possibility of loss, including the failure of all staked digital assets. Additionally, delegators are at risk of slashing in case of security or liveness faults on some protocols. We advise you to do your due diligence before choosing a validator.