Why choose one asset if you can stake them all? See which assets you can stake and learn how to do it with Keplr wallet.
Hi Readers,
You might already be familiar with Keplr Wallet, the browser extension wallet for the Inter blockchain ecosystem. We'd like to share an in-depth guide on staking with this wallet.
So, what are the current Keplr wallet features? The Keplr Extension supports transfers and staking for many blockchains in the Cosmos ecosystem, including the Cosmos Hub and Kava, Akash, Secret Network, Certik, Irisnet Regen, and more. The team behind Keplr has been shipping consistently, and if your favorite assets are not supported yet, there's a chance they will be very soon. Users also can manually add compatible digital assets. That said, let's look at setting up your wallet and staking.
Part 1 - Setting Up Your Keplr Wallet
To set up a new Keplr wallet, go to the webpage.
On the Keplr web page, select "Create New Account" to start setting up your account. There is also an option to Sign in with Google, powered by Torus. If you already have a Keplr wallet, select "Import Existing Account."
If you've selected "Create New Account", Keplr will ask if you'd like to have a Mnemonic Seed of 12 or 24 words. Remember to store your seed phrase securely offline and never share it with anyone. If you lose your seed phrase, you will lose the assets within the wallet.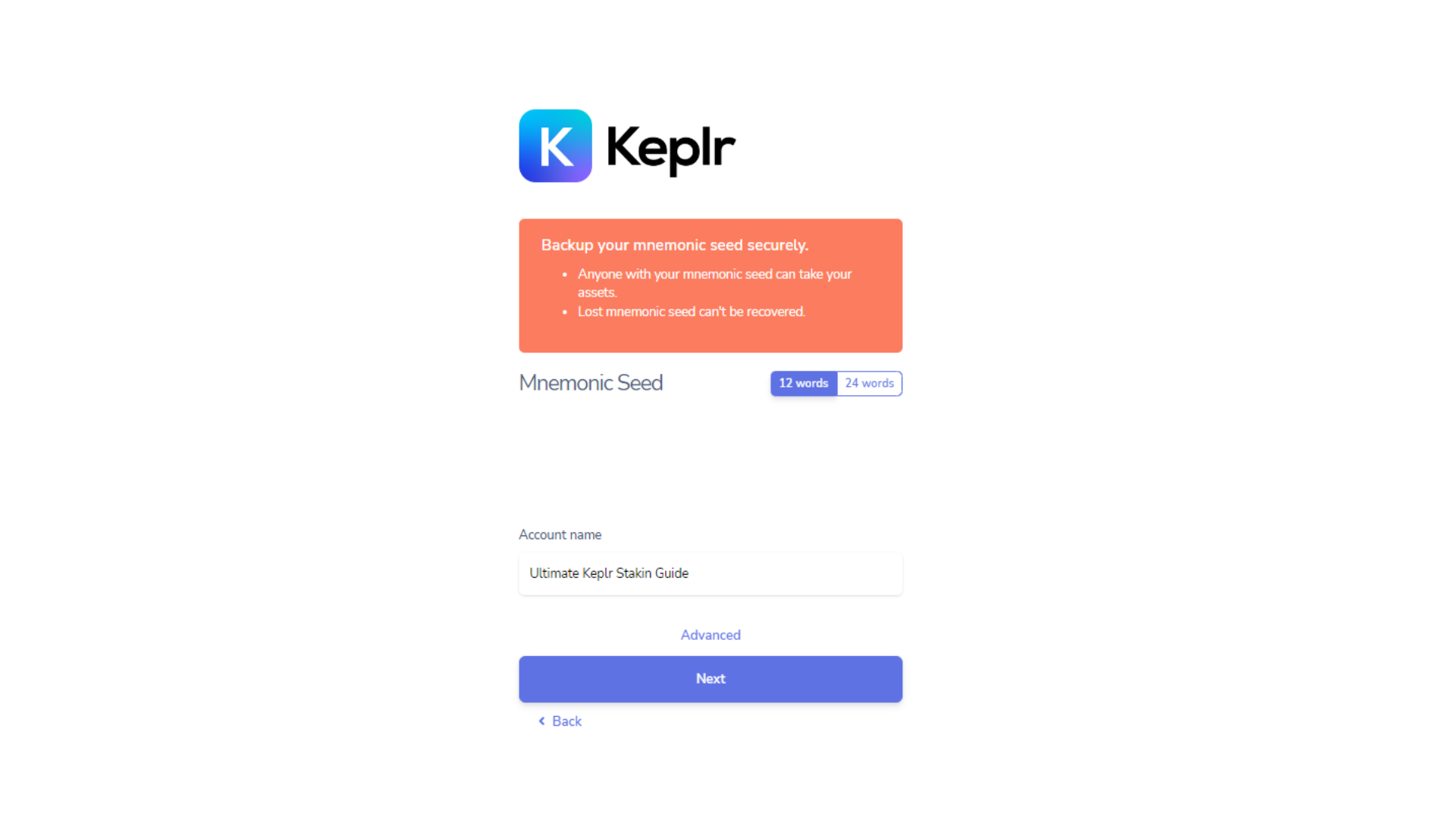 Once you've copied your seed phrase, fill out your account name, desired password and confirm by selecting "Next".
Fill out your seed phrase in the correct order to register. Click on the words to create the sentence, then select "Register". That's it! You've now created your Keplr wallet. Select "Done" to close the registration webpage; your wallet should open in the web extension. Go to: https://wallet.keplr.app/#/dashboard to continue.
Part 2 - Staking Your Assets
In part 1, we showed you how to set up your Keplr wallet. Once that's done, it's time to start staking. If you don't have any assets in your wallet, please copy your account address to send $ATOM or any other supported asset to your Keplr wallet from any exchange or wallet. On the web extension you have two ways to find your wallet address.
Once you've sent assets to your wallet, wait a couple of seconds, grab yourself a coffee, and return to get started with staking!
Kepler Dashboard interface is sleek and kind to the eyes, you can toggle between white and black theme (Thank you Keplr 🙏🏼).
Using the web extension, click on "Stake"  as shown below.
You can stake directly from the web dashboard, go to "Chains" tab, this shows you an overview of all the assets you hold in your wallet. Select Cosmos Hub to continue.
One you are in the Cosmos Hub page, click on "Stake"" located on the right side of the screen to go to the Validators Page.
You can either browse between Validators or use the search bar. Once you've found the validator of your choice, click on "manage" on the right (see image below).
When you click "Manage", a pop-up will appear on which you can redelegate, and delegate to the selected validator.


Select "Delegate", then fill out the amount of digital assets you'd like to delegate (keep in mind that you'll have to pay some fees, so leave some assets in your account for that). Select "Delegate" once again to continue.

The Keplr extension will open itself up, and you can decide to pay a low, average, or high fee. It's also possible to add a memo (commonly used when sending to custodial wallets). Next, double-check all the transaction details and choose "Approve" when ready.

Note that staked crypto assets are locked and the unbonding period changes depending the chain, for Cosmos Hub is 21 days.
Congratulations!! You've now staked with Keplr!
If you'd like to see how your assets are doing, how much you staked etc. select "Home" in the left menu on the web browser. When you're eligible to claim rewards, you can do so on the right after your staked amount (see image below).

Part 3 - Governance
Besides staking, you can vote for governance proposals with the Keplr Wallet. As per the paragraph above, we will be using Cosmos as an example in this tutorial. However, voting for governance proposals for other networks is also possible in the app.

The "Home" tab shows you an overview of your holdings and the active proposals going on.

After clicking on the proposal, you can see more details like when voting started or ends, the results so far, etc. Click on "Vote".

Please note that it is essential first to consult all the information and links available on the page to get a complete idea of the community's position and the proposal. Once you are sure about your standpoint, it is time to vote.

A pop-up menu will appear, giving you four options: yes, no, no with a veto, and abstain. Click on your choice, and select "Vote" to complete the vote.
Click approve to finish casting your vote.

At Stakin, we share our Weekly Governance Recap displaying our votes and thoughts. Join the debate on our Discord.

How to claim rewards
Claiming rewards is even easier than staking. To claim your earned rewards, go to the Keplr Wallet web extension or head to https://wallet.keplr.app/.


Once there, go to "Chains" section on the left side of the page. From here you can claim all your rewards available to you, with lesser clicks.


Click on "Cosmos Hub" and go to "Claim" on the middle right side of the page. Click on "Claim ATOM" to continue.


Keplr pop-up will show up with all the details about your transaction. Select your preferred gas fee, then click on "Approve". Congrats again! You just claimed your rewards using Keplr wallet.

How to re-stake rewards for compounding

We will show you how to take advantage of the compound effect and re-stake using Keplr Wallet.

You can either use the Keplr Wallet web extension and click on the "Stake" button on the lower right side of the app or scroll down to the "My Validators" section or "All Cosmos Validators" Section in case you want to distribute your stake.

Click on manage to see your staking options, click delegate.

Enter the amount you want to re–stake and click "Delegate".
Remember to leave some for the fees.

Confirm all transaction details and your preferred fee, after that click approved and that's all about re-stake your crypto assets.

By now, you should be an expert in How to stake, re-stake, and participate in governance proposals. Welcome to the Cosmos Ecosystem!
---
DISCLAIMER: This is not financial advice. Staking, delegation, and cryptocurrencies involve a high degree of risk, and there is always the possibility of loss, including the failure of all staked digital assets. Additionally, delegators are at risk of slashing in case of security or liveness faults on some protocols. We advise you to do your due diligence before choosing a validator.