An Introduction to ICONSwap and Tap Traders
Hi ICONists🧑‍🚀,
There are many great developments going on in the ICON Ecosystem. Today, we thought we'd take a look at services created for trading ICX and IRC2 digital assets on ICONSwap, and ICONOsphere. So, let's take a look.
🤓 What is ICONSwap?
ICONSwap is a free, open-source service that makes it possible for any ICON users to safely trade any of their IRC2 assets, with any amount of ICX or IRC2. The tool, created by ICONation, is currently under development and about to reach its Beta version. The decentralized exchange's Beta version went live on the 11th of March 2020, and the developers are working hard to complete the project and launch its Mainnet. The DApp was born out of the realization that an alternative for Over-The-Counter trading is needed, as this is currently taking place on a few unlisted tokens on ICON. This kind of trading is insecure and not atomic, ICONSwap solves this problem.
It is, however, important to realize that the DApp doesn't offer automatic orders filling. Meaning, you'll have to find someone that is interested in trading tokens within other channels yourself. Also, orders will be filled automatically if someone proceeds to swap with the given order in the order book.
So, what about the design of this DApp? Above, you can see an image of the start screen. The use of this DApp is pretty straightforward. You simply select what you're offering and the amount. You then receive a swap price, can select if you'd like the swap to private or not and that's it. If you select the "market" option, you can see the different swapping prices, how many swaps have been made, and if there have been any fluctuations in price in the last twenty-four hours. If you click on any of the swap options, you're provided with further data (as seen below). Overall, we find the Beta version of this DApp, easy in use, and with a clear user-interface. For future features, however, it would be interesting to have a function that lets you find users willing to swap.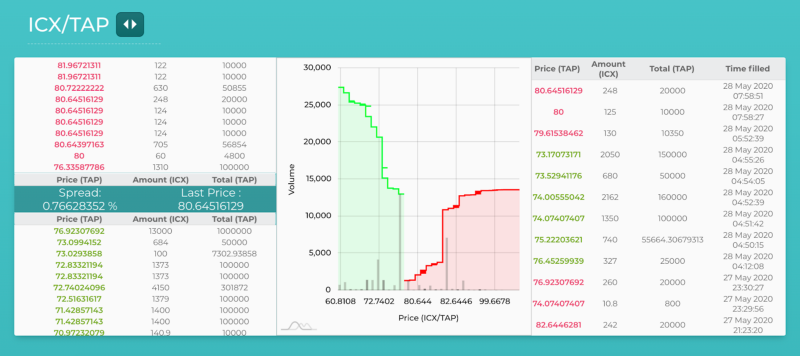 Alternatively, ICONSwap can be used by other SCORE developers that want to implement an atomic swap in their contract.
🧐 TapTraders
While ICONSwap is the most well-known token swap platform on the ICON Network, however on March 5th, 2020 iBriz announced that they would create their own token swap called Tap Traders. This application hasn't been launched yet, however, a quick preview of the interface has been given. Its concept is quite similar to ICONSwap, besides that this application is more focussed on TAP digital assets only. At first glance, the interface also looks pretty but quite similar to the ICONSwap. What's more convenient about this interface is that you can see the TAP swap values right away. Moreover, you can buy tokens by clicking on the "buy" button, which means if you're interested in buying TAP tokens, you won't have to search for someone that sells them. This makes it all very exciting, and we're looking forward to seeing the developments of this DApp.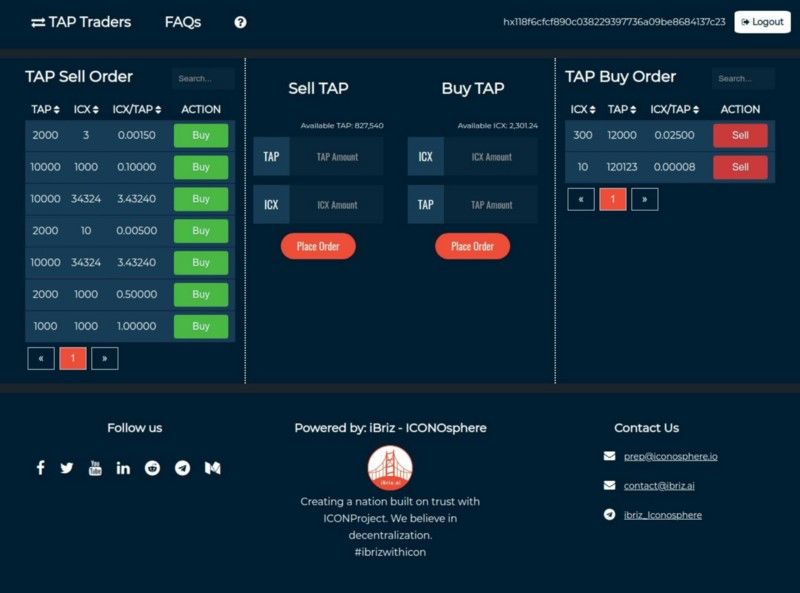 More information
---
DISCLAIMER: This is not financial advice. Staking, delegation, and cryptocurrencies involve a high degree of risk, and there is always the possibility of loss, including the loss of all staked digital assets. Additionally, delegators are at risk of slashing in case of security or liveness faults on some protocols. We advise you to do your due diligence before choosing a validator.