A quick overview of the 10 best DApps of the moment on NEAR
Dear readers, through this quick guide, the Stakin team will introduce you Top 10 DApps (of the moment) built on NEAR Protocol, so do not waste time and explore NEAR with us.
NEAR Crowd
NEAR Crowd is a service that allows people to earn NEAR by completing small tasks.  While tasks are provided and funded by a centralized entity, called the Requestor, NEAR Crowd significantly limits the power that the Requestor has and moves the power to the community instead. The Requestor specifies what needs to be done in each task. The community decides whether each task is completed correctly according to a specification. They do so by creating a set of rules, checks, and balances enforced by a smart contract deployed on NEAR.
Once a participant has performed at least 20 tasks, they can withdraw their rewards to their NEAR wallet for as long as they showed at least an 85% success rate. More specifically, the system maintains the number of successful and failed tasks for each participant. To withdraw the funds, the number of successful tasks needs to be at least 8.5 times higher than the number of failed.
Ref Finance
Ref Finance is a community-led, multi-purpose DeFi platform built on NEAR Protocol. Ref takes full advantage of NEAR's low fees, one-to-two second finality, and WebAssembly-based runtime. In addition to the benefits of being built on top of NEAR, Ref Finance provides:
Multiple pools in one contract
Atomic transactions
Customizable pool fee
Ref  Finance's first product is an automated market maker (AMM). Users can trade tokens with the automated market maker (AMM) exchange and stake REF tokens to earn more REFs.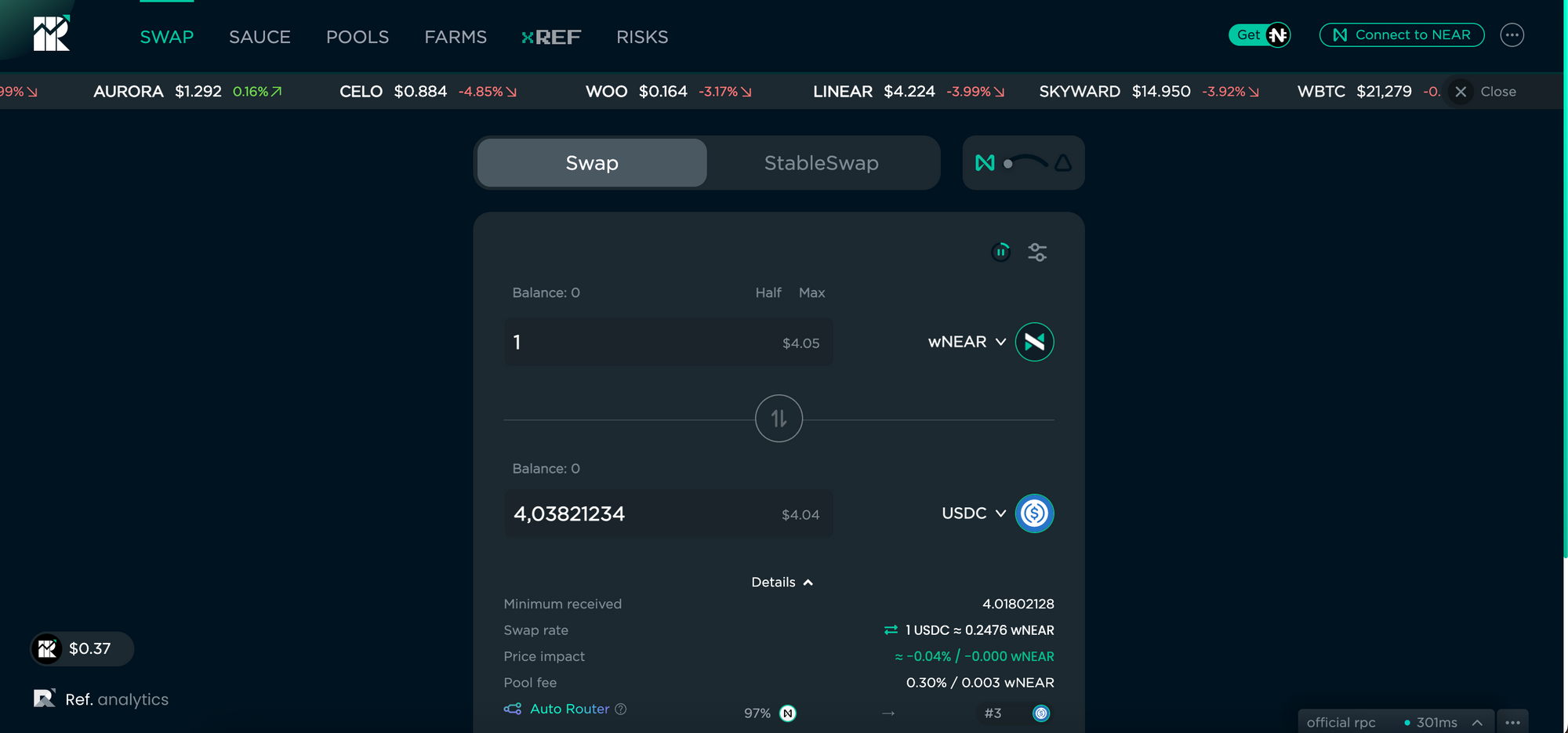 Learn NEAR Club
Learn NEAR Club, supported by NEAR Foundation, is an all-inclusive hands-on onboarding platform to NEAR Protocol – connecting NEAR Ecosystem projects to pro-active community members via the (L)Earn method. The website contains helpful articles explaining the key points of NEAR. For example, onboarding guides, such as "What is the NEAR protocol?", "Top 7 NEAR NFT Projects", "What You Can Do On NEAR Protocol?" and many more.
The club provides various opportunities to discover the NEAR ecosystem. Users can take courses and try testing to explore NEAR protocol in depth.
Paras 2.0
Paras is an NFT marketplace that focuses on digital collectibles. Paras started with digital art cards inspired by real-world trading cards that have been bulletproof and forever lasting since they were introduced in the 80s. The team believes that every physical art form needs to be stored and digitized to keep it future-proof. Hence, Paras, an all-in-one digital collectible marketplace, is eager to diversify the assets to digital collectibles.
Paras says: "Giving utility, and use cases over digital assets could create more value for collectors and creators. We would like to build our metaverse where Paras becomes the gateway to access multiple sources of entertainment."
ZomLand
ZomLand is an interactive NFT & Play-to-Earn collectible game platform with exciting gameplay and a lot of fun. You take on the leader's role of the army of zombies and monsters to battle with other users worldwide and achieve your goals. The logic of the game starts from Lands. Each land can produce zombies. You can mint zombies daily (the number of zombies depends on the type of land). It's also possible to claim zombies every 24 hours using your lands.
The gaming model is called play-to-earn (P2E). Whichever way you choose to access these game assets, you have exclusive ownership rights over them. In essence, you can distribute or sell them and pocket all the money from such trades. In addition, you need NEAR Wallet and some NEAR tokens balance to play the game (used for blockchain transaction commissions, storage, and in-game purchases).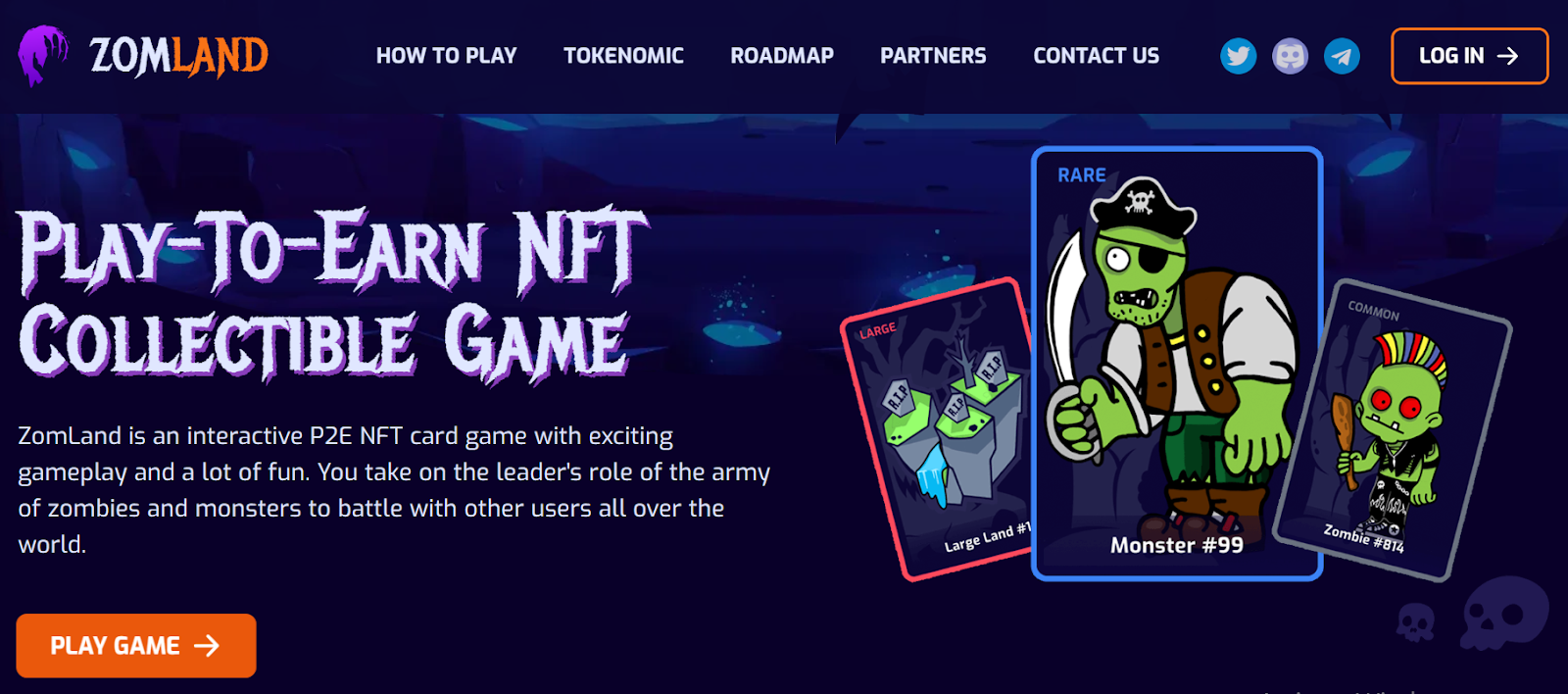 Land to Empire
Land to Empire is a play-to-earn mobile strategy game on Near Protocol. In this game, the gamer is a landlord of their land. Players need to build their village, army, and defense infrastructure. Users can make an influential settlement using the resources gained from buildings and attacks on other players. Resources are the currencies used to purchase and upgrade assets. To attack, players train different types of troops using resources. There are three primary resources in Land to Empire: Gold, Elixir, and Gems. These resources have buildings that are used for storing and generating them.
The game team supports the Proof-of-Game standard, which means that the game's creators will not trade tokens and NFT. All tokens for sale will come from real players with a link to their land. The team's earnings are royalties from p2p NFT trading. Everything is the players' earnings.
Burrow
Burrow is a decentralized, non-custodial pool-based interest rates platform that enables users to supply assets to earn interest and to borrow against them to unlock liquidity. Burrow is similar to Aave, Compound, and other pool-based protocols.
Burrow runs natively on the NEAR blockchain, a layer 1, proof-of-stake, sharded blockchain with a WebAssembly runtime. The Burrow protocol's smart contracts are written in Rust.
The DApp aims to unlock liquidity for interest-bearing assets, particularly layer-1 staking derivatives such as stNEAR and stETH. Users can deposit stNEAR as collateral, borrow more NEAR to create a leveraged staking position, or borrow a stablecoin to create a self-repaying position.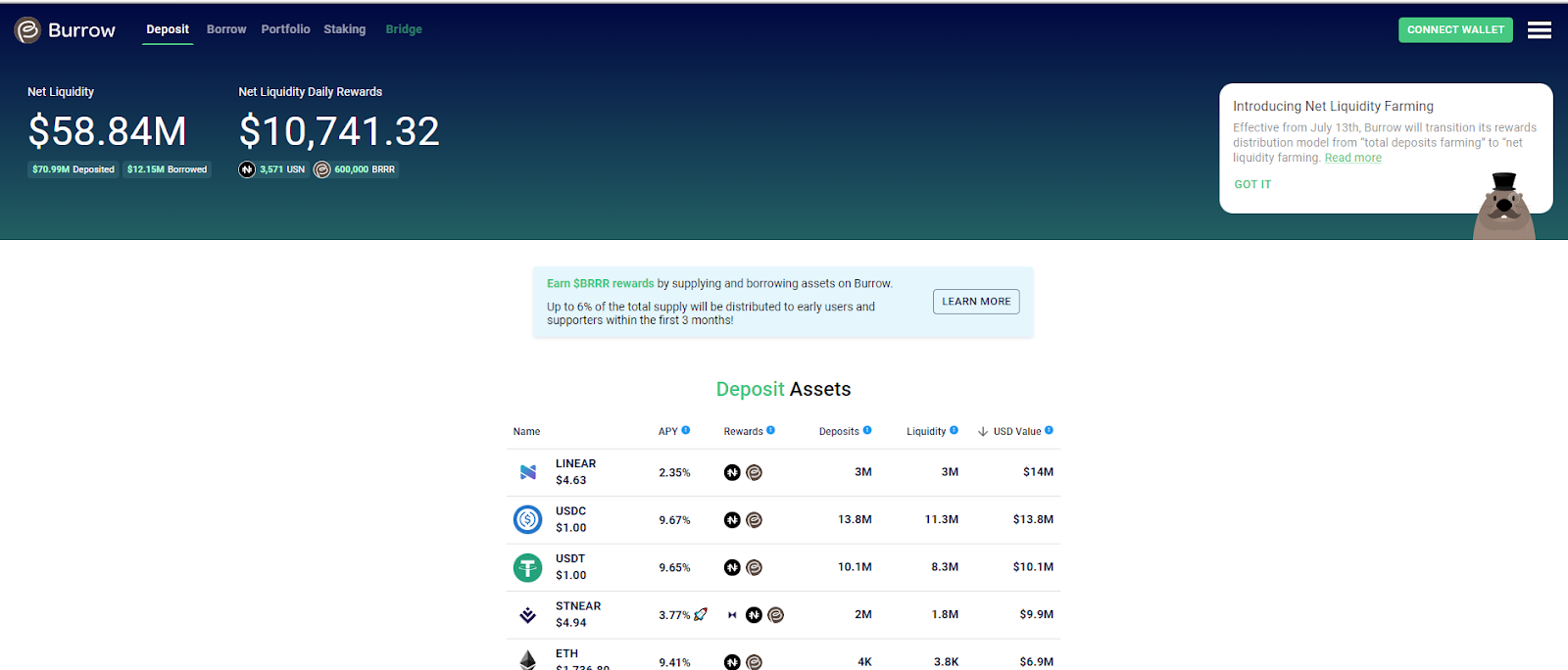 NEARnames
NearNames is a fun holiday app that lets you gift NEAR accounts in an easy flow for crypto natives and newbies alike.With NEARnames, users can claim a name for friends and family members on the NEAR blockchain. If you have tokens in your NEAR Wallet, sign in to give the gift of a unique NEAR account, for example: "happy.near" or "santa.near" to your close friends.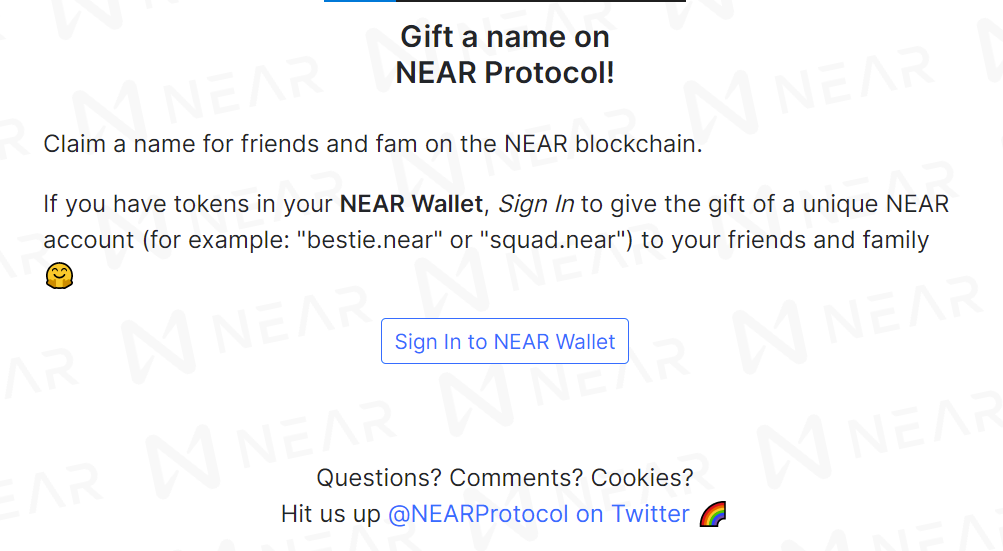 Meta Pool
Meta Pool is a Liquid Staking solution for the NEAR Protocol that enables NEAR token holders to stake their NEAR in the simplest way.
When users deposit their NEAR tokens into Meta Pool, they receive stNEAR, which can be used in other Defi platforms. Thus, providing maximum capital efficiency and additional APY. Meta Pool's algorithms automatically delegate NEAR across 87 validators and monitor for performance and uptime. This helps keep the network decentralized, and the funds secure, so users don't have to worry about it.
On Meta Pool, traditional unstaking can take up to 72 hours. However, when you stake with Meta, you can access your funds immediately through Liquid Unstaking for a small fee of just ~0.3%.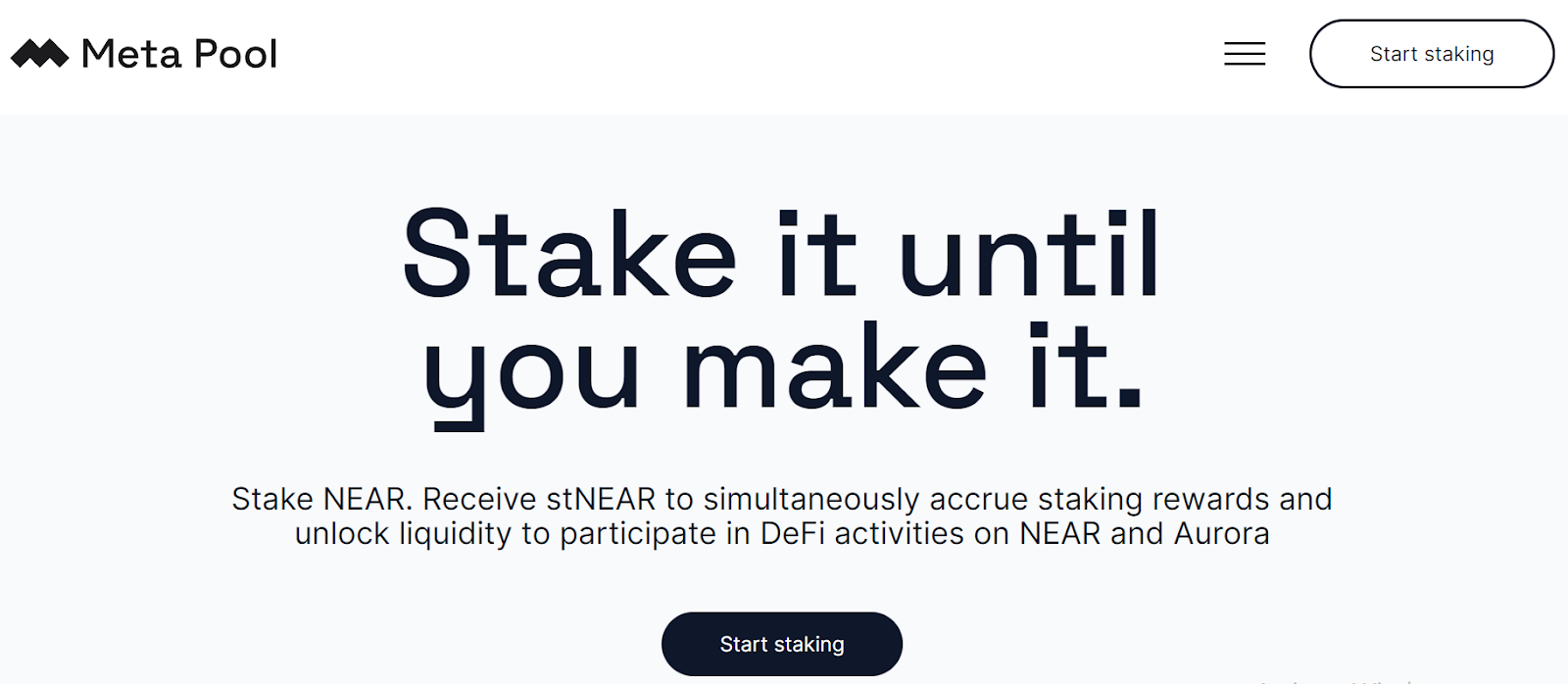 Mintbase
Besides the NFT marketplace, Mintbase is the best place to build your minter, market, and NFT redeeming systems. Users can use the entire system both on the interface and via code using testnet.
The playground allows you to use the NEAR blockchain just as you would on mainnet with real funds. When you create a NEAR account on login, it will automatically give you 200N so you can interact with everything, including sending NFTs to other testnet users.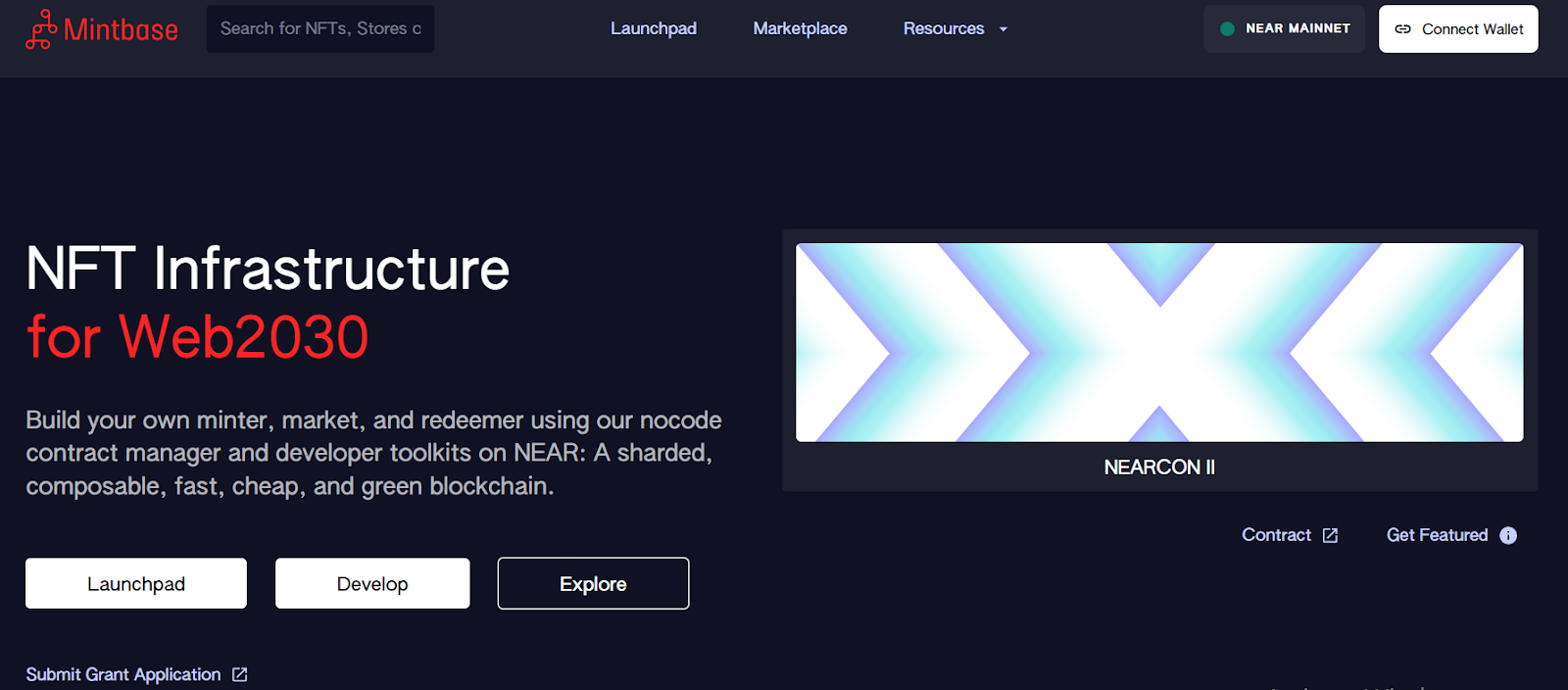 More Information & Sources
---
DISCLAIMER: This is not financial advice. Staking, delegation, and cryptocurrencies involve a high degree of risk, and there is always the possibility of loss, including the failure of all staked digital assets. Additionally, delegators are at risk of slashing in case of security or liveness faults on some protocols. We advise you to do your due diligence before choosing a validator.