An Overview Of Everything That Happened At Stakin In 2020
2020 Year In Review
Hi, fellow blockchain enthusiast 👋,
Here is your chance to have a look at everything that Stakin has been up to during 2020: Proof-of-Stake, DeFi, interoperability and more.
As expected, 2020 has been an impressive year for Proof-of-Stake (PoS) networks. For the ones not convinced yet by PoS, the Ethereum Beacon Chain's successful launch has them thinking differently by now. According to Staking Rewards, there is now almost $30bn locked in staking protocols, and the Ethereum Beacon Chain is not the only big launch of the year. At Stakin, we are very proud to have supported many networks in the last key phases of their Testnet and Mainnet launch in 2020: Skale, Near, Polkadot, Solana, to name but a few.
This year has been very interesting for crypto derivatives, and more explicitly, staking derivatives. Liquid staking solutions are finally appearing all around the market, whether centralized or decentralized. But that's not it; staking is now starting to be fully integrated with the DeFi ecosystem, as illustrated by some recent stake drop campaigns and other staking based DApps.
From our end, we started building a few DApps, among which our no loss staking lottery, already launched on the ICON Network. Additionally, we have an upcoming Stakin Finance project for which you can subscribe to the waitlist now.
Want to know more? Here are our highlights of the year. ⏬
👩‍💻 Launched on 8 more Mainnet Protocols
We launched on eight new Mainnet Protocols during the year, including NEAR, Solana, and Skale. Our infrastructure is now securing a total of 16 Mainnet chains and even more Testnets, including Thorchain, Mina, Regen Network, Desmos, and Cosmos IBC Developments.
Here is a short description of some of our favourite protocol launched in 2020:
Solana is an open-source project that implements a new high-performance, permissionless blockchain. Solana's mission is to support all high-growth and high-frequency blockchain applications and to democratize the world's financial systems.
NEAR Protocol is a decentralized application platform designed to facilitate the future's open web and power its economy. The envisioned web of the future for NEAR has everything from new currencies to new applications and even wholly new industries. On the NEAR platform, developers can host serverless applications and smart contracts with easy access to open finance networks and benefit from an entire ecosystem of open web components.
Skale is an "elastic" blockchain network that is designed to be interoperable with Ethereum. The network aims to resolve the technical scalability, user experience, and cost issues associated with decentralized networks. SKALE is intended to bring an application-specific architecture to developers, which will improve configurability and modularity.
We chose to support these networks because of their scalability, interoperability features, and commitment to decentralization. We're very curious to see how these networks will develop in the next year. For a more thorough list of supported protocols, have a look at our website.
🎉 Launched the very first staking no-loss lottery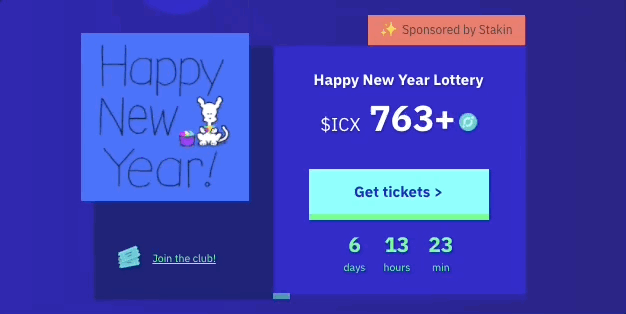 After months of hard work, we were happy to launch the first staking no-loss lottery on the ICON Network. The Lossless Lottery went live on October 25th, 2020, and has since attracted almost 400 participants and up to $ICX 50,000 in total value locked in the smart-contract. Even better, more than $ICX 10,000 has been won in just a few weeks, and $ICX 0 has been lost!
Blockchain no loss lotteries can disrupt the traditional gambling business by actually turning gambling into gamified savings. With no-loss lotteries, the face value of the invested capital can be redeemed at any time, as only the interests generated by the capital are added to the prize.
We believe this project has been an attractive incentive for new users to join the ICON community and discover this network's potential. It's about time to reach out to all crypto users looking for ways to minimize their risk and have fun while potentially earning high rewards.
✅ If you'd like to check out the lottery DApp, go to https://lottery.stakin.com/.
✅ For more information on Lossless Lotteries or using the Stakin Lossless Lottery, click here.
🚀 About to launch Stakin Finance!
One of the most interesting projects we've been working on during 2020 is Stakin Finance. Scheduled to launch in early 2021, the platform will offer seamless access to multiple yield generating opportunities with our favorite Proof-of-Stake networks. We might even add our token into the mix. There's a waitlist going on if you are interested to join and be one of the early supporters. Join the waitlist here.
💪 Published around 100 articles on Blockchain
Over the year, we've published around 100 new articles on the different subjects of Blockchain Technology, such as staking new digital assets, ecosystem overviews, and more. With our articles, we've generated about 90,000 views. The articles have been published in over 15 different languages, and to top it all off, we've also launched our very own bi-weekly newsletter, which you can check out here.
🤑 Organized 4 competitions for the ICON Community
It's been an eventful year for the ICON Community, and we're happy to have been a part of it. Over the last year, we've organized four different competitions for the ICON Community. We've had over 4.4k participants in the multiple competitions we've launched during the year, among which the giveaway for the ICON Staking Lossless Lottery. Keep an eye out for the new giveaways in 2021! And check out ICON Daily for your daily ICON news and updates.
🙌 Took part in key governance decisions for ICON IISS 3.0, Near, Solana inflation, and Tezos Delphi Upgrade
Many blockchains, such as Ethereum, do not yet have such on-chain governance and upgrade models. But that's not the case with most of the PoS chains we support. 2020 has been a busy year for decentralized governance.
Some blockchains have been through major upgrades during the year, and there are more to come for 2021. For example, Tezos Delphi has enabled lower gas consumption by 75% and storage cost by a factor of 4, creating the possibility of building more advanced smart-contract applications. ICON IISS 3.0 will bring more decentralization and aligned incentives to the ICON Network ecosystem. NEAR Mainnet shifted from a restricted set of validators to being fully community operated. Solana enabled inflation on both Testnet and Mainnet, which means that staking will generate rewards for delegators.
We expect that in 2021 protocols that combine governance, interoperability and scalability will be key to advancing the blockchain ecosystem. The renewed attractivity of blockchain with the wider public is already bringing more users and activity to clogged blockchains such as Ethereum. Layer2 scaling solutions and interoperable layer1 will be key to not disappointing all these new users, and we hope that with successful products and marketing, these blockchains will succeed in their mission.
---
DISCLAIMER: This is not financial advice. Staking, delegation, and cryptocurrencies involve a high degree of risk, and there is always the possibility of loss, including the failure of all staked digital assets. Additionally, delegators are at risk of slashing in case of security or liveness faults on some protocols. We advise you to do your due diligence before choosing a validator.