Everything You Want To Know About The Upcoming Launch Of Stakin's Lossless Lottery
Hi, fellow blockchain enthusiasts👩‍💻,
After months of hard work, we are happy to share all the details of the upcoming Lossless Lottery launch built for ICON. In this article, we'll go through all the essentials you need to know before you can get started by trying it out yourself!
So, for those of you who are unfamiliar with us, who are we? Stakin is a multi-asset staking service provider offering services for 4,000+ delegators on leading networks such as ICON, Tezos, Cosmos, Solana, Skale, Near, and more. We believe that the blockchain industry will revolutionize the financial services industry and that the staking mechanism will be a vital pillar of the future financial infrastructure. With Stakin, you can delegate your tokens and quickly earn rewards using leading digital asset wallets such as Trust Wallet, Atomic, Ledger, ICONex, and more. In such a new and rapidly developing field, we're also proud of having produced 100+ articles, shared on Medium and other social media platforms, introducing staking, its place in today's crypto world, and some of the most exciting protocols out there.
Now, you might wonder, why a Lossless Lottery as the first ICON DApp project? Well, that's because the idea of not losing any capital while winning some new assets is an attractive way to invite new members to the ICON Network. We believe that it's about time to reach out to all crypto users looking for ways to minimize their risk and have fun while potentially earning high rewards. So, that's why we chose this as our first ICON DApp project.
🧑‍🚀 ICON Blockchain
We've built the Lossless Lottery on the ICON blockchain, developed by ICONLOOP. The goal of this blockchain is to hyper connect the world and to do this, ICON connects with different blockchains and communities to bring services to the institutional and retail users.
The ICON blockchain offers a competitive transaction speed at 1,000 TPS, a fantastic community of 30,000+ ICONists, a solid network of corporate partnerships, and the possibility of writing smart contracts in Python. Other advantages of ICON are decentralized governance and Delegated Proof-of-Contribution (DPoC) — a variant of Delegated Proof-of-Stake (DPoS). With DPoC, any ICON token holder can participate in governance and earn $ICX rewards through staking.
🚀 Where It All Started
You're probably familiar with the concept of lotteries, and if so, you might know that most lotteries are a form of gambling. In the game, most participants lose their bet, and one lucky player wins everything! However, we believe that it doesn't have to be like that. After all, isn't it more fun if nobody loses? Recent innovations, such as premium lottery bonds, make it possible to re-use the concept of "random winner selection" to incentivize saving behaviors. And that's how Lossless Lotteries came about.
🤩 How Does The Staking Lossless Lottery Work?
You will be able to join simply by holding $ICX assets. The ICON protocol currently offers an annual reward rate of around 13%, making it an excellent asset for the lossless lottery project.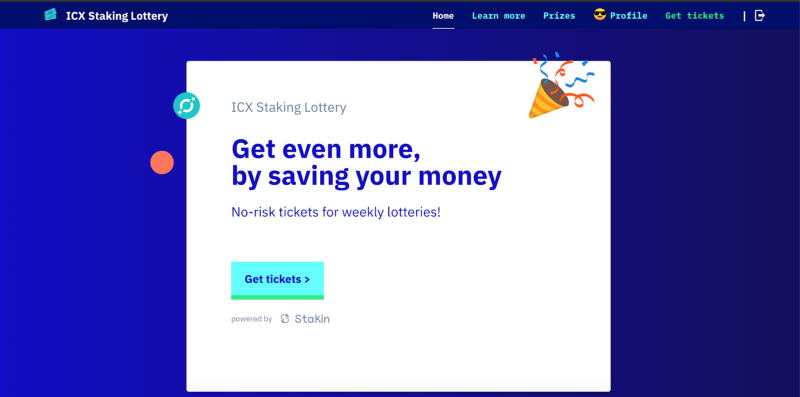 If you'd like to participate in the lottery, you will need to lock some ICX into the lotteries' smart contract. The smart contract will then vote for P-Reps and earn staking rewards. A random number will be generated weekly by our developed oracle. Once you've locked ICX into the smart-contract, you will receive tickets such as 1 ICX = 1 ticket.
Every ICX sent to the smart contract will be then staked, and the entire staking rewards will be sent once a week to the lucky winner. If you keep your ICX lottery tickets, you will be automatically enrolled in next week's lottery.
With this lottery, anybody can reinvest their I-score into lottery tickets and get the chance to win a whole pool of ICX rewards. Additionally, ICX token holders will benefit from a new option to stake their assets. We hope that this will encourage more community involvement and a valuable marketing tool for the ICON blockchain.
It's also nice to note that the more tickets the community get, the more money is earned in interests, and the bigger the prizes are weekly. Selected sponsors can even chip in to increase the size of the prize pool.
Keep in mind that Smart Contracts are designed to run independently on a decentralized blockchain. Both the technology for Smart Contracts and the Protocol technologies are highly risky and experimental. Users should not transact without proper knowledge and extensive due diligence on their end.
All lotteries are powered by smart-contracts and the ICON blockchain, meaning you can track who won, when, prize sizes, and pretty much everything. There are many tools from which you will be able to have a detailed view of what happened, such as ICON Tracker. Stakin cannot and will never be able to select winners.
So, how long have we been working on this project? In early 2020 we've started to define the future specs of this project and kickstarted the work thanks to the initial support of Velic Financial, which happened in April 2020. Since then, we've been iterating through our smart-contracts and interface. As we were building it, some functions had to be developed at the protocol level — for example; we could not stake via smart-contracts back to a few months ago. We're very excited to have pioneered the ICON protocol's unique features through this project, which took us almost 2–3 quarters from idea to launch.
🎉 Save The Date!
The Stakin lossless lottery will be launched on the ICON blockchain thanks to our voters' support, VELIC Financial, and the ICON Foundation. We'd like to thank them for their contributions and efforts to help us launch the lottery.
Additionally, thanks to the extra support of the ICON Foundation, the first two months of rewards will be sponsored, and should be higher than usual!
The Lossless Lottery will be launched on Monday 12th of October 2020. And the first draw will take place on Sunday 18th of October 2020. Get your tickets until Saturday 17th to reserve your chance to win!
The website is live as of today, and you are able to buy tickets for the first draw.
The first prize will be sponsored by the Foundation, a total amount of $ICX 2,000!!! 🤑🤑
Join The Lottery here! 🚀
We're very excited and would like to invite you all to join in our first lotteries as the advantages are very high.
For More Information:
---
DISCLAIMER: This is not financial advice. Staking and cryptocurrencies investment involves a high degree of risk, and there is always the possibility of loss, including the loss of all staked digital assets. Additionally, delegators are at risk of slashing in case of security or liveness faults on some PoS protocols. We advise you to DYOR before choosing a validator.
Additionally, please keep in mind that Smart Contracts are designed to run independently on a decentralized blockchain. Both the technology for Smart Contracts and the Protocol technologies are highly risky and experimental. Users should not transact without proper knowledge and extensive due diligence on their end.