A quick overview of staking Cosmos with Keplr Wallet
Hi Readers👩‍💻,
Today, we're taking you through a step-by-step guide on staking your $ATOM with Keplr Wallet. But before we get started, let's have a look at what makes the Keplr wallet an excellent choice for your digital assets.
Keplr Extension is an open-sourced browser extension wallet that supports the CosmosJS signing library created by Tony Yun. The Keplr wallet extension aims to recreate the simplicity of using MetaMask on Ethereum and the whole Cosmos ecosystem. It allows users to access all Cosmos chains and DApps using just one platform. Additionally, the builders hope to overcome the UX challenges inherent to the sovereign blockchains' ecosystem at the user application level. It is a multi-asset wallet for all Cosmos Ecosystem assets and already supports blockchains such as Cosmos, Kava, Akash, Certik, and more.
💰 Let's Get To Staking!
Step 1 — Install the wallet extension
If you haven't downloaded the wallet yet, go to https://wallet.keplr.app/; a pop-up will appear as soon as you enter the website. Click on the pop-up; it will lead you to the Chrome extension store. Select: "add to Chrome".
Once you've added the extension, click on it on your screen's top-right menu to open the Keplr web page.
Step 2 — Create Your Wallet
On the Keplr web page, select "Create New Account" to start setting up your account. There is also an option to Sign in with Google, powered by Torus. In case you already have a Keplr wallet, select "Import Existing Account".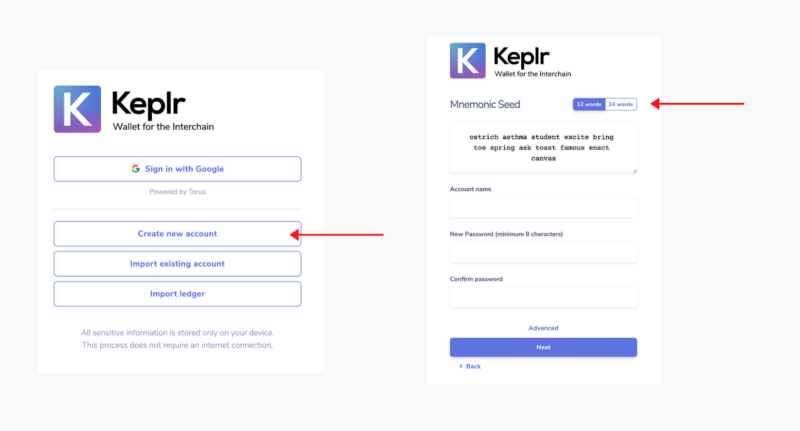 If you've selected "Create New Account", Keplr will ask if you'd like to have a Mnemonic Seed of 12 or 24 words. Remember to store your seed phrase securely offline and never share it with anyone. If you lose your seed phrase, you will lose the assets within the wallet.
Once you've copied your seed phrase, fill out your account name, desired password and confirm by selecting "Next".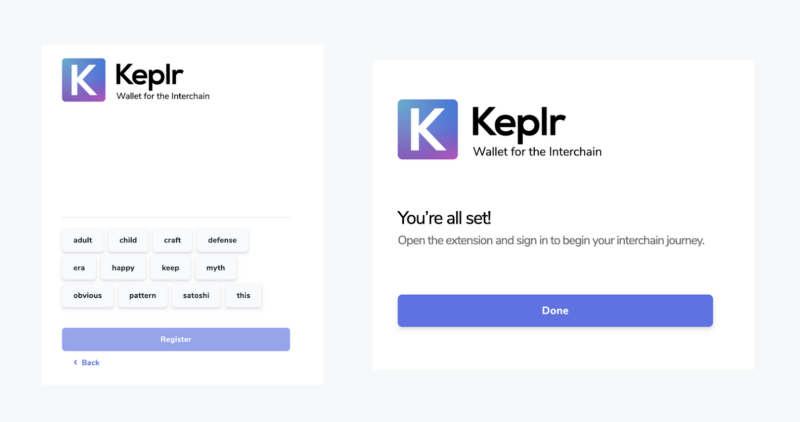 You will then be asked to fill out your seed phrase in the right order to register. Click on the words to create the sentence, then select "Register". That's it! You've now created your Keplr wallet. Select "Done" to close the registration webpage, and your wallet should now be opened in the extension.
Go to: https://wallet.keplr.app/#/dashboard to continue.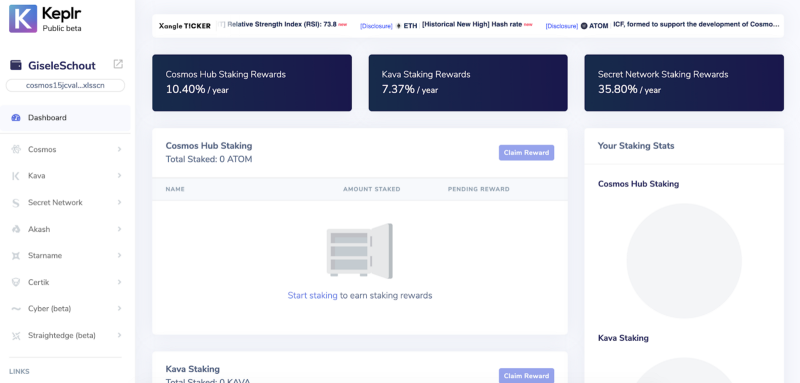 Step 3 — Start Staking
Now that you've opened the dashboard copy your account address to send $ATOM to your Keplr wallet from any exchange or another $ATOM wallet. Once you've done so, wait a couple of seconds, grab yourself a cup of coffee and return to get started with staking!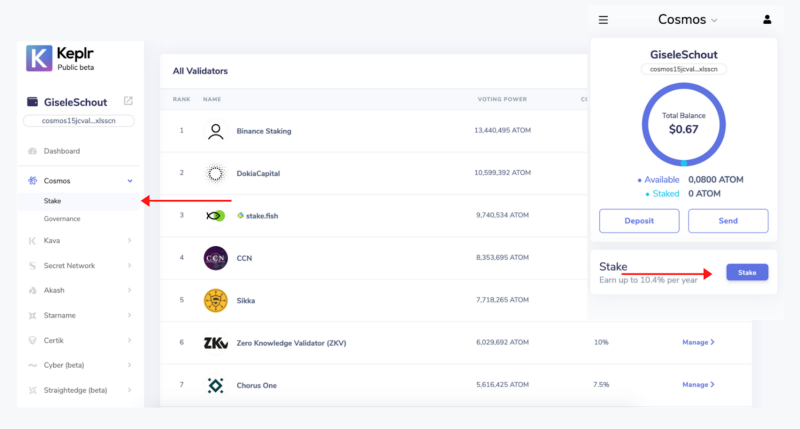 On the dashboard's left drop-down menu, select "Cosmos" and then "Stake", this will take you to the validator overview. You can also use the extension and simply press "Stake" on the pop-up's bottom right (it will take you to the same page).
The Keplr wallet currently doesn't have a manual search balk, so you will have the scroll down to select your choice's validator. Once you've found the validator of your choice, click on "manage" on the right (see image below).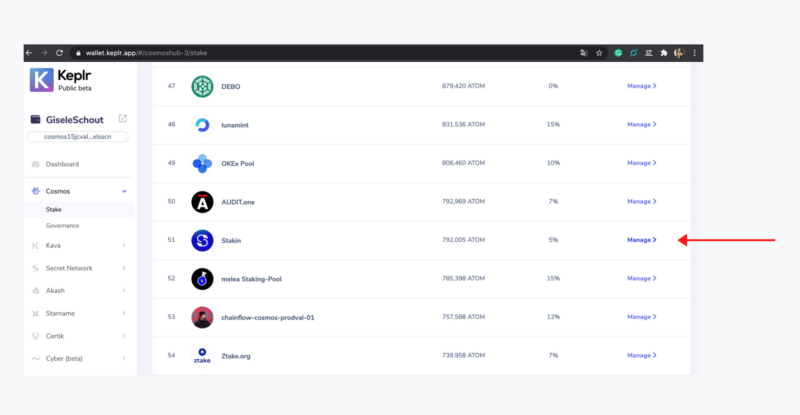 When you press "manage," a pop-up will appear on which you can redelegate, undelegate and delegate to the selected validator.

Select "Delegate", then fill out the amount of $ATOM that you'd like to delegate (keep in mind that you'll have to pay some fees, so leave some $ATOM in your account for that). Select "Delegate" once again to continue.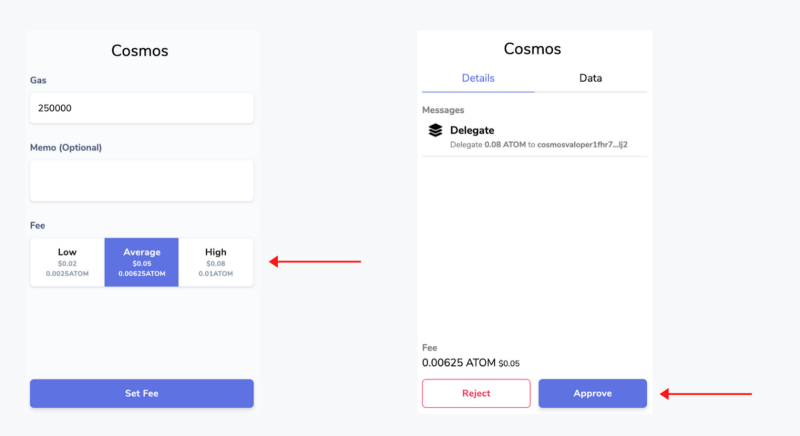 The Keplr extension will open itself up, and on it, you can decide to pay a low, average, or high fee. It's also possible to add a memo. Once selected, click on "set fee". Next, double-check all the details of the transaction and choose "Approve" when ready.
Congratulations!! You've now staked your $ATOM!!
If you'd like to see how your assets are doing, how much you staked etc., select "Dashboard" in the left drop-down menu on the web browser. When you're eligible to claim rewards, you can do so on the right after your staked amount (see image below).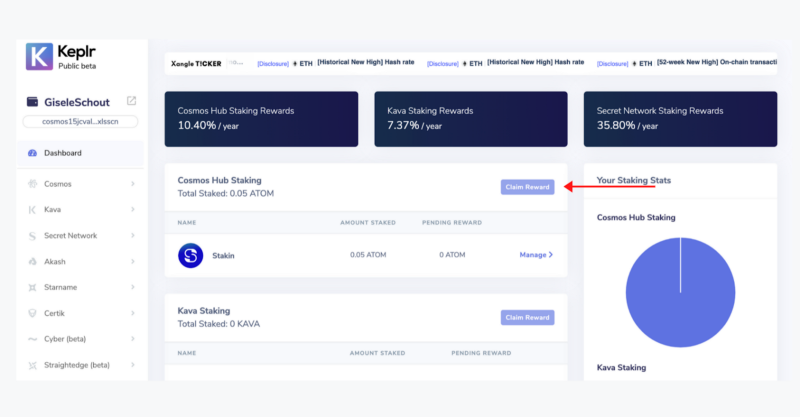 ---
DISCLAIMER: This is not financial advice. Staking, delegation, and cryptocurrencies involve a high degree of risk, and there is always the possibility of loss, including the failure of all staked digital assets. Additionally, delegators are at risk of slashing in case of security or liveness faults on some protocols. We advise you to do your due diligence before choosing a validator.