An easy guide on how to stake using Trust Wallet
Hi everyone,
On today's step by step guide, we will explain to you how to stake your cryptocurrencies using Trust Wallet.
Indeed, if you are not aware yet, Stakin has been chosen among the 1st validator set in their app.
Install the app
First, you need to install Trust Wallet if you don't have the app yet. The app is available on both Android by downloading the app in Google Play or directly using the Android APK and in iOS by using the Appstore.
For now, there is no web interface available yet, but this should come soon!
Backup your wallet
Once you have installed the app, you will be able to create a new wallet or to restore a previous wallet.
In this tutorial, we will create a new wallet.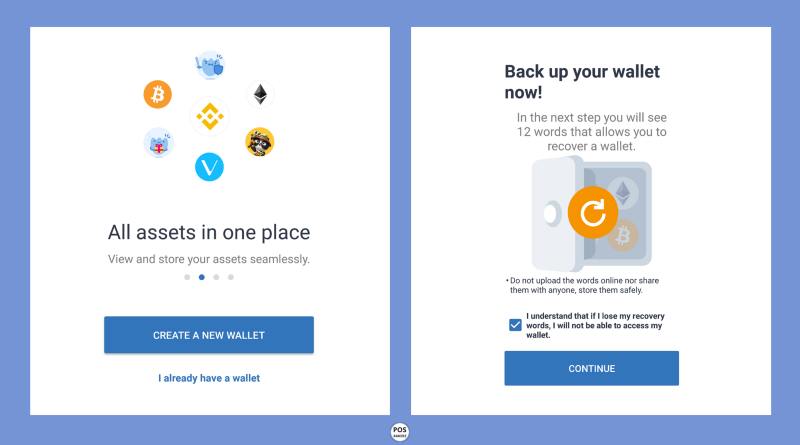 It's essential to back up your wallet in the best way possible. You'll receive a 12 words mnemonic that allows you to recover a wallet in case something wrong happen. Make sure to keep it safe and to store it offline.
To follow best practices, you can also have a look at this article.
Once you have safely backed-up your wallet, you will now be able to add several tokens to your wallet and start to use the Trust Wallet app.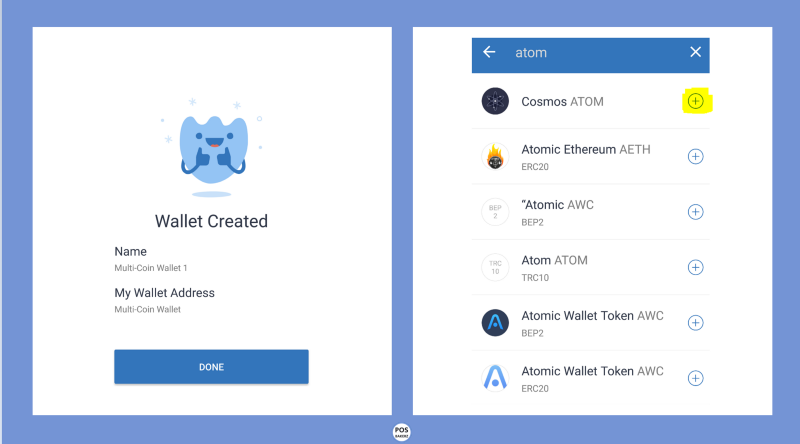 By clicking on the + Icon, you will add the cryptocurrency in question. To add ATOM or another crypto, simply search for it in the wallet and add it!
Buy or send ATOM to your Trust Wallet.
Now that you added ATOM and maybe some other token, you can send or receive the crypto.
Another great option available in Trust wallet is the fact that you can also buy crypto directly in the portfolio using your credit card thanks to Simplex, a crypto payment processing provider.
If you already have some ATOM, you can directly send them to your wallet.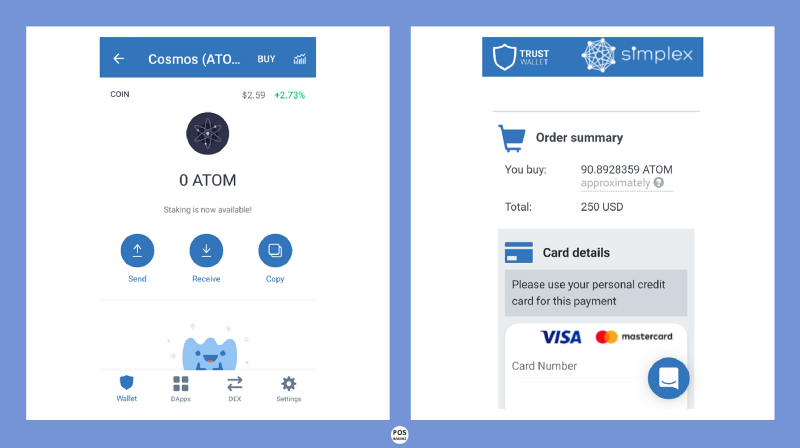 Simply click "Receive," and you will be able to find your wallet address to send some funds to your Cosmos wallet.
How to stake ATOM?
Finally, if you want to earn interest on your holding, you'll need to stake them directly using the app.
It's important to note; you have full custody of your funds, meaning your money is always in your control, and don't leave your wallet. If you delegate ATOM to a Cosmos Validator and you can earn up to 10%, for the latest staking yields, you can check the Staking Rewards website.
Please note that your ATOMs used for staking are locked (bonded) for 21 days.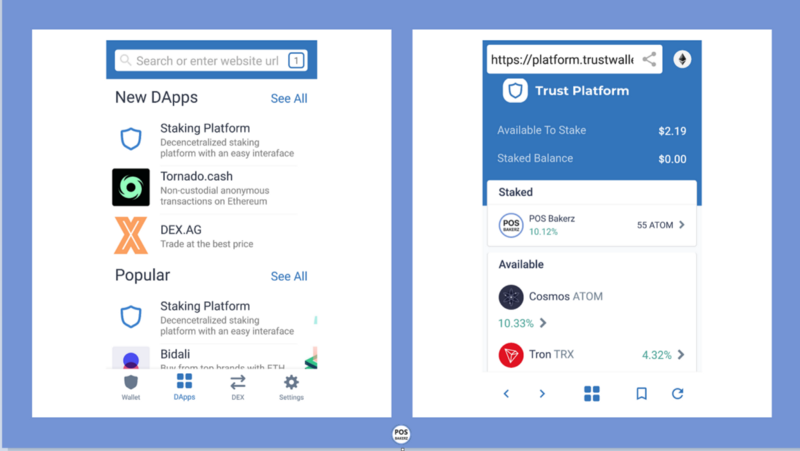 Trust Wallet has built an open platform to give easy access to staking and delegation through a unified interface.
So if you want to stake, simply go to the DApps page and select the Staking Platform. From here, you can stake Cosmos Network (ATOM) and Tron.
To stake ATOM, click on the crypto when you are in the staking platform, and the list of all validators available on the Trust Wallet will appear.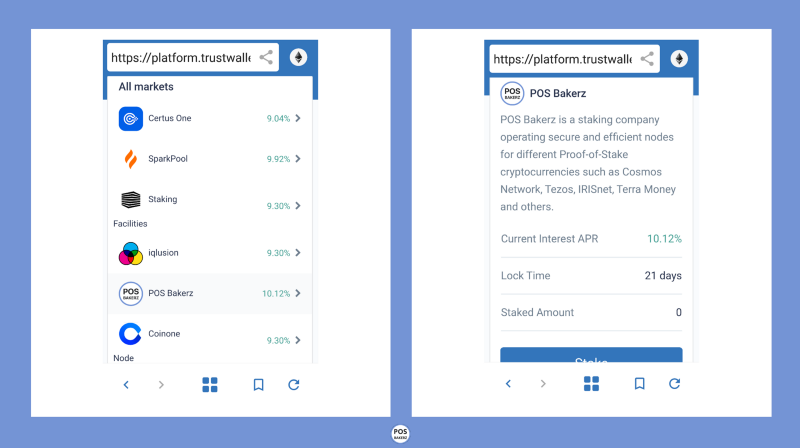 Click on POS Bakerz validator if you want to stake with us and click on the stake button. Then a new window will open, asking you to insert the amount and approve the transaction.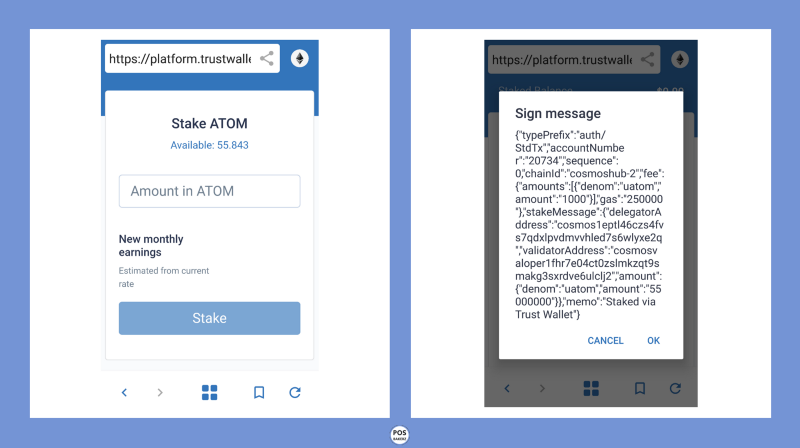 When you sign the message, it will take approximately 1min to validate the transaction.
Once the transaction is done, a screen will appear confirming the success of your operation.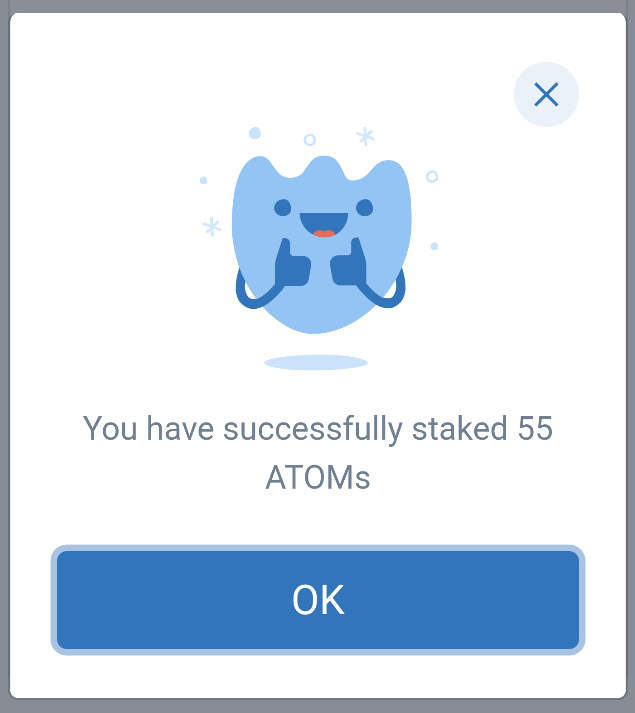 And this it! 🎉 You can now earn rewards on your Cosmos (ATOM) holdings. Your transaction will also appear in your history under the name Delegation.
If you have any questions about staking or Cosmos Network, feel free to ask us directly in our Telegram.
DISCLAIMER: This is not financial advice. Staking and cryptocurrencies investment involves a high degree of risk, and there is always the possibility of loss, including the loss of all staked digital assets. Additionally, delegators are at risk of slashing in case of security or liveness faults on some PoS protocols. We advise you to DYOR before choosing a validator.