Everything You Want To Know About Stakin's 2021 and Growth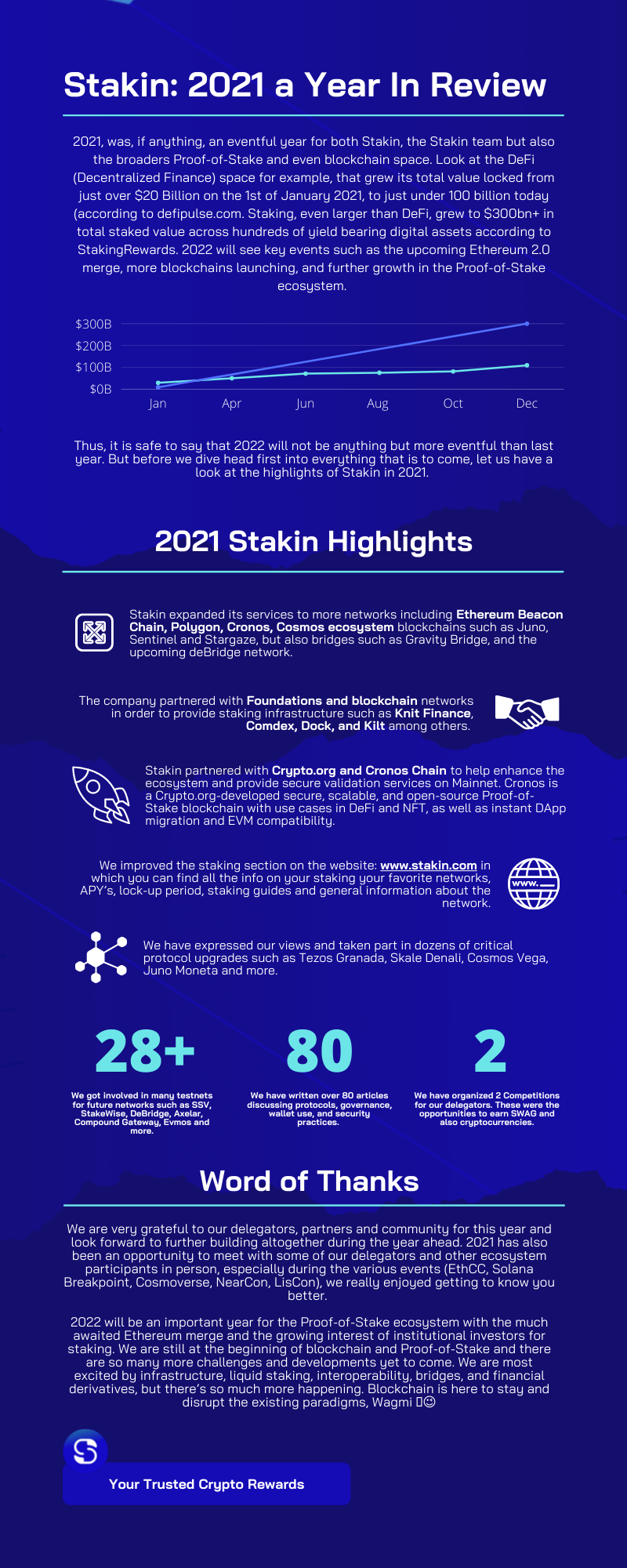 ---
Full-Text Version:
Stakin - 2021 a Year In Review
2021, was, if anything, an eventful year for both Stakin, the Stakin team but also the broader Proof-of-Stake and even blockchain space. Look at the DeFi (Decentralized Finance) space for example, that grew its total value locked from just over $20 Billion on the 1st of January 2021, to just under 100 billion today (according to defipulse.com - see image below). Staking, even larger than DeFi, grew to $300bn+ in total staked value across hundreds of yield-bearing digital assets according to StakingRewards. 2022 will see key events such as the upcoming Ethereum 2.0 merge, more blockchains launching, and further growth in the Proof-of-Stake ecosystem. Thus, it is safe to say that 2022 will not be anything but more eventful than last year. But before we dive headfirst into everything that is to come, let us have a look at the highlights of Stakin in 2021.
2021 Stakin Highlights
Let's kick off these highlights by thanking our new team members for joining the Stakin team. In 2021, we've grown our team with quite a few additional members and throughout the next year, a lot more will be joining. From a few blockchain networks in 2019, Stakin has grown to support more than 30 blockchain networks as an infrastructure operator and validator. The company reached $1.5bn+ in Assets under Delegation, serving institutional customers but also more than 15,000+ individual stakers. !
This year:
Stakin expanded its services to more networks including Ethereum Beacon Chain, Polygon, Cronos, Cosmos ecosystem blockchains such as Juno, Sentinel and Stargaze, but also bridges such as Gravity Bridge, and the upcoming deBridge network.
The company partnered with Foundations and blockchain networks in order to provide staking infrastructure such as Knit Finance, Comdex, Dock, and Kilt among others.
Stakin partnered with Crypto.org and Cronos Chain to help enhance the ecosystem and provide secure validation services on Mainnet. Cronos is a Crypto.org-developed secure, scalable, and open-source Proof-of-Stake blockchain with use cases in DeFi and NFT, as well as instant DApp migration and EVM compatibility.
We improved the staking section on the website https://stakin.com/stake, in which you can find all the info on your staking your favourite networks, APY's, lock-up period, staking guides and general information about the network.
We have expressed our views and taken part in dozens of critical protocol upgrades such as Tezos Granada, Skale Denali, Cosmos Vega, Juno Moneta and more.
We got involved in many interesting testnets for future networks such as SSV, StakeWise, DeBridge, Axelar, Compound Gateway, Evmos and more.
We have written over 80 articles discussing protocols, governance, wallet use, and security practices. These articles generated 100,000+ views on Medium and hundreds of hours of reading time 📘
We have organized 2 Competitions for our delegators. These were the opportunities to earn SWAG and also cryptocurrencies. We will be organizing more in the future and publishing the announcements on our social media.
A Word Of Thanks
We are very grateful to our delegators, partners and community for this year and look forward to further building altogether during the year ahead. 2021 has also been an opportunity to meet with some of our delegators and other ecosystem participants in person, especially during the various events (EthCC, Solana Breakpoint, Cosmoverse, NearCon, LisCon), we really enjoyed getting to know you better.
2022 will be an important year for the Proof-of-Stake ecosystem with the much-awaited Ethereum merge and the growing interest of institutional investors for staking. We are still at the beginning of blockchain and Proof-of-Stake and there are so many more challenges and developments yet to come. We are most excited by infrastructure, liquid staking, interoperability, bridges, and financial derivatives, but there's so much more happening. Blockchain is here to stay and disrupt the existing paradigms, Wagmi 🙌😉
---
DISCLAIMER: This is not financial advice. Staking, delegation, and cryptocurrencies involve a high degree of risk, and there is always the possibility of loss, including the failure of all staked digital assets. Additionally, delegators are at risk of slashing in case of security or liveness faults on some protocols. We advise you to do your due diligence before choosing a validator.